Heeeelllooo!  Welcome back, happy New Year to you all, I hope you all had a good one, this is my first recipe back for a long while.  As you know I am a massive fan of the Indian curry Keema Masala, you'll probably remember my review of Asda's Keema Masala in a tin from July 2015.  It's one of my favourite meals I've reviewed, alas Asda in their wisdom don't make it anymore but I've decided to give it a go.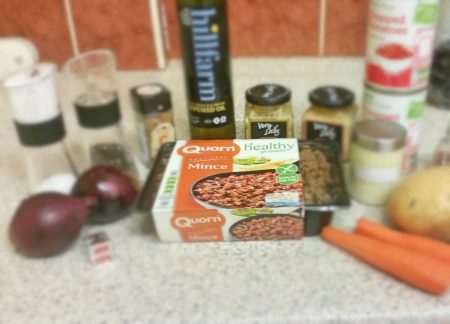 You'll notice from the snazzy picture above that Quorn is the main feature of this recipe, that's because I was cooking it for the lovely Gemma, while she's not a vegetarian she prefers it to mince.  I was thinking that as I have two vegetarian friends it was a good opportunity to try using it.  Keema is, as far as I can tell traditional done with Lamb and comes from the Hyderabad area of Indian and is usually made with Lamb Mince.  I've based this recipe on a recipe I saw on Titli's Busy Kitchen, Titli's website is amazing and a hughe source of inspiration for me, make sure you check her out.   I've made this twice now and I think the best result is when you use, as she suggests Garlic and Ginger paste, not lazy Garlic and Ginger like I did here.
The Ingredients:
Salt and Pepper
Oil for frying
500ml beef stock
2 Onions
2 Carrots
3 Potatoes
½tsp of Chilli flakes
1tsp of Turmeric
2tsp Ground Corriander
1tsp Lazy Ginger
1tsp of Lazy Garlic
2 x Tins of chopped Tomatoes
1 x 450g pack of Quorn Mince
½ Cup of frozen peas and a bunch of fresh Coriander (not pictured)
As with all the spices, you can add as much or as little as you want, when I made the recipe for the second time I didn't use fresh coriander, but I did the first time, if I'm honest I'm not a fresh coriander fan but I think it added to the dish.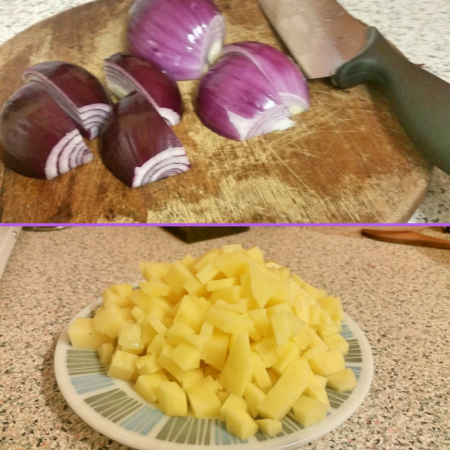 Now comes the fun part, peel and quarter the two onions, set aside, then peel the three potatoes… I like this recipe so much I even peeled all the vegetables on my own lol.  Cut the potatoes into cubes and place in water for later on, then peel the two carrots.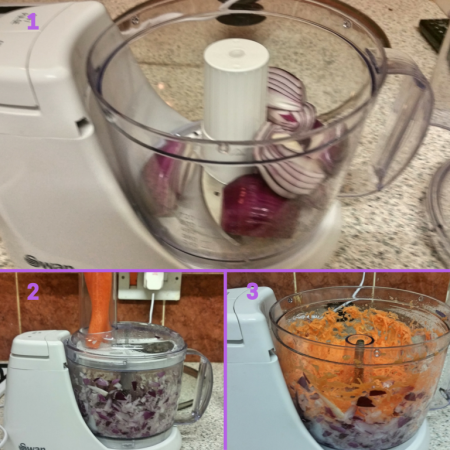 Place the quarters of onions in a food processor and blitz, you don't want a pulp but you do want them to be finely chopped.  Then add the  grater attachment if you've got one and grate the two carrots, if you haven't you can grate them by hand or finely chop them but try and keep them the same size as the onion.  If you do have a grater attachment press down on the carrots for a finer grate.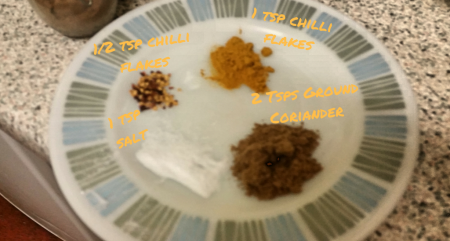 Once you've done that you can leave them in the food processor bowl for now, then place the spice mix on the plate – apologies for the photograph it's shocking, I wasn't drunk your honour!  The spice mix is:
½ teaspoon of Chilli flakes,
1 teaspoon of Turmeric
2 teaspoons of Ground Coriander (you can grind your own if you have a spice grinder or a pestle and mortar)
1 teaspoon of salt
Again as I said earlier, you can add to this or take away, some recipes use Garam Masala, I think I may try that next time as it adds a depth that you only get from a blend of spices.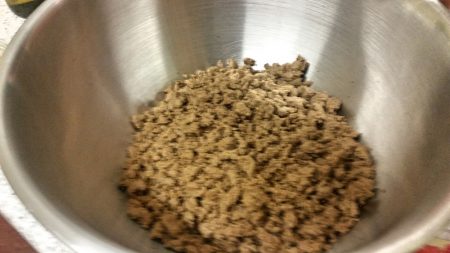 Place the mince in a bowl, this is where the flavour begins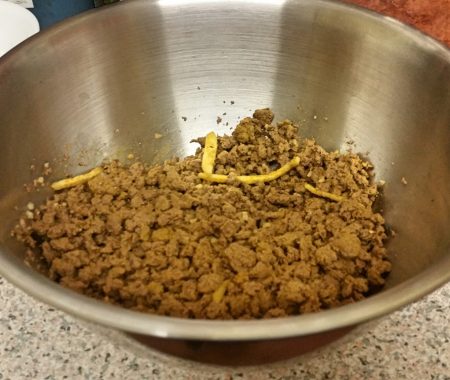 To the mince add all the spices and a teaspoon of lazy garlic and ginger.  If you're using a garlic and ginger paste add two teaspoons of it.  Mix thoroughly, my one regret now is not cutting the ginger smaller, you can see it looks like bits of wood in the rubble that is the Quorn Mince.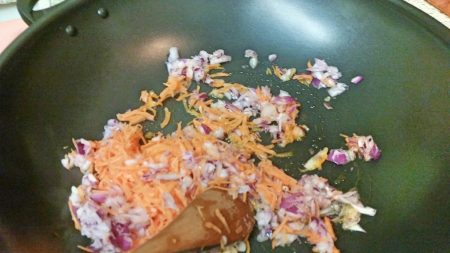 Heat a pan, once it's come to temperature place the onion and carrot in and stir for a few minutes.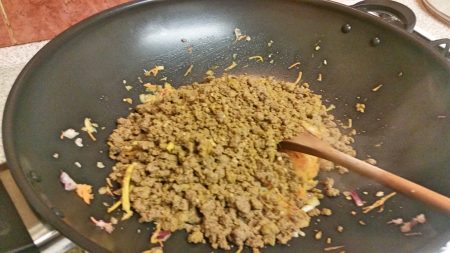 Add the Quorn mince and stir thoroughly cook for two minutes on a high heat.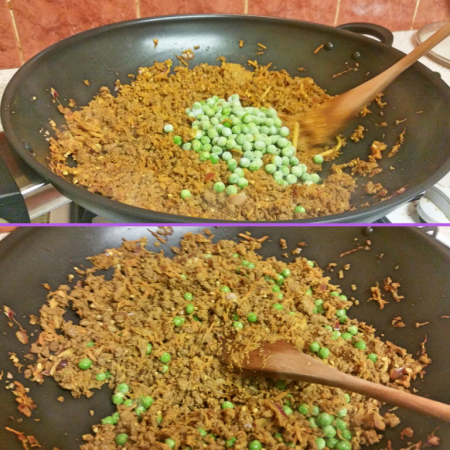 Next add the frozen peas and stir thoroughly to combine, cook for a fture two minutes on a high heat.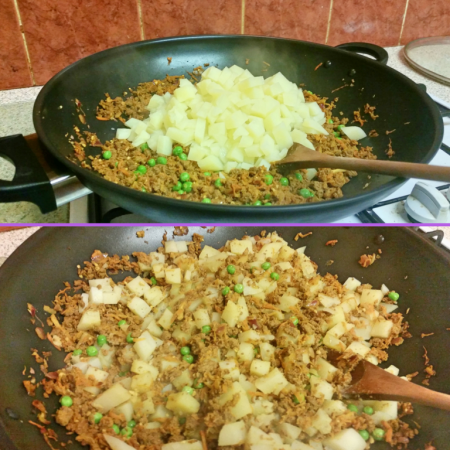 Next add the potatoes and stir them through thoroughly to combine, I microwaved the potatoes for about ten minutes in boiling water so that they were slightly softer as they were hard the first time I cooked this recipe, and let's be fair no one likes a hard spud.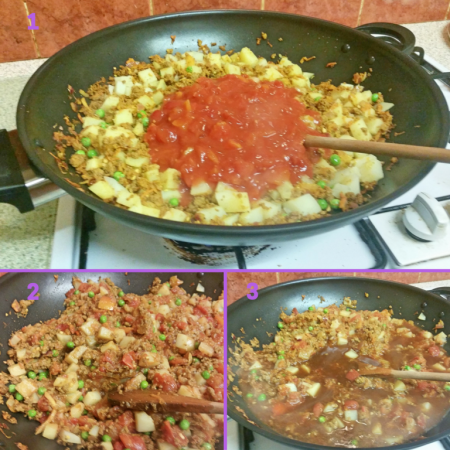 To the potatoes add two tins of tomatoes and stir thoroughly, then pour some boiling water in one of the tins, break up a stock cube and stir so it starts to dissolve.  Pour the stock into the other tin of tomatoes picking up all the tomatoey goodness.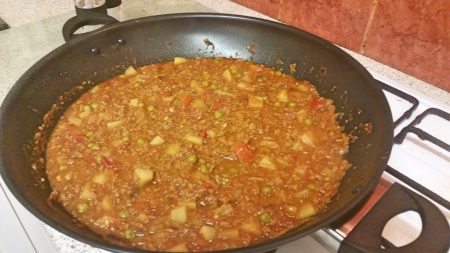 When you've added all the ingredients, give it a stir to allow all the ingredients to come together.  Then place the lid on it and cook for 20-25 minutes on a low heat.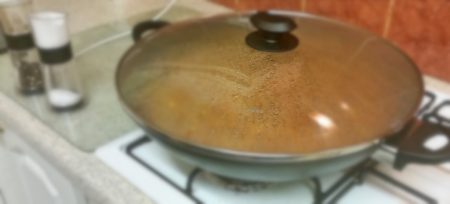 Check on a regular basis, stirring occasionally keeping an eye to make sure that everything is not sticking and also that the potatoes are cooked.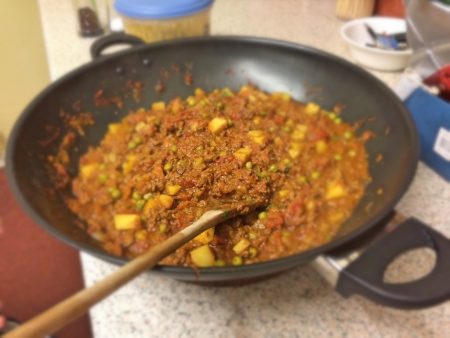 The aim is for it to thicken, this is how it was the first time I made it, it's thicker and not so saucy.  I personally like a saucier curry so the second time I didn't let it thicken so much.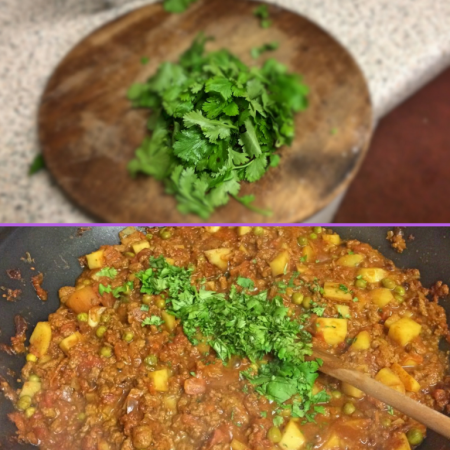 I'm not a big lover of coriander but when I made it the first time Take the ramekins off the baking tray and place on a plate; this recipe is ideal to be served as a quick and easy, yet luxury breakfast over the bank holiday, or as a simple supper.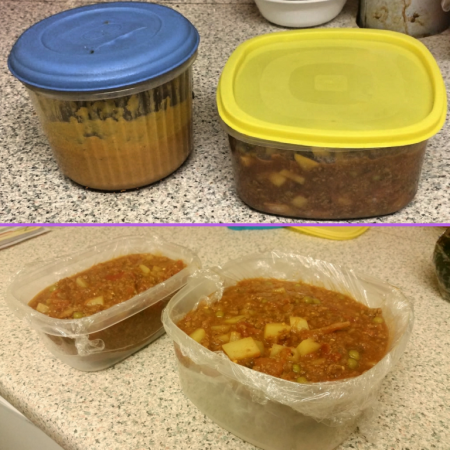 I've cooked this twice, both times I took it to work the next day, the other pot in the first photograph is my Spiced Butternut Squash Soup, which I also took in to work.  I think it's fair to say that Gemma enjoyed the curry, I was really chuffed her daughter tried it and liked it too… winner winner!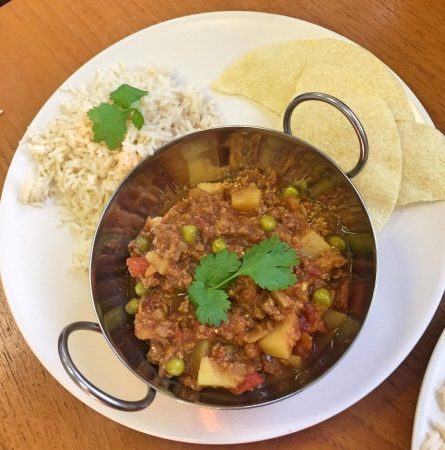 We served it with packet boiled rice and some poppadoms, I can honestly say it was really enjoyable.  It could have used some more heat maybe, but I'm not a fan of stupidly hot food as you know.  This is a dish I order a lot from my local Indian takeaway, only theirs is made with lamb and it's much hotter than mine was.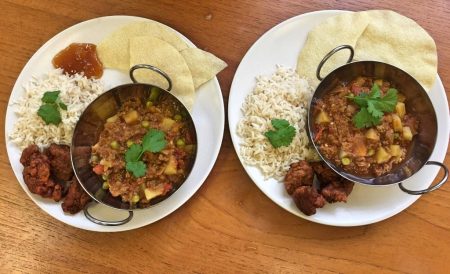 Gemma picked up some Pakoras and some Mango Chutney from our local supermarket and they were a great accompaniment to this dish.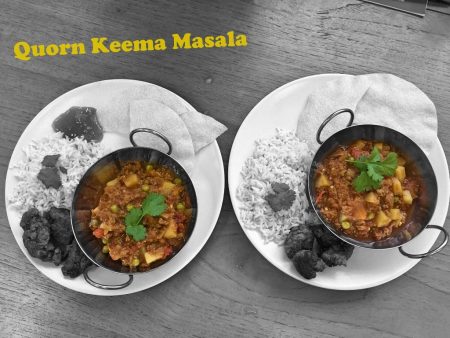 I thoroughly enjoyed this, I'd make it with lamb next time, or would I, to be honest it was great made from Quorn.  It was easy to make and didn't involve much fuss, especially if you use the good old food processor.  I've used Quorn once or twice but wasn't completely convinced but it works here and I'd definitely use it again.  I'm a big fan of Titli, check her website out, her recipes are great and her videos, well they're amazing!  Thanks to Kirsty for her help cooking it, and to Gemma for her taste testing… thanks to both for their photography skills,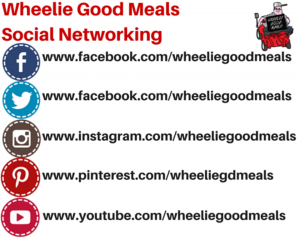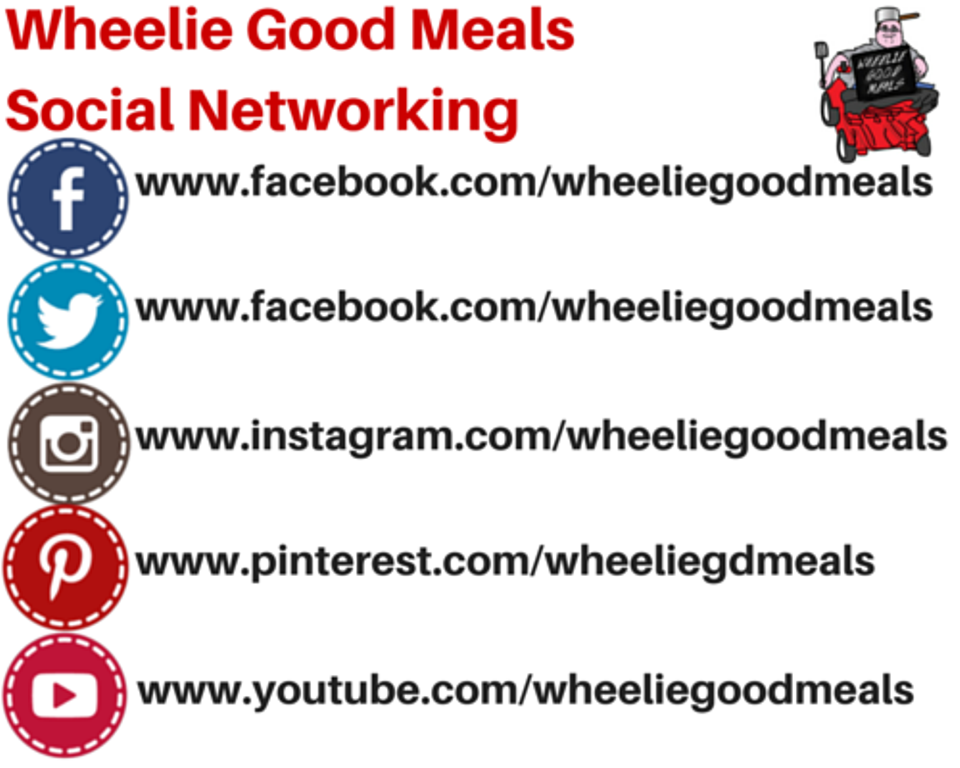 Remember to get in touch, I'd love to hear from you, don't forget to come back on Wednesday for a great Waste Not Want Not recipe and then we'll have a restaurant review on the weekend.
See you Wednesday