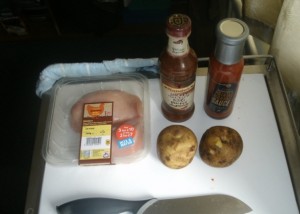 My sister bought me some Nando's Piri Piri BBQ Sauce recently and I had some Patatas Bravas Sauce I'd bought from Tesco which needed to be used, so Alice (my niece and fellow foodie) and I thought we'd combine the two to make "Alice's Piri Piri BBQ Chicken and Patatas Bravas". As you probably noticed I've not made any of the sauces for this dish, it's using sauces out of a bottle – cheating, maybe, quick and easy yes.
The most labour intensive part of this recipe is the peeling of the potatoes and the massaging of the chicken breasts…. I know that sounds dodgy but trust me, it works. Put them in a bag, pour over the marinade and rub it in, place in the fridge and allow to marinade for 24 hours. Once marinade cook in the oven for approx 35 – 40 minutes. Remember chicken should not be served raw or undercooked, if you have any doubts on cooking chicken check these websites http://www.food.gov.uk/ or http://www.nhs.uk/Livewell/homehygiene/Pages/Foodhygiene.aspx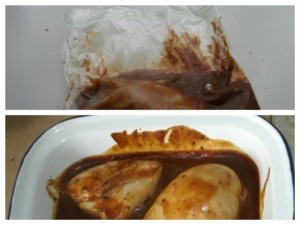 The Nando's website recommends half a bottle of the marinade per 500g of meet…. I think Alice and I used a bit much really but in saying that it all tasted good lol 🙂 . As you know I love potatoes lol so I feel it is important to make sure the potatoes are golden brown, when they are looking good add the sauce to the pan and stir so the potatoes take the sauce. Remember though not to stir too much as you don't want to crush the potatoes.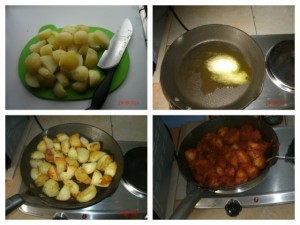 As you can see below, Alice and I had it just as it was but you could serve it with a green salad or a cucumber and mint raita like the one I made for my Dinner Party.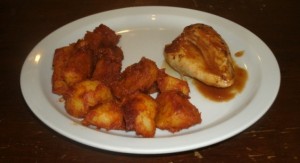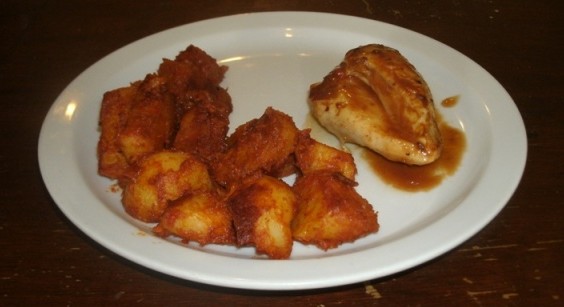 You can download step by step instructions on how to cook this recipe by clicking here.  As always I'd love you to get involved with Wheelie Good Meals by clicking on the links on the left hand side of the page. I want to see your ideas, photos and recipes with us as we all watch the blog develop.  If you have any questions you'd like to ask about either myself or the Wheelie Good Meals concept please feel free to drop us a line on enquiries@wheeliegoodmeals.co.uk.  Come back again soon and, together, we'll make more Wheelie Good Meals!
See You Soon 🙂