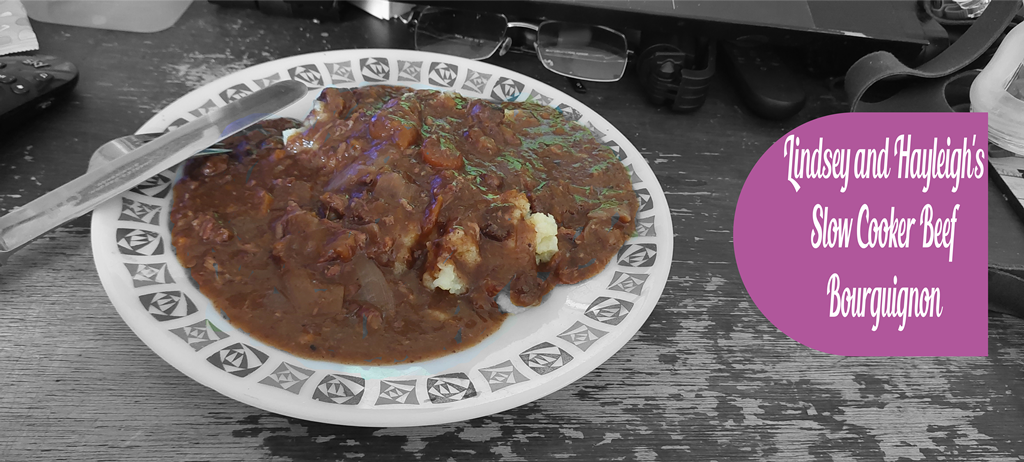 Lindsey and Hayleigh's Slow Cooker Beef Bourguignon
Well, on the weekend that's seen me turn 42 (or 21 again as Gemma put it… I knew I loved her for a reason!) and my mother turned 80 you'd think I wouldn't be posting… but here is another fab slow cooker recipe.
This was given to me by my honorary/surrogate daughter Hayleigh, our families have been friends for decades and she's the closest thing I'll ever have to a daughter.  She recently became a mother, her and her wonderful husband Dave have had a beautiful baby girl, they're wonderful parents and I'm so proud of them both.  Lindsey helped me cook this, taking the photos and doing most of the prep because I wasn't feeling brilliant – hence the name … Lindsey and Hayleigh's Slow Cooker Beef Bourguignon lol.
This is a really nice recipe, quick and easy, and tasted fab, I adapted the original recipe (the original is here https://realfood.tesco.com/recipes/slow-cooker-beef-bourguignon.html)
I hope you're enjoying the slow cooker recipes, there'll be lot more coming your way over the next weeks and months.  Now it's time to get in to the recipe, at the end of this post you can find out about my newest WGM challenge, the challenge isn't no more chocolate, I've done my month thankfully!
The Recipe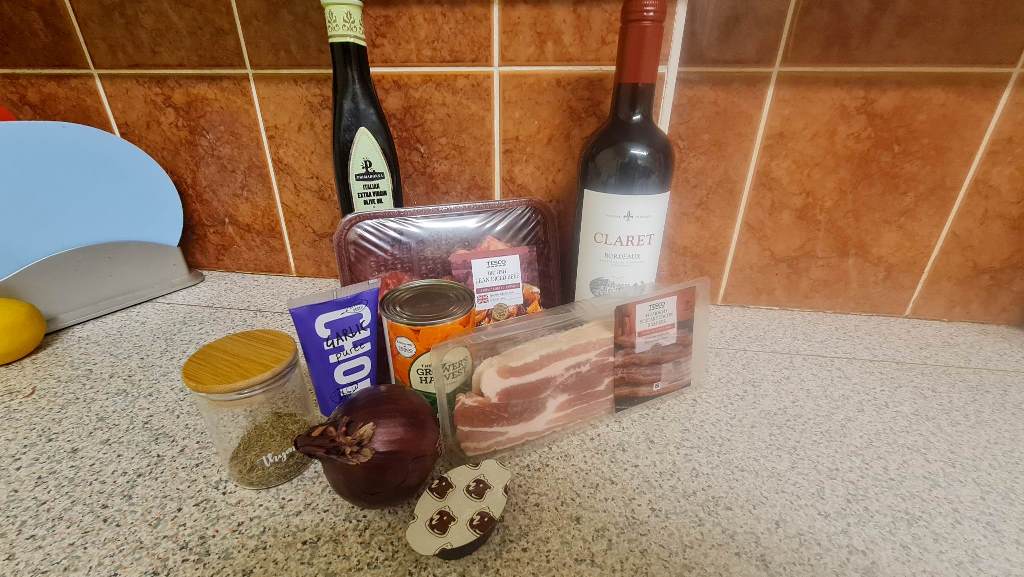 Ingredients:
1 tbsp olive oil
600g casserole steak, cut into large chunks
1 large onion, peeled and chopped
6 rashers streaky bacon, roughly chopped
2tsp garlic puree or 2 garlic cloves, peeled and chopped
1 tin of carrots or 325g carrots, peeled and chopped
300ml red wine
250m water and a beef stock pot
1 heaped tsp of dried Thyme or 2 sprigs thyme
mashed potato, to serve
Method: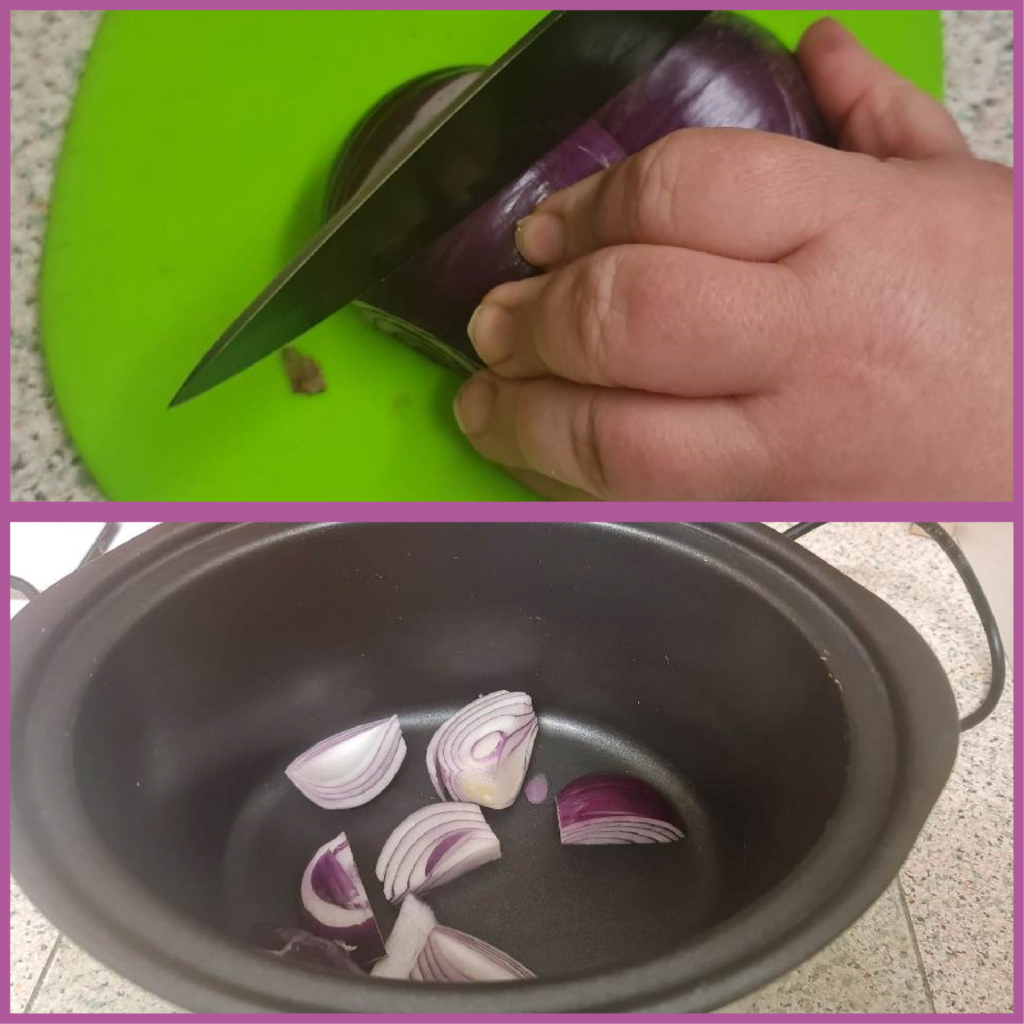 Step 1 The first thing I did was chop the onions up, I cut them in to chunky slices because I bizzarley like the texture of them when they're a bit bigger.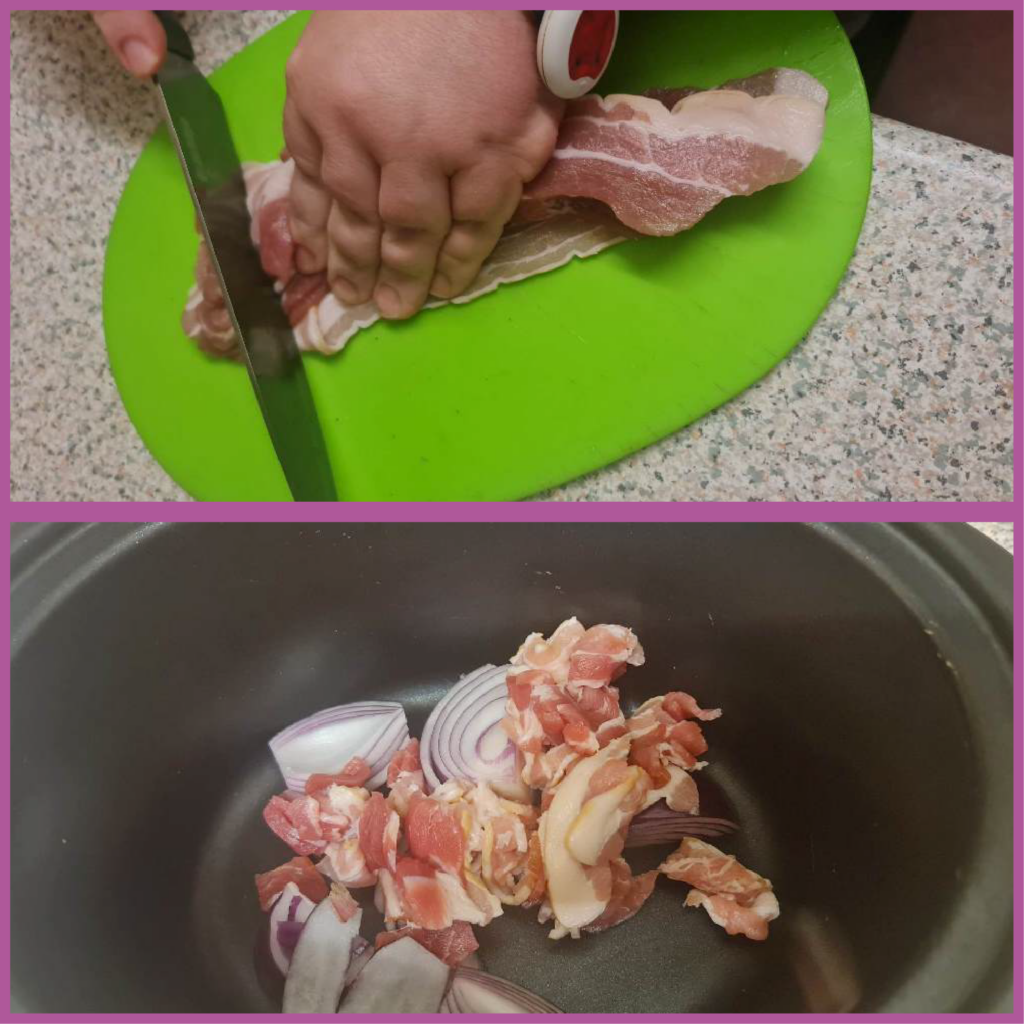 Step 2 Roughly chop up the streaky bacon I used 6 slices but you can use as much or as little as you like.  Again, for those who know me will know I don't eat bacon because it's stringy and I'm afraid of choking… but I love the flavour of bacon.  I really liked the texture of it in the slow cooker and the baconyness flavour was awesome.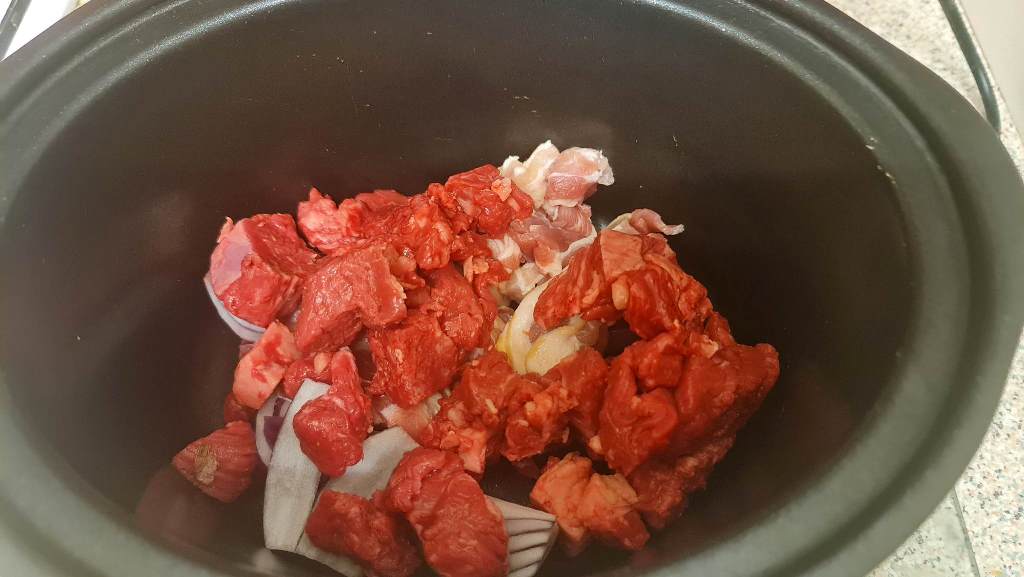 Step 3 Put the oil in the slow cooker and then add the beef pieces, the onions and the bacon to the slow cooker.  The original recipe asks you to heat half the oil in a large frying pan, then season the meat and cook in the pan for 6-8 mins, until browned all over. Remove with a slotted spoon and put in a slow cooker.  It then wants you to add the remaining oil then the onion and bacon and sauté for 4 mins… ummmm I didn't do that, I can't cook with a naked flame, and while Lindsey could have, that would have defeated the object.  Honestly, skipping this step did not affect the flavour, I'll have to get Hayleigh to taste it to see what the difference is.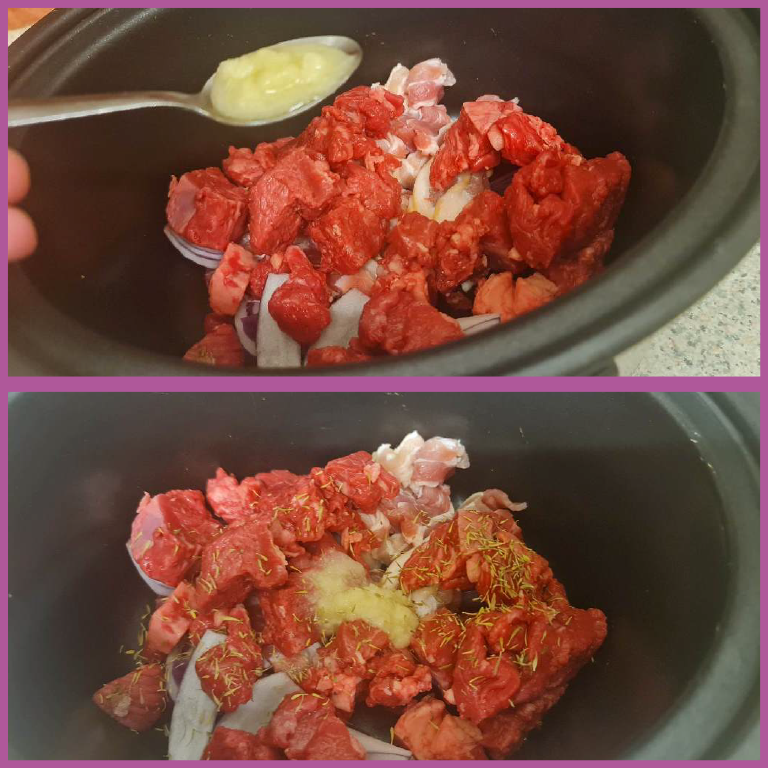 Step 4 Add 2 teaspoons of the garlic Purée to the slow cooker, the original recipe calls for two garlic cloves, I think that 2 teaspoons is the equivalent.  Then add the heaped tsp of dried Thyme, if I had fresh Thyme I'd certainly have added that but I didn't, I don't tend to keep fresh herbs well because I don't use them quick enough and they die.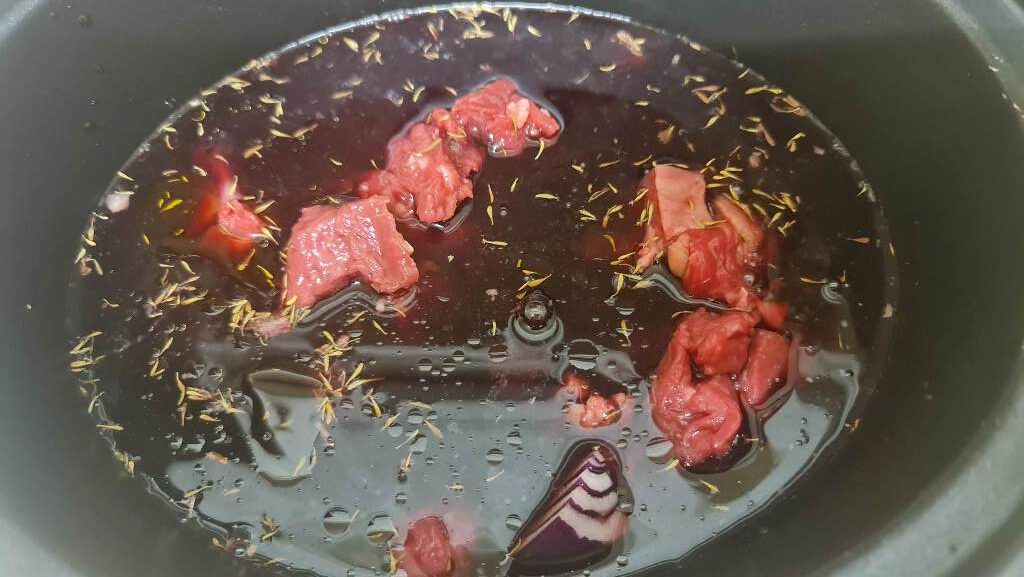 Step 5 Pour in 300ml of red wine, I used a Bordeaux, as you know I'm not a big red wine drinker but this wine was lush.  I googled what sort of wine should go in a Beef Bourguignon and Bordeaux was a regular suggestion.  You can also add the stock now, I used a Knorr stock pot and added boiling water.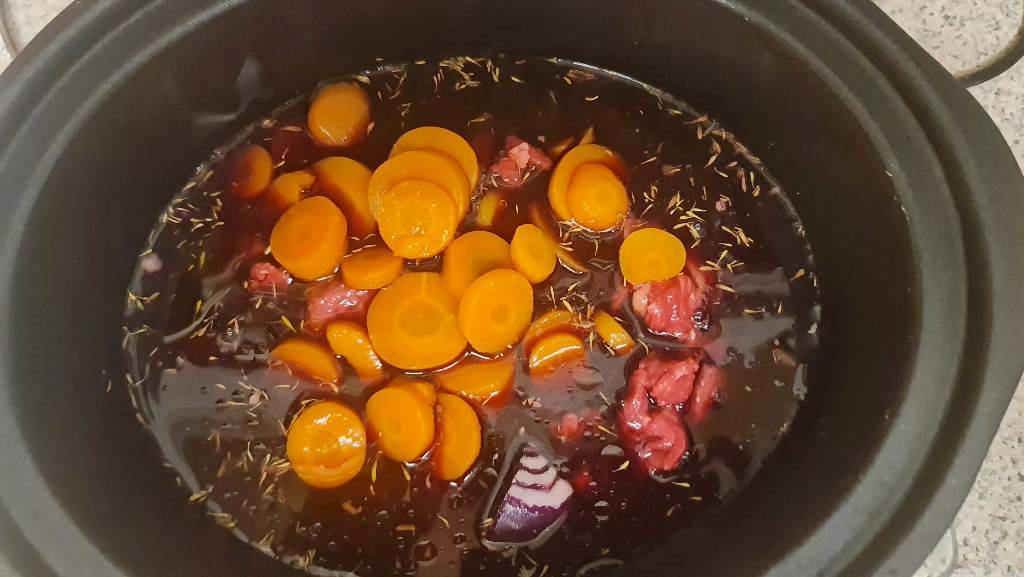 Step 6 Last step is to add the tin of carrots, the recipe called for 325g carrots but I didn't have any.  Tinned carrots are nice enough, they're cheap too.
Step 7 I cooked this on low over night, it's one of the things I love the most about the slow cooker.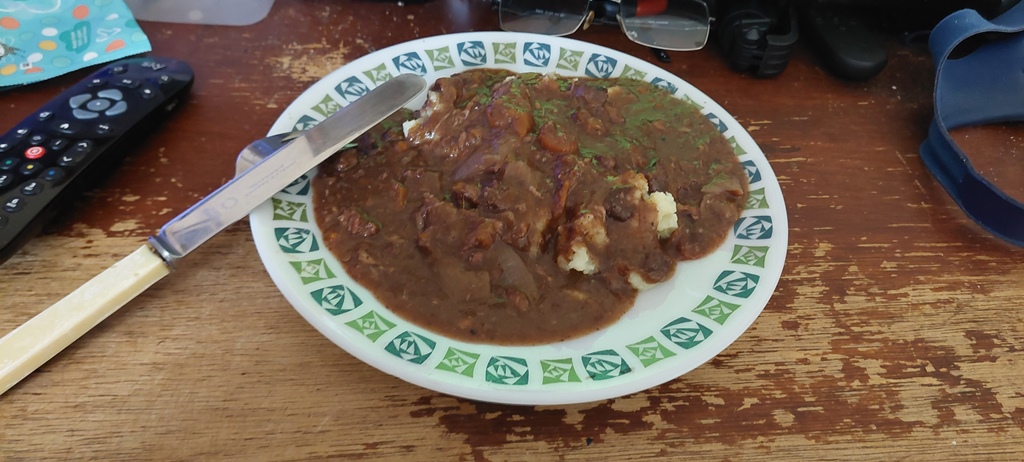 That's it, I served mine with mashed potato, not that you'd know from this awful photograph…  The original recipe suggests it be served with steamed cabbage and mashed potato…. Mash yes, cabbage… yuck!
My mother and I ate this for lunch, it was really nice, rich, comforting with tender meat.  The onions were cooked nicely, Id certainly cook this one again and I'd recommend everyone to try it.  I think when I make this next time I'd add some mushrooms, I think they'd go well.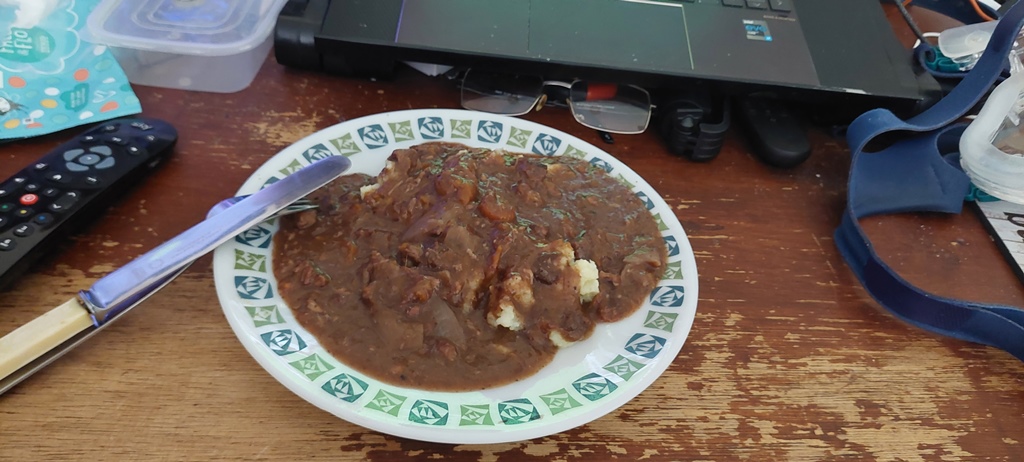 The mashed potato was made by cooking the potatoes in the microwave in the same way you'd cook a jacket potato.  I then scoop out the filling and mash it with butter, milk, salt and pepper… the best way to make a small and quick amount of mash in my opnion.
If you love beef check out my Easy Burritoless Beef Burritos a really nice recipe which has a nice bit of a kick from the warmth of Cayenne Pepper and the earthy hug of cumin and coriander (two of my favourite spices.
You can also have a look at my review of Asda's Beef Bourguignon.  I wasn't a massive fan of it and only gave it 3 stars out of a possible 10, but you may think differently lol.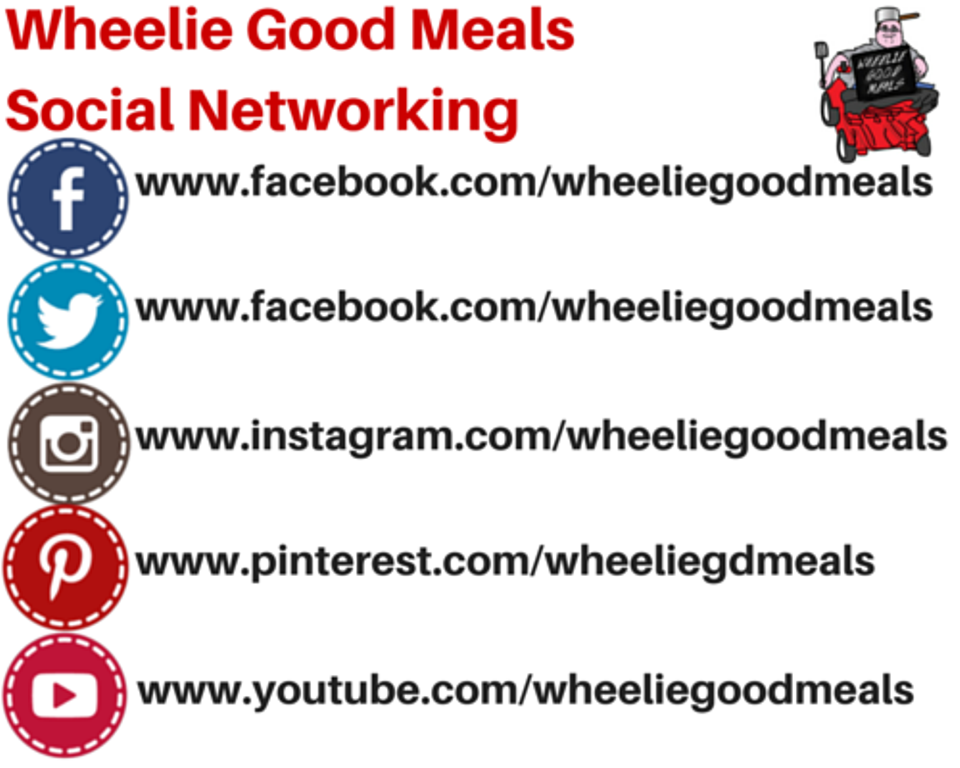 Please get in touch with us using our social media pages below, or subscribe to the blog for regular updates.
If you have tried any of my recipes or tried a product I've reviewed please let me know, I'll be reviving my Time-Saving Tuesdays segment in a few weeks, but with different aspects such as microwave cooking.
In the last post I mentioned a new feature… well here we go!  It hasn't got a name yet but it's similar to our old Mystery Bag meals, last week I asked Lindsey to pick four ingredients for me from my sore cupboard/fridge/spice rack and I'd make a recipe with them.  Lindsey picked: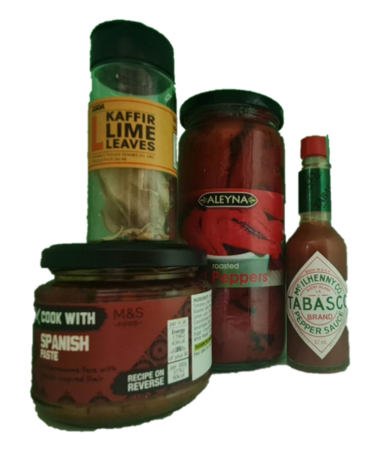 Lindsey chose Roasted Red Peppers, M&S Spanish Paste, Tabasco Sauce and Kaffir Lime Leaves.  What on earth am I going to do with those random ingredients you ask… well come back next week and you'll find out.  Also excuse the photos, they're not in a nuclear reactor and they haven't gone off we were trying some new photo techniques.
Massive thanks to Hayleigh for this recipe, sending lots of love to her, Dave and of course the newest addition to the family.  It was wonderful seeing them both recently, can't wait till we can see each other again.  Thanks obviously to the lovely Lindsey for helping me make this, and even bigger thanks to you folks for stopping bye to read this post.