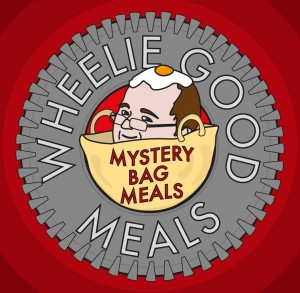 Ok you've guessed it Mystery Bag Meals is based on one of my favourite all time cookery programmes Ready Steady Cook. It was hosted by Ainsley Harriott (and Fern Britton) and featured a round where chef's aided by a celebrity had to cook meals from a bag of ingredients. There were different types of bags, these included:
Classic Bag – The original format where the contestant brought in a bag of ingredients costing up to £5.
Budget Bag – Similar to the 'Classic Bag' but the ingredients could only cost up to £3.50.
Bistro Bag – Ingredients worth £7.50.
Gourmet Bag – Worth £10.
These four are going to be the basis for my new Mystery Bag Meals feature. I want people to email mbm@wheeliegoodmeals.co.uk stating the ingredients they want me to cook with. Anyone can get involved from my friends and family to anyone reading the blog…. or people who love Ready Steady lol. Every fortnight I'll put up on facebook and twitter what the theme is for the next Mystery Bag Meals – Remember you don't have to buy the ingredients just state the following:
The ingredients
How much each one costs
Where you priced them from
The ingredients will be bought by a friend and provided to me on the day I'm going to cook them. I'll cook the recipe within a set time limit:
Classic Bag – 60 minute – up to £5.
Budget Bag – 30 minute – up to £3.50.
Bistro Bag – 1 ½ hours – up to £7.50.
Gourmet Bag – 2 hours – up to £10.
I know Ready Steady Cook had a set time frame for all their bags but let's be honest they were professional chef's I'm not. I'm cooking in my house with a million things going on, let's make it realistic.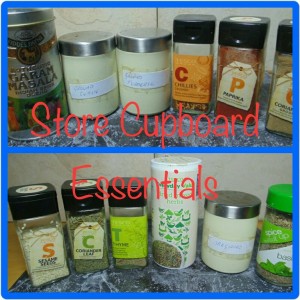 I will also have a series of store cupboard essentials to use… like the show, I managed to find a list online of all their store cupboard ingredients… it was huge, I've whittled mine down to.
Bread
Milk
Eggs
Self Raising Flour
Spices
Dried Herbs
Olive Oil
Salt and Pepper
Tomato Purée
Caster Sugar
Balsamic, Malt, White and Red Wine Vinegar
Soy sauce
Tabasco sauce
Worcestershire sauce
Baking Powder
Butter
Wine
Potatoes
Onions
Garlic
Melanie from Melanie's Food Adventures has kindly given me the ingredient list for my first bag…. it's a Classic bag, the ingredients are below and came to £5.

If the ingredients come over the allowed price some will be left out (so for example I may only use a third of a pack of beans rather than the whole pack), come back Saturday to find out what I did with them, it's a good one.
I have always loved Ready, Steady Cook and am watching the re-runs now on The Food Channel it's quality tv and should never have been axed. It's where I first saw lots of chef's including two of my favourite television chef's Brian Turner and James Martin.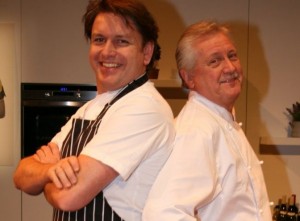 Three mentioned before I go, massive thanks to Dave Hole who has created a load of logos for me recently and, in all fairness, to tight deadlines for me… I know I'm a nag, and he'll never know how greatful I am for his work…. Thanks Dave. Secondly congratulations to my friend Rhys Robers for being chose as the Labour Party's candidate to be the next Cynon Valley Assembly Member, you can read Rhys' blog here
Lastly, a big happy birthday for tomorrow to one of my best friends, the one and only (cue Chesney Hawkes) Greg, "Parker, Edgar Linton, 8 Ball, Wesley" Davies boy! Hope you have a cracking one you deserve it
See you all on Tuesday.