How are you all, it's November already and it's almost bonfire night… are you going anywhere? We used to have a big family and friends firework night every year but it stopped as people got older and everyone drifted apart, I'm not complaining loud bangs and Brittle Bones don't go well together really 😆
This is an interesting one, it's a meal in a tin, which may not sound very appealing to some of you but let's give it chance.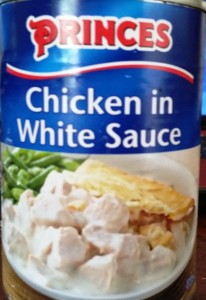 It's Chicken in a White Sauce, I bought it when my parents were away a while ago and thought it was worth giving it a go. Don't put your nose up to it, if you are someone who lives alone, on a low budget maybe or time restrained this is a meal in a tin – in my opinion it's ideal.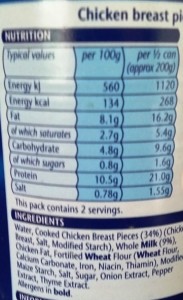 The ingredients are straightforward, there's a few things in there that I haven't heard of before such as Calcium Carbonate which is beyond my understanding. The calories were quite low 268kcal per tin, and a tin is two servings, the salt and sugar levels weren't too bad either. It's important to remember that you'd need to serve something with this tin, you can't see it in the picture but I served it with mashed potatoes.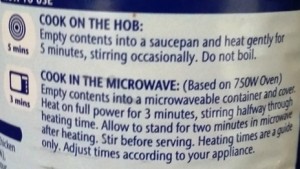 The cooking of it is straight forward, I warmed it through in a sauce pan, it's important to stir it regularly and not to let it boil, probably because the sauce will split. You can microwave it and the microwave instructions are clear and easy to follow, and accommodate older microwaves like mine. I enjoyed this, it could be served with lots of things, it does need seasoning, especially pepper but like always that's a personal choice. The serving suggestion is to top with short crust or puff pastry, brush with an egg wash and cook in a medium oven until golden brown. It also says for a luxurious meal add pan fried mushrooms or ham to the pie filling.

I've awarded this seven stars, it's convenient, easy to cook and with a bit of seasoning and some accompanying vegetables it makes a great meal.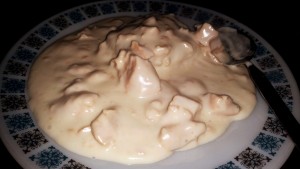 I hope you buy this one, remember I buy (well either me or my mother) all the ready meals and other subjects covered on Time-Saving Tuesdays myself, if anyone has a suggestion of what I can cover please let me know because as you know I'd love to hear from you.
If you are still not receiving updates from my blog, let me know by emailing me. If you don't want to email me check us out on the social media listed below.
Facebook:         www.facebook.com/wheeliegoodmeals
Twitter:              www.twitter.com/wheeliegdmeals
Instagram:        www.instagram.com/wheeliegoodmeals
Youtube:            www.youtube.com/wheeliegoodmeals
Pinterest:           www.pinterest.com/wheeliegdmeals
Thanks for visiting, I hope you enjoy the recipes and reviews. Please feel free to comment, or message me with some suggestions.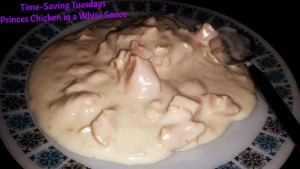 We'll be back again Thursday with a review of The Brecon Food Festival…. I know it's well overdue but it's coming I promise!
See you soon