We saw a fantastic Quickstep in last Saturday's show from Helen and Aljaž to "You Can't Hurry Love" by The Supremes.   I thought I'd share with you my Quickstep Leftover Fish Cake, I make fishcakes regularly but this is honestly one of the easiest and quickest recipe I've made.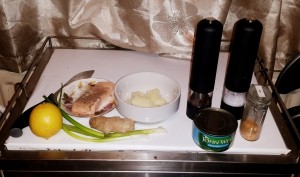 I've used leftover salmon and tinned crab in this recipe but you can substitute those with any other fish, a white fish like Pollock or Coli also a smoked fish like haddock or salmon would be a good addition. I used potato in this recipe, a potato which I cooked in the microwave and then scooped out the inside and mixed with a little butter – quick and easy mashed potatoes.
I know it's Halloween tomorrow but I'm not a fan, I used to work in Wilkinsons and hated the fact we sold Christmas decorations at the same time as Halloween…. what is that all about, that's the reason why you haven't got a spooky Halloween recipe from me.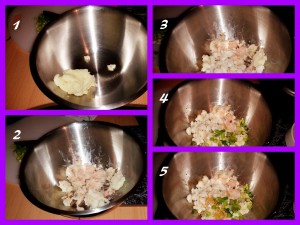 Let's get this party started, first guest in is the mashed potato, add that to a large bowl. The second guest should be the fish your using break it up, mix with the potato. Next in is the crab meat, add that and mix through, you can then add some finely chopped spring onions and mix thoroughly, you need to get the ingredients incorporated at each of these stages – it's like any good party all the guests need to mingle with each other. Lastly at this stage add the minced garlic and mix that thoroughly.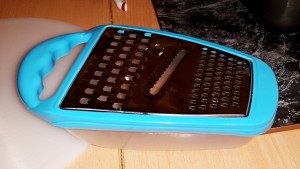 I got to play with a grater I'd been given for Christmas, grate some garlic and ginger and then add that to the fish cake mix. I grated a large thumb sized piece of ginger and half a lemon.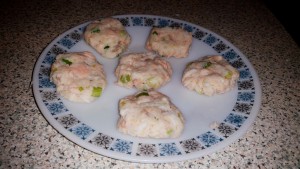 Shape in to cakes and place in the fridge for at least half an hour to allow the cakes to firm up. I was making a starter, so from this mixture I made 6 cakes, but you could make three larger ones which could easily be a main course.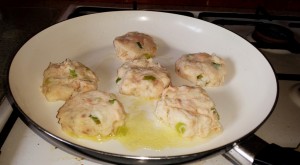 Place some oil and butter in a frying pan, once the butter has melted place the cakes in. Let them cook for a few minutes without playing with them, if you move them about they won't get brown and crisp. When they are ready to turn, turn them in one motion otherwise they'll break up. When you are cooking these in the frying pan it is important to turn them in one motion so they don't break up… ok if they do break up it's not the end of the world but they look better as one cake.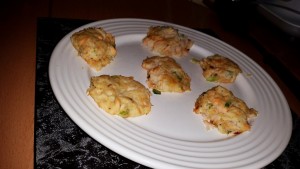 Place them on a plate, they make an ideal starter for a dinner party, you can eat them hot or cold, and serve them with a salad or a dip as I have below.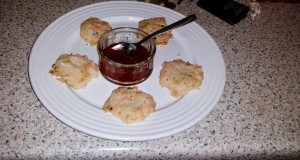 The accompaniment above is some of Miss Daisy's Grandpa Cliff's Tomato and Chilli Jam. I bought this while at the Brecon Food Festival that Greg and I attended recently, it was a stunning find and I've used it on lots of things, it's great with smoked flavours, cold meat and it would be ideal with prawns.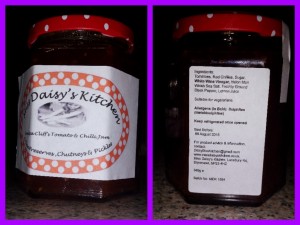 This jam had Welsh ingredients and was made in Brynmawr, it was punchy and zingy with just the right level of sweetness. I thoroughly enjoyed it, I'd most certainly buy it again and will try other of their products.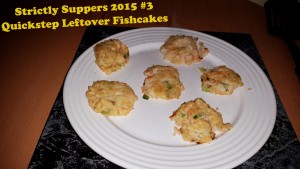 This is a great recipe for quick and easy fishcakes, you can add lots of other flavours. I make Thai inspired fishcakes with similar ingredients as the base which I'll be uploading soon. You can download a step-by-step recipe, give it a go I promise you'll enjoy it. If you can't get Miss Daisy's Jams you can use any sweet chilli jam to accompany these cakes.
Next week for Time-Saving Tuesday we have a review of Princes Chicken in a White Sauce, a great meal in a tin, it's worth trying I promise.
If you like what you see, sign up for updates from Wheelie Good Meals – already signed up, double check because we've had technical difficulties recently.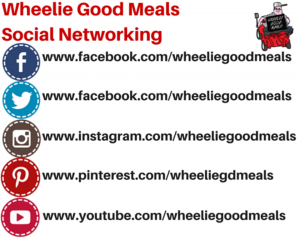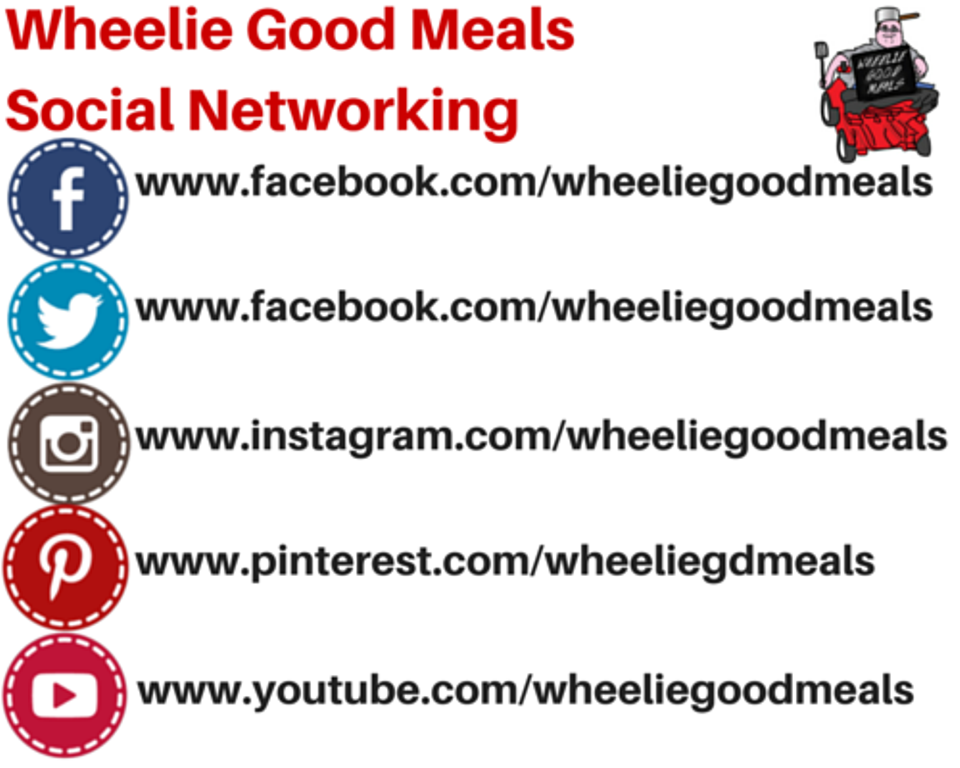 Enjoy cooking the recipe, and anything else you're cooking this weekend, and most importantly enjoy strictly!
See you Tuesday