 Spicy or Not, Spanish Chicken with Lime Rice
Hello again folks, how are we all doing?  My knee is on the mend, I should hopefully be back working in work this week 🤞🏼.  I've been stuck at home for too long now it's starting to get on my nerves… on the plus side I've been doing some prettifying of my bedroom.  I recently bought a signed Eric Cantona shirt, if you're a regular you'll all know I'm a massive Manchester United fan and an equally big canton fan, inf act the three wall hangings I have in my bedroom are dedicated to him… fanboy much?  I also have a new area dedicated to postman pat figures… what's that "grow up Richard" I hear you say… well to that I say "No" I think I'm going to start collecting all things PMP (ssshhh don't tell anyone).
Even as a 42-year-old man if I'm feeling shitty, or need something on TV in the background while I work Postman Pat is often my choice.  Don't judge me, actually judge me I'm not bothered lol.
Anyway, this is my new feature, I asked ChatbotGBT or whatever it's called for some name ideas, and while they were all good, the best was Wheelie Random Ingredient Challenge.
Again, this is a slow cooker recipe, I'm going to upload an old recipe from my archive that I haven't shared in the next few weeks to give you something different, there'll be lot more coming your way over the next weeks and months.  Now let's get in to the recipe… bewsh! 11 Chicken Thigh Fillets
1 Red Onion
1 tbsp capers drained
4 shakes of Tabasco Sauce
190g jar of Cook With M&S Spanish Past
A carton of Tomato Passata
Two Roasted Red Peppers
1400g tin of Butterbeans
1 Kaffir Lime Leaf for the Rice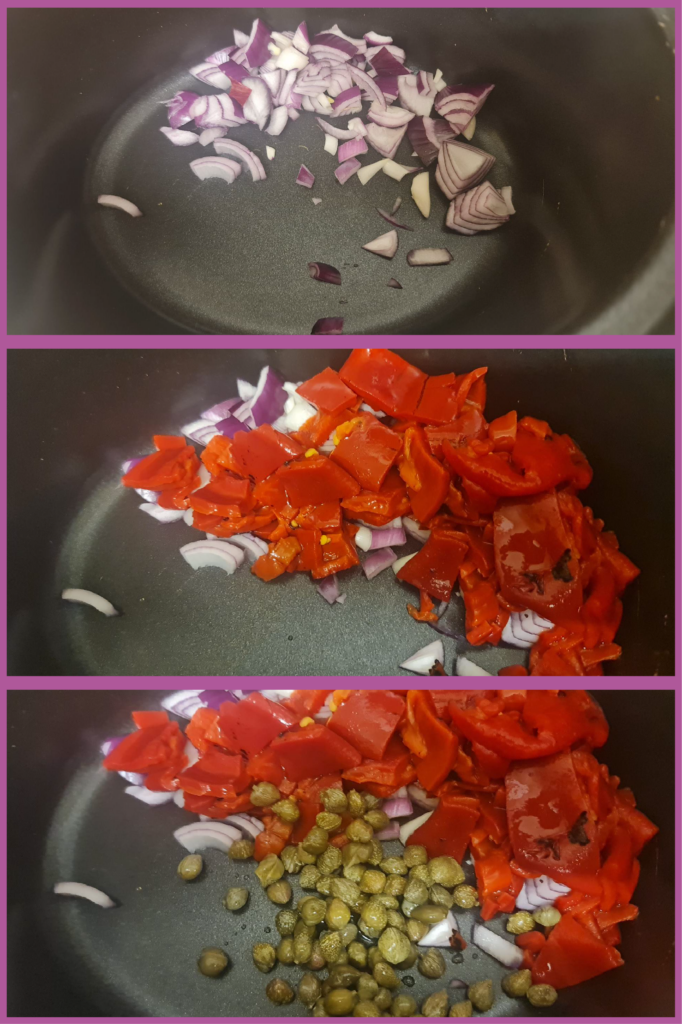 Step 1 Chop the onions and peppers and add them to the slow cooker with the capers.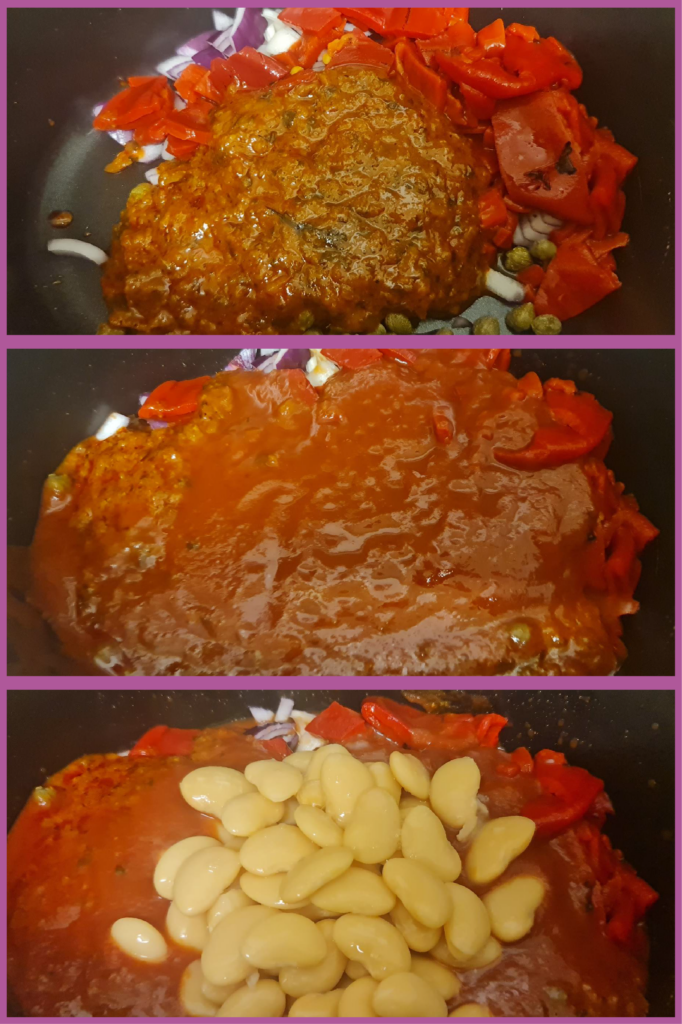 Step 2 Next add the Cook With M&S Spanish Paste, my sister bought this for me a while back.  I can't seem to find it on the M&S Website, but it is on McGrocer.com.  The paste was made with onions, garlic, tomatoes, sherry, paprika and saffron, I noticed there was a different taste to it that I didn't recognise so presumed it was the Sherry.  The website says that the paste can add a Spanish-inspired flair to your cooking and can be used with chicken, seafood or vegetables.
Once I added the paste I added the passata and then the Butterbeans… why butterbeans?  Because I like them that's why, you don't have to add them you could add Chickpeas, Kidney beans or no beans at all.  Give that as stir through and add salt and pepper.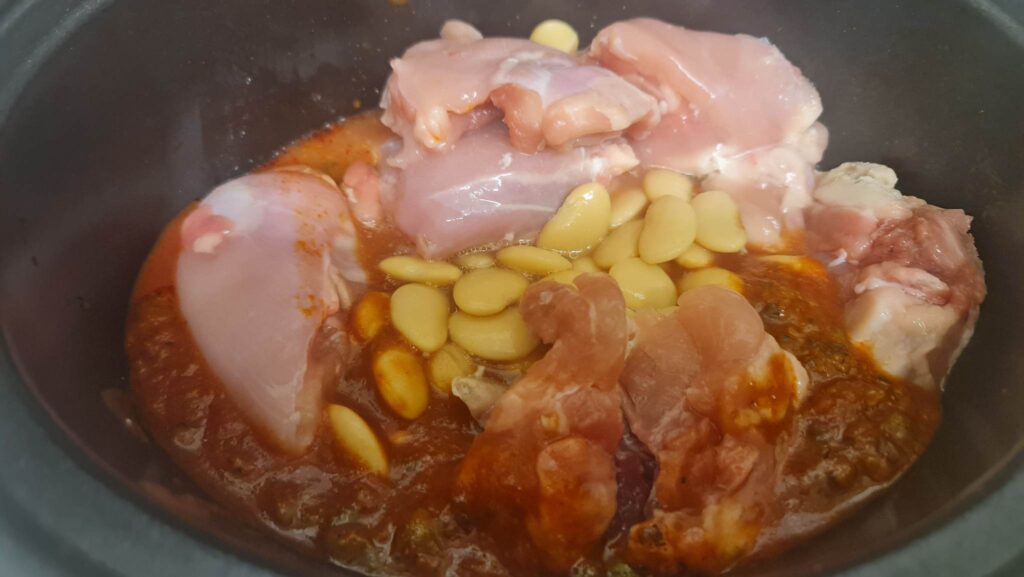 Step 3 Add the Chicken Thighs, chop them in to whatever size suits you, I left mine a bit larger than normal but that was purely laziness. Stir through and season again… the only trouble with slow cooking using raw meat is you can't taste as you go along… grrr!!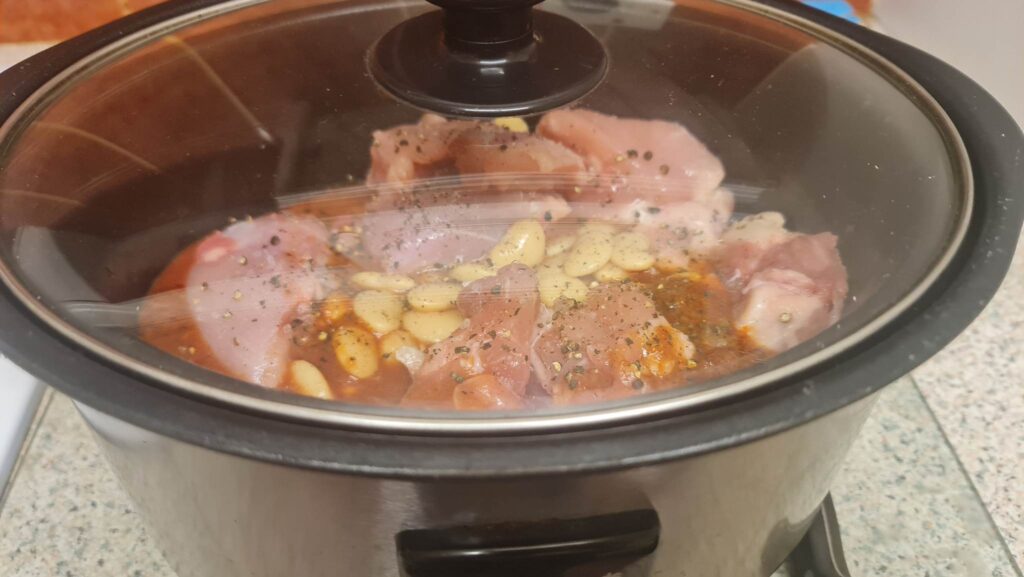 Step 4 I left this on low overnight, and it was smelling stunning by the time I got up in the morning.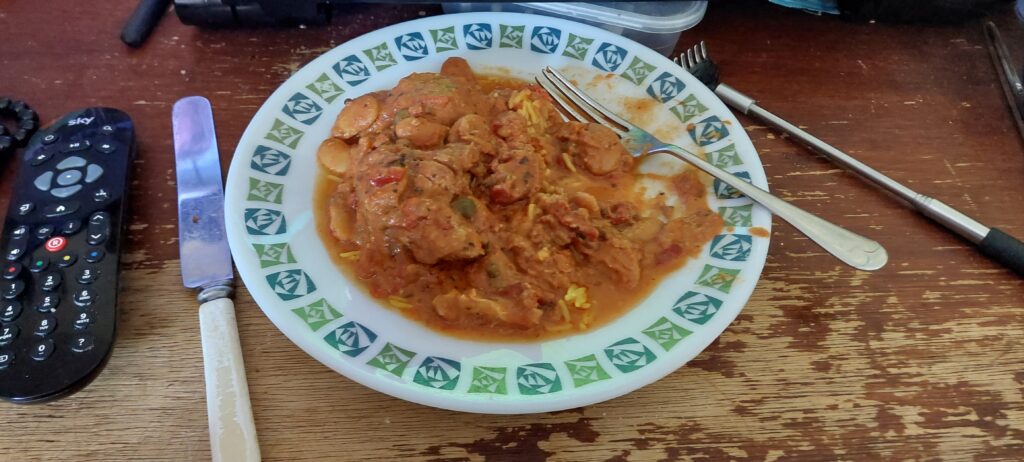 I served this with Kaffir lime infused rice…. Oh right ok!  I didn't that was my plan but I forgot to boil some rice so actually used a packet we had in the cupboard… sorry Linds!  One point off me for not using all the ingredients, "see me after class" "must try harder" and all that jazz.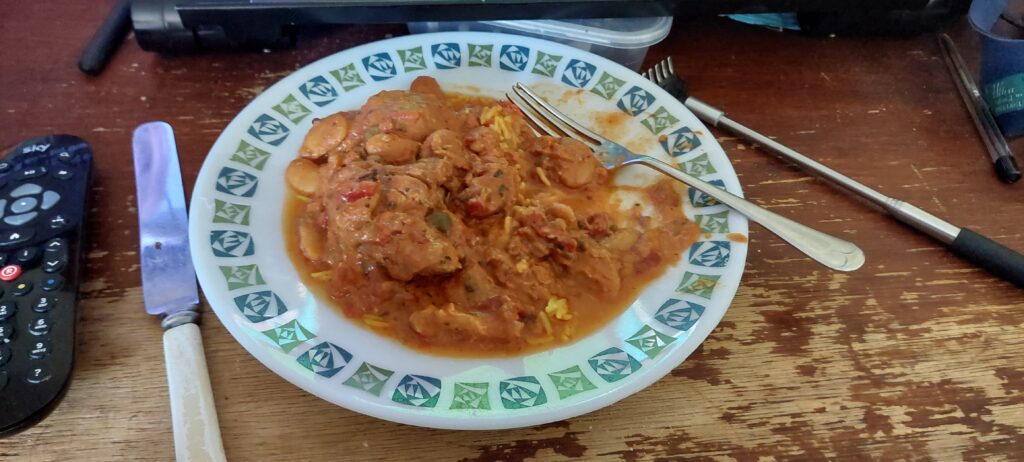 I really enjoyed this recipe, I'm really into Chicken Thighs at the moment, they're tastier than breast, they don't dry out so quickly and they're good in the slow cooker.
The other thing I loved about this recipe was the Spanish Paste, it had a taste of Onions and Tomatoes the two predominant flavours were Paprika and what I can only imagine was the Amontillado Sherry.
If you're wondering why the recipe is called Spicy or Not, Spanish Chicken with Lime Rice, well, it's because my mother and I couldn't agree on whether it was spicy or not.  The paste had paprika in it which is often spicy and I added Tabasco Sauce and Pepper, it wasn't too spicy but there was a kick to it.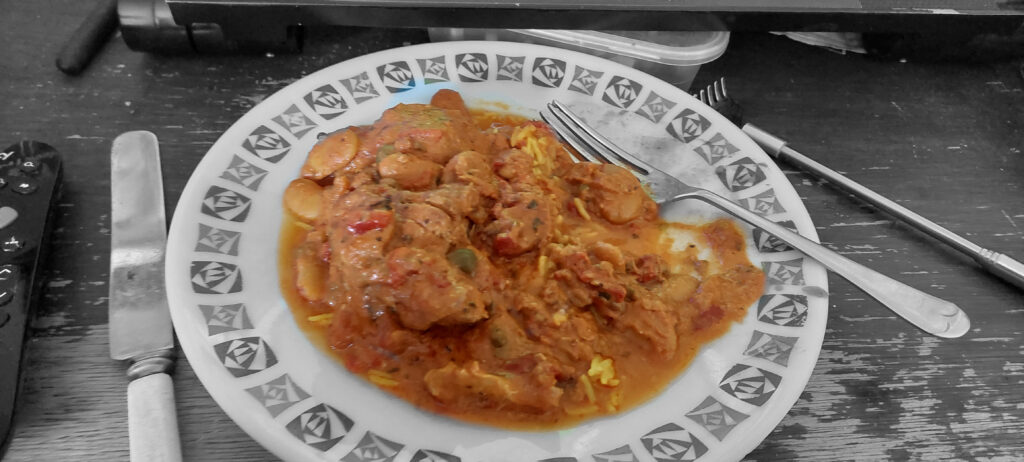 I'll be posting another recipe next week, and hopefully it'll be something quick and easy as part of the revived Time-Saving Tuesdays range, do you have recipe ideas or time-saving ideas I can feature, if you do let me know.  Remember you can also subscribe to the blog for regular updates.
As always if you have tried any of the recipes I've blogged about or tried a product I've reviewed please let me know,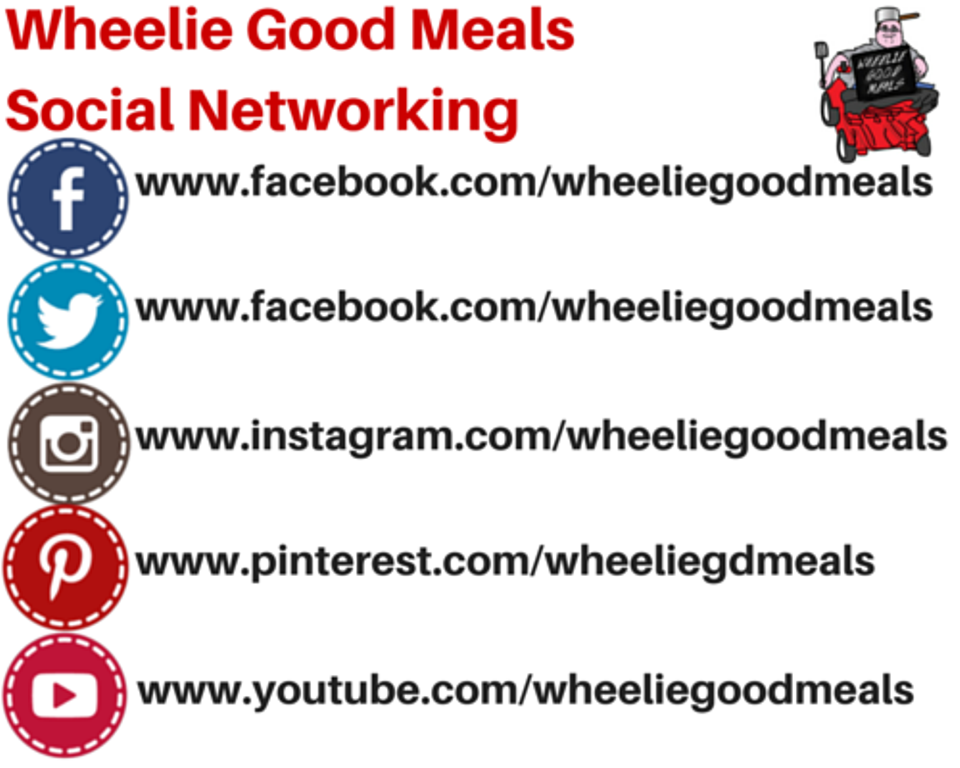 Big thanks to Lindsey for helping me cook this one, it was really enjoyable and Massive thanks to Hayleigh for this recipe, sending lots of love to her, Dave and of course the newest addition to the family.  Thanks obviously to the lovely Lindsey for helping me make this, and even bigger thanks to you folks for stopping bye to read this post.
As always, I hope you enjoyed this post, my pantry raiding recipe will be back some time in the next week. Come back again soon and, together, we'll make more Wheelie Good Meals!
See you soon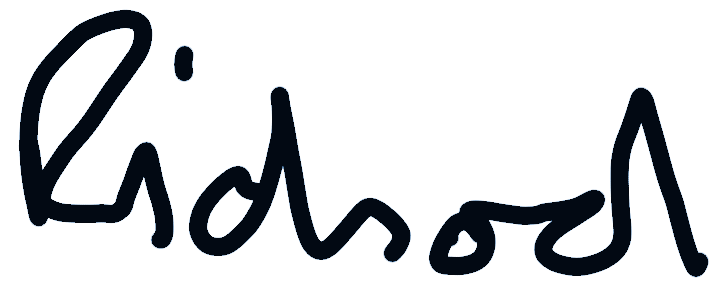 Richard