Good morning all, sorry this is slightly delayed I was going to upload it yesterday in time for Blackpool Ballroom but had a million things to do, oh ok, not a million but it felt like 😆 ! This is based on Simon Rimmer's Baked Cuban Chicken and Rice from Something For The Weekend. I'm using this as my recipe to represent the Rumba. There's Rum in it and also the Rumba originates from Cuba. We've seen two cracking Rumba's this season one from Helen and Aljaž in week 7 where they scored 31 dancing to Adele's "Hello". We also had an equally good Rumba from my personal favourite Anton and Katie in week 8; they danced to Shirley Bassey's "Never, Never, Never".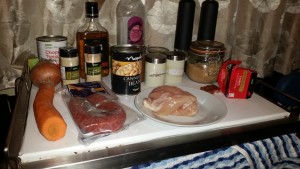 There's rum in this recipe, my friends Kirsty and I are on self imposed bans from alcohol for four week (28 day ban) so having this in the recipe may have been controversial but the alcohol was burned off so it was fine. Why the ban, well it's to try and become a bit healthier and to lose a bit of weight ready for Christmas. There are lots of ingredients in this recipe, don't be fooled, it's not difficult and I'm going to look at ways of making it easier, but it's fairly easy in its self. My recipe is different from the original, you can find the original here but because of time and to make the process easier I've cut a few corners.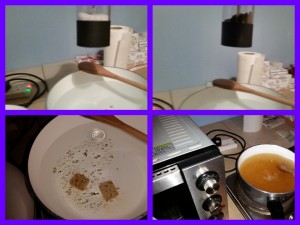 The first thing to do is to get the stock on, you can make your own chicken stock or use bottled stock but I put two stock cubes in a sauce pan in 1.5 litres of water, seasoned and left on a medium heat.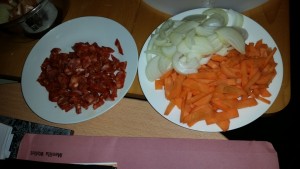 The next thing to do is to chop the ingredients up, cut the chicken up and put that to one side and then chop up the chorizo, carrots and onion and set them to one side. At this point you can also weigh out the rice and set that aside, the rice for this recipe should be short grained rice.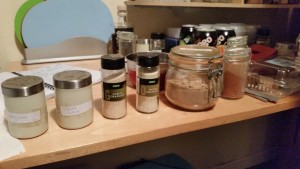 Once you've got the stock on you need to keep an eye on it and stir it from time to time to ensure the stock cubes have dissolved. For the spice mix add the above ingredients to a small bowl and mix.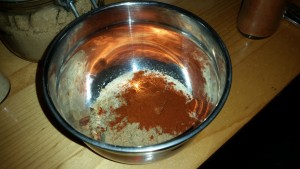 I didn't use dark brown sugar, I used light brown sugar because it's all I had – that's what cooking is all about make do and mend, if you haven't got something stick something else in. I also didn't have paprika so I used Smoked Paprika. I had to go out and buy Garlic Powder and Onion Powder so that was new, I know they are used in a certain Fried Chicken recipe so I'll be trying to recreate that too.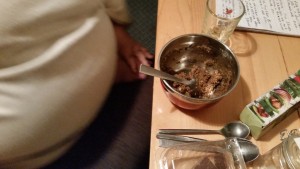 Once you've mixed all the seasonings, sugar, herbs and spices together add some oil and mix that through. You're trying to make something that I've heard called slurry like the one in the photo above, excuse the belly!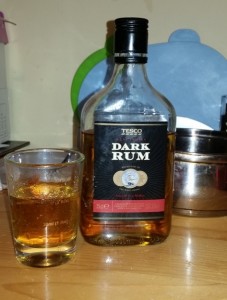 I used Tesco Dark Rum, I have only tried Rum once playing poker with Greg and two other friends some time ago, I can't say it's a drink I really like but you know me I wouldn't say no. The original recipe asks for 50ml but we used 60ml, the glass I'm using is a glass I had from a friend Emma who sells Forever products, if you are interested in Forever's Aloe Vera products let me know and I can pass her details on to you.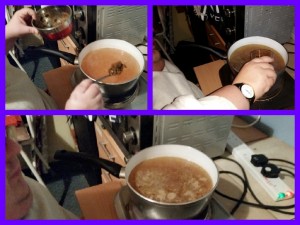 To the stock on the hob add the slurry and then pour in the rum and mix thoroughly, allow it to sit there on a low heat to burn off the alcohol and to let become friendly with each other.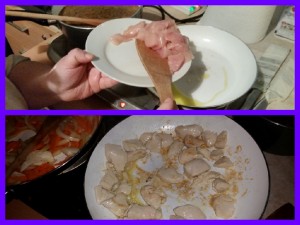 Add some oil in a frying pan and fry the chicken until they are golden brown. I only had two chicken breasts; ideally you'd need 350g of chicken according to the original recipe. Set the chicken aside and let's cook the sausage mixture.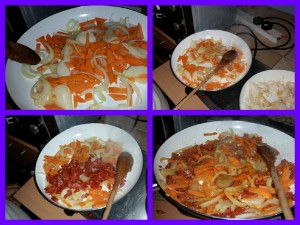 Firstly fry the carrots and onions; you want to cook them until they are soft. Once they've started to soften you can add the minced garlic and stir thoroughly, allow all the flavours to mingle and get to know each other. Then add the star of the show, the chorizo and cook on a medium heat until the vegetables have softened and the chorizo oil is oozing into the pan. Make sure all the ingredients are mixed through thoroughly, take off the hob ready and add to a bowl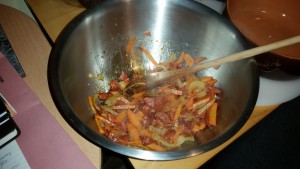 At this point you can season the mixture and give it a stir, let all the ingredients sit while you add the rest.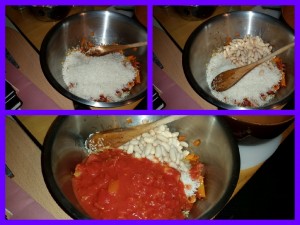 To the sausage and vegetable mixture add the rice, the beans and the tomatoes. The original recipe asks for long grain rice and whole tomatoes not tinned tomatoes, I personally hate the skin of a tomato so where possible I use tinned. The long grain rice situation was a bit puzzling, I used it because it was all I had, so I was intrigued to know why Simon Rimmer had specified Short Grain Rice, I did some digging. I've tweeted Simon Rimmer to ask what the reason was and will let you know when I have a reply back.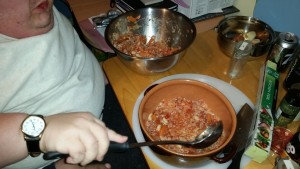 After mixing the ingredients thoroughly spoon a layer on to the bottom of a casserole dish (again excuse the belly).  Simon's recipe says to spoon half over, I didn't do that I've layered it, next time I'll do half the mixture.
In my case next I added a layer of chicken, then spoon a layer of the sausage mixture and carry on repeating until everything is used up. What I'll do next time is add all the chicken here, then add the other half of the sausage mixture.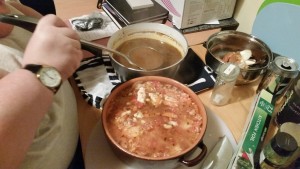 Spoon the stock over the top of the ingredients, once you've done that place it the oven and cook for 45 minutes onwards. I cooked it for an hour and ten minutes, whether that was because it was long grain rice and it takes longer, I'm not sure but it took longer than the recipe said.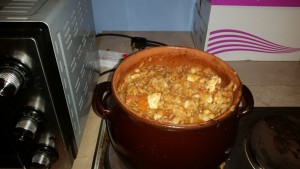 You'll notice I've used a different casserole dish in the picture above, why, because I stupidly put it in one that was too small 😳 . When you take it out of the oven you'll get hit but stunning smells of the chorizo and the spices which will fill your room and, if you weren't hungry already you will be now.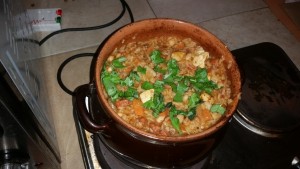 When its cooked sprinkle some basil over the top, the original recipe calls for parsley but I had basil, what's a difference in herbs between friends?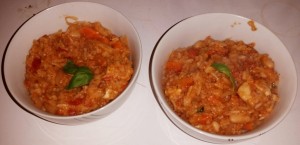 I've served mine with a basil leaf (as always) because my mother's drummed it in to me over the years that we need a bit of green. It was a stunning dish, warm in flavours with plenty of depth with the paprika and the chorizo giving it a mild kick of spice. I've never used cannellini beans before but they were lovely and the long grain rice worked better than I thought it would. This recipe is like all my recipes, take your time, if it takes longer than I've said it takes longer, I guarantee it'll be well worth it. I'd certainly cook this one again, would I do it differently, yes possibly there's a lot of processes which could be, well, streamlined but I'm not sure if you'd get the same end result.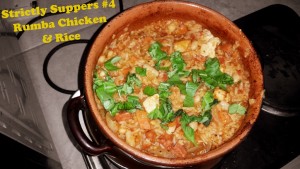 Don't forget as always you can download my step-by-step instructions here. Next week for the fifth instalment in our Strictly Suppers range we've got Cha-Cha-Char Grilled Tuna Steak with a spiced soy, honey and ginger sauce and cheat's mashed potatoes.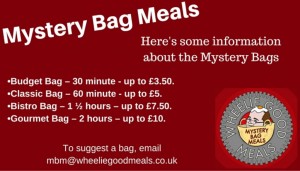 I'm back to normal now (normal, ok I know I've never been normal but you know what I mean) Tuesday we've got a review of Asda Beef Bourguignon with Red and White Quinoa. Don't forget you can get in touch to give me a Mystery Bag challenge, see the information below. For now, have a good week and thanks for stopping by.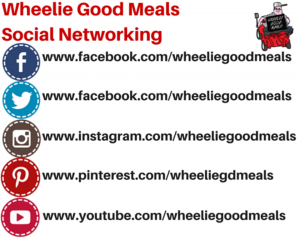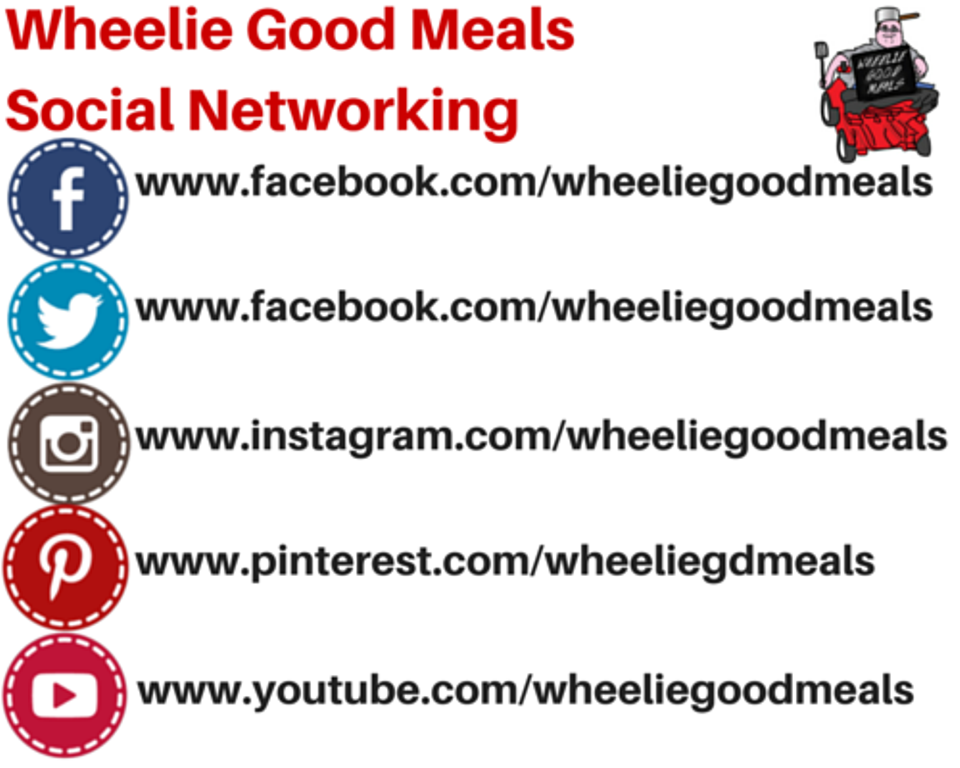 Special thanks to Kirsty for helping me cook this one and for taking the photographs for me and for Alice and Heather for suggesting the recipe. Fingers crossed I've got some news about a few new videos on the horizon! Enjoy cooking the recipe, if you make anything from this blog please let me know, also send in your thoughts, pictures, ideas – just basically get in touch via our social networking sites above! I hope you enjoyed strictly, I can't say I'm disappointed in the result; it was long overdue, just a shame Jeremy's gone.
See you Tuesday