Sainsbury's Chicken with a Creamy Vintage Cider Sauce followed by Belgian Chocolate Soufflés washed down with a 2014 South African Dry White
This was a Meal Deal Heather brought up recently, chosen by my mother, I would have ordered the Bistro Cod & Chorizo Potato Bravas because of my love of Patatas Bravas – but I'm glad I didn't… as always my mother knows best :). I'm going to take this course by course (that's always a good idea lol 🙂 ) so the main course, the box described it in the following way:
2 British chicken breasts in a creamy vintage cider sauce, with garlic and sage roasted potatoes, leek and roasted red onion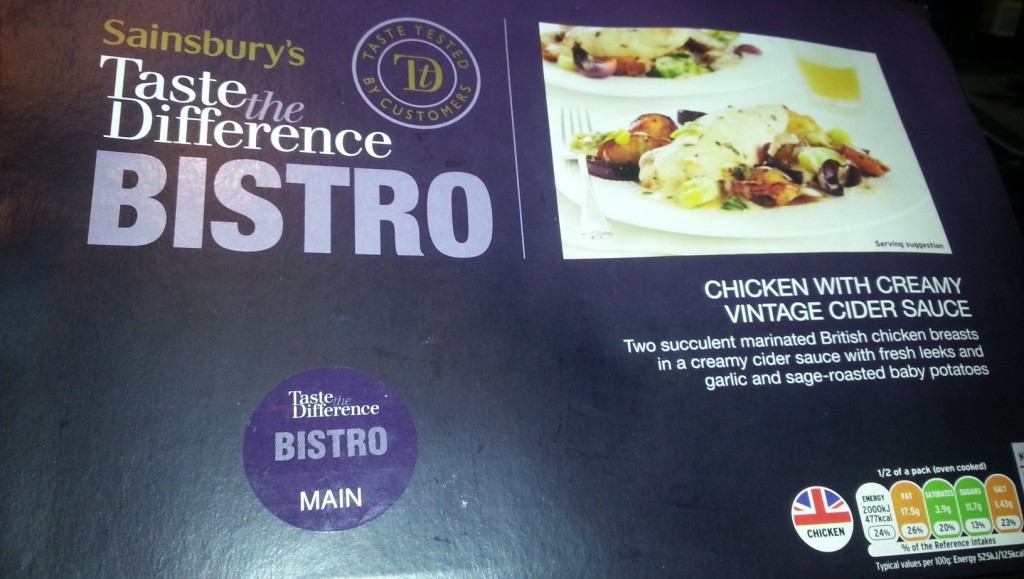 This was excellent; it was a chicken breast in a creamy sauce which had a great background flavour of cider. The cider wasn't over powering it was tasty; if I'm honest I would never have thought of putting cider with chicken. See below the ingredient list the additional description on the side of the box said the following:
Full of mellow fruity flavours this classic dish pairs tender marinated British chicken with a velvety sauce made with cream and a dash of Thatchers Vintage Cider, garnished with fresh leeks and roasted red onions.
That is exactly how I would describe it, the sauce was voluptuous, creamy, tasty rich – it was lusciousness really rich but with the acidity of the cider to cut through it. For a full list of ingredients and nutritional information see the picture below: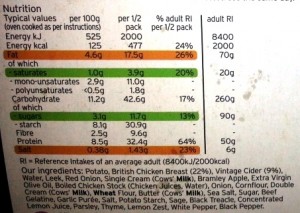 Cooking was straight forward as it cooks in the oven, you did have to take half the lid off during the cook, and I agitated the food at that point by giving it a bit of a stir (see cooking instructions below). I'm not sure if this was the right thing to do but it didn't seem to do it any harm. I was even impressed with the potatoes they were lovely and soft, they weren't hard or chewy but were just right. I think after a few weeks of searching for a ready meal with good potatoes we've found one…. well done Sainsbury's! The leeks were soft and sweet and the red onions gave a bit of a crunch to the dish, everything complimented everything very, very well and with the wine Heather chose it was an excellent combination.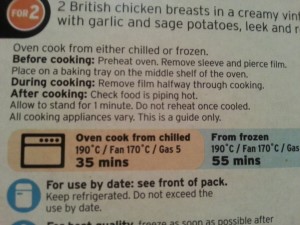 Sainsbury's say on the box that they are passionate about great tasting food, which is why this range of product has been taste tested by a panel of customers to ensure the best quality. I'd love to be on this panel, if Sainsbury's are watching out there I'd love to taste the difference in their meals (great pun there I thought 😉 ). My mother thoroughly enjoyed this and some of her comments including everything complimenting each other have been combined in my review.
On to her usual favourite part of the meal, the desert, these Belgian Chocolate Soufflés were described by Sainsbury's in the following manner:
Made with rich Belgian dark chocolate and West Country whipped cream, these delicate soufflés hide a luscious layer of silky Belgian milk and dark chocolate sauce. Simply irresistible.
I'm not a massive chocolate fan but this was exceptionally good, it was well balanced, the dark chocolate wasn't as bitter as I'd have expected it to be and the sauce underneath was exquisite. This was a no cook desert; here are the ingredients and nutritional information for you: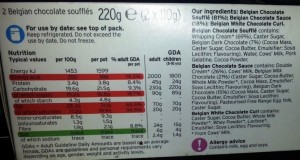 The consistency of the bubbles that made up the chocolate topping of the desert was excellent, it was light and fluffy and the sauce underneath was rich and velvety – below is an image of the desert before starting, a spoonful of the desert showing the topping and the sauce and finally a picture of the desert in the glass after it had been started.
Lastly the wine, I'm not Olly Smith but this wine was excellent. It had a five out of five review on the Sainsbury's website, that's a good place to start.   It's a South African 2014 dry white wine. The grape was a Chenin Blanc and Colombard (I've never heard of that combination before) it was described as:
Crisp green apple and zingy lime zest flavours, delicious with simple chicken dishes
It was crisp fresh and delicate, it wasn't overpowering and too strong in taste. It was quite rounded and went excellently with all the components of both the main and the desert. On the scale of one to ten it was as classed as being one which is the driest wine. Personally I much personally prefer wine the drier the better, the strength was 13%ABV.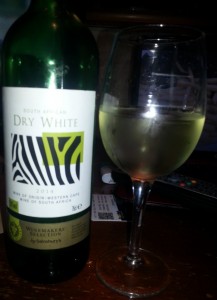 I'd give this combination a whopping eight out of ten, that's for the main, desert and wine and the way they all married together to make a great two course meal.

This was an excellent meal; I was very impressed with the whole combination and was very grateful to my mother for buying it and my sister for bringing it up…. bring on the next Ready Meal. If you have a ready meal you want me to review drop us a line.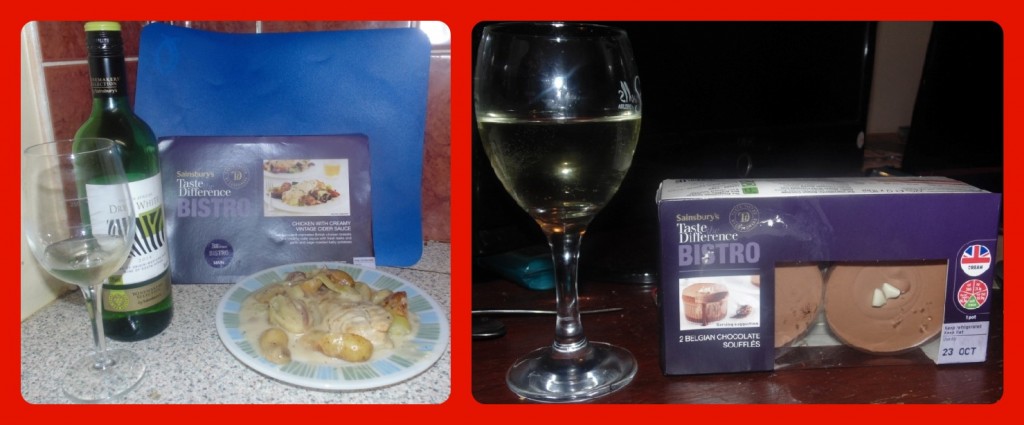 For now have a good week, and remember to come back again soon and, together, we'll make more Wheelie Good Meals
Happy Days 😎