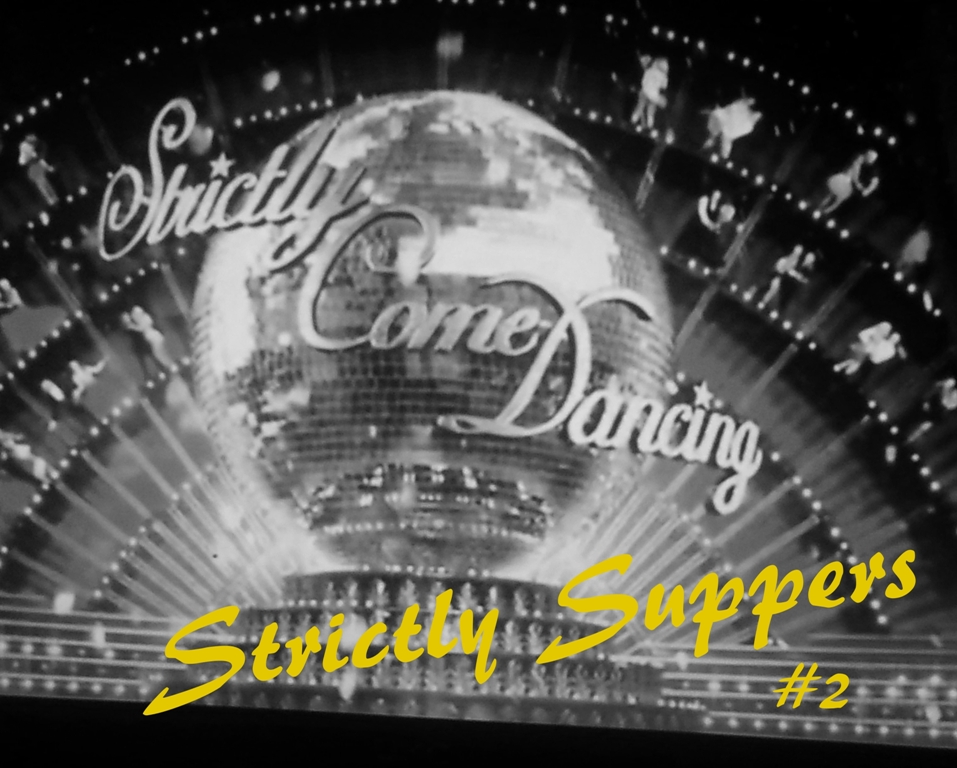 Well we're going with the Tango theme for this week's Strictly Supper. There are two types of Tango, the Tango and the Argentine Tango, so I'm sure you'll see this one again at some point. This is a nice dessert and it's quick and easy to make and great as an evening snack or a dessert after a light meal. Alison & Aljaž danced the Tango lsat week ( week 5) and scored 23 out of 40.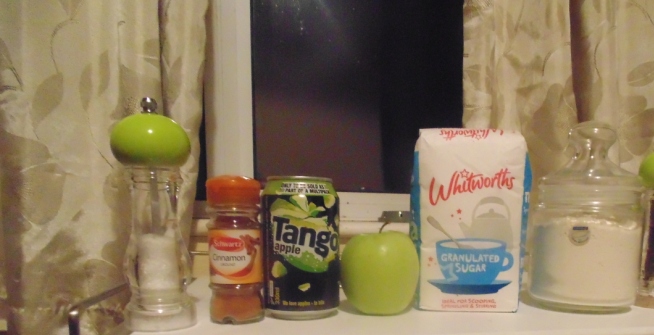 This was so quick and easy and came from a collaboration of ideas from different websites, the main recipe I based this on used beer for the batter! Again like the last Strictly Supper you'll notice in the picture below that I haven't used a lot of equipment. I've used my mini wok for frying, although of course you could use a deep fat fryer or a chip pan.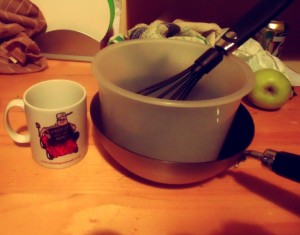 I am not going to lie I've not used Cinnamon before it's not a spice I'm really familiar with but stereotypically it goes with apple so I thought why not give it a whirl. The image below shows the different stages of the batter process, firstly I added a mug full of flower flour (thanks to heather for proofreading), Cinnamon and Sugar to a bowl along with a few grinds of salt…. I think the salt enhances the sweetness.  Then I added a can of Apple Tango, I was going to use a mug full as that was the amount of beer the one recipe I read used. I went for the full can of tango because, I didn't want to waste it, I whisked it up and then added the apples. You'll notice below I've left the skin on the apple, this was purely to save time and make it easier. Leaving the skin on also keeps the shape of the fritter.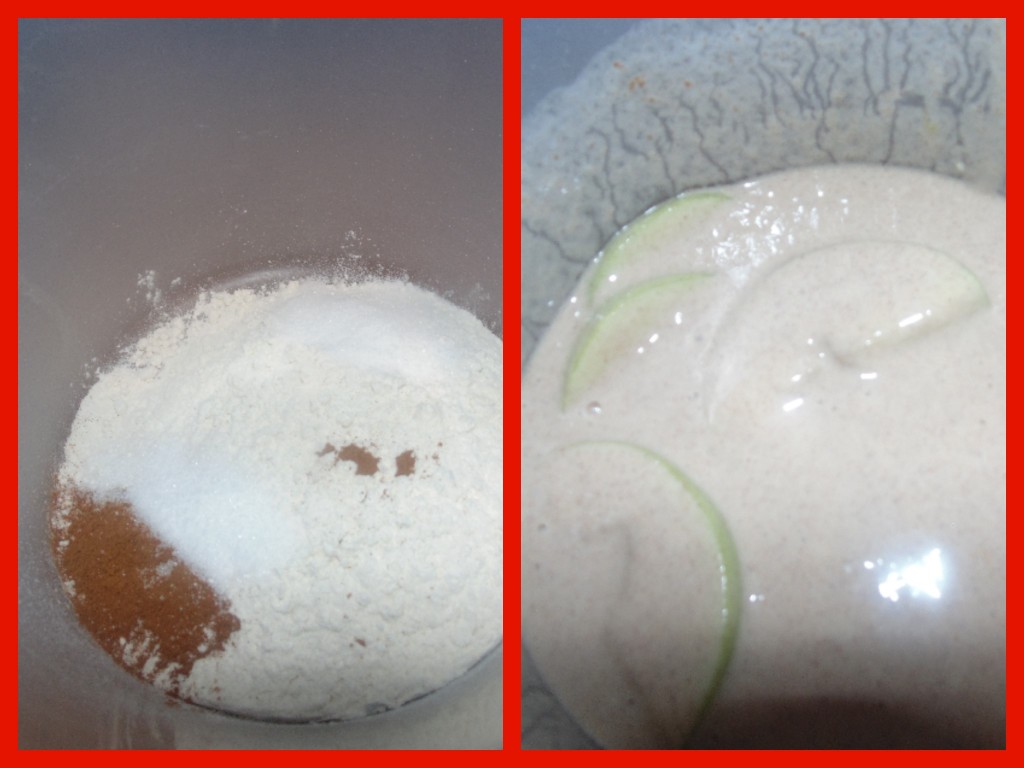 I was going to make my own caramel but my mother came up with the brain wave of using Carnation Caramel. I noticed on the tin it said "Cook in Caramel" which made me wonder, so I tweeted (being the twitter addict I am) Nestle asking if it could be eaten without cooking. They said they'd never tried and I would wheelie be a guinea pig.

It was very thick when it came out of the jar, obviously it's used traditionally for dishes like Banoffee Pie, you'll see it in the image below.  I added some boiling water to the caramel to make more of a sauce, it's important to stir thoroughly to make sure the caramel melts. I also added a few grinds of salt to the caramel sauce for a salted taste.  The caramel sauce was excellent, it was rich and comforting, my mother and I were eating it from the jar and had to stop lol.  It worked very well and I'd use it again, possibly I may melt it in the pan next time to see the difference.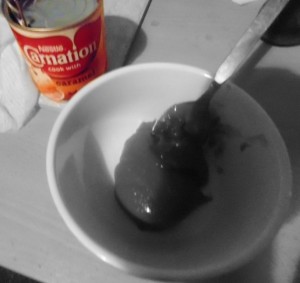 I then deep fried the apples, I did this in a wok with some vegetable oil in it, I used enough oil to allow me to deep fry. For this you can use a deep fat fryer, chip pan or a wok like me. There are lots of house fires caused every year by chip pans (ok I sound like my parents now but it's only because I care). When the oil is hot enough deep fry the apple pieces, keep an eye on them and turn them occasionally to ensure they are golden brown.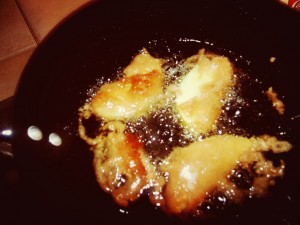 Once they are cooked serve with the Carnation Caramel Sauce and a scoop of ice cream. I was going to make my own ice cream but as this was meant to be quick and easy, I cheated and used shop board bought (again thanks to Eagle Eyes Heather for her corrections, where would I be without you sis <3 😛 ) ice cream.
This was great and really easy to make, you could prepare the batter in advance and leave it in the fridge. I suppose you could use other fruit and other fizzy drinks but then that wouldn't be a Strictly Supper 🙂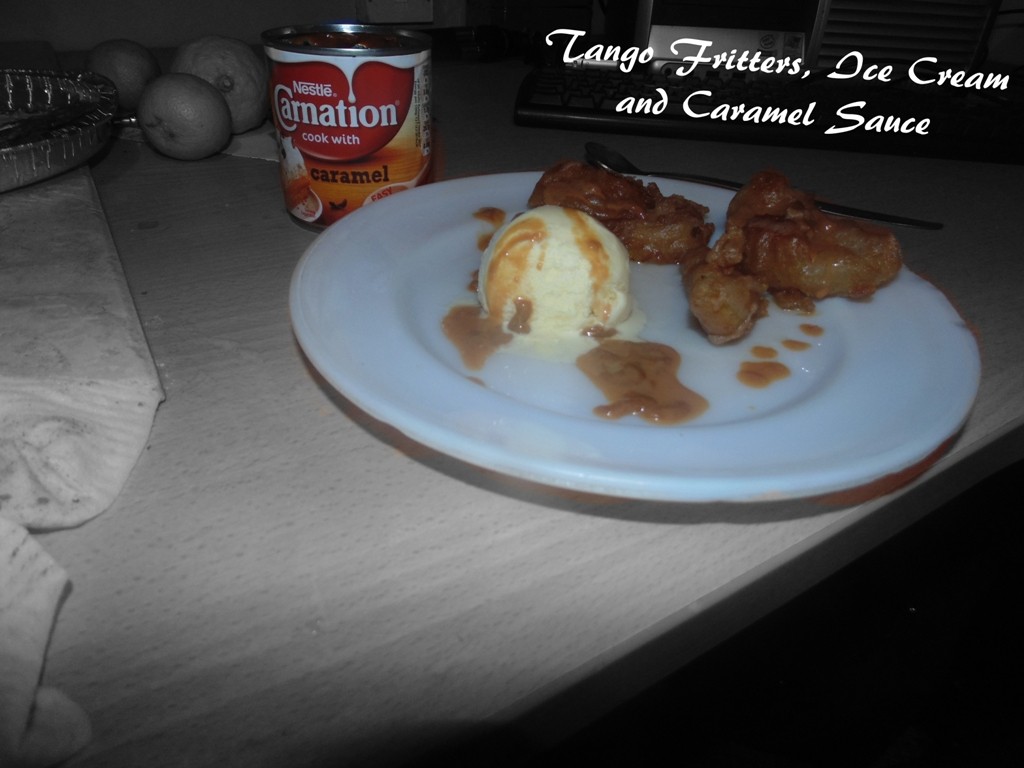 Don't forget to download our step-by-step recipe from the link here. Feel free to get in touch with ideas, questions etc, you can email enquiries@wheeliegoodmeals.co.uk or go to one of our Social Media pages.
Ta ta 😎