I asked Alice this week what she wanted me to cover for the blog this week and she chose this one… so Alice this is for you!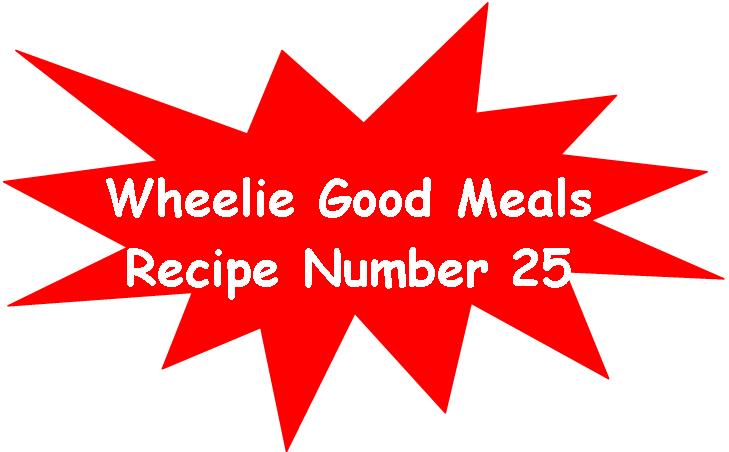 Before I go into the nitty gritty of this recipe I should say it marks the start of another new feature of Comforting Classics, meals, ideas that are Comforting food to everyone.  I'm not going to give this a particular day just as the mood takes me… after all we all know I'm a bit pants at keeping to a schedule.  I'm proud to say that this is my 25th recipe for the blog, I know that's a total lot of toff to most people but I'm proud of it so there :p lol (so proud I did a stupid graphic) 😳 !
This is one of my favourite recipes, it's warm, Comfortinging and uplifting. It's really, really, quick and simple and can be made in next to no time. It also freezes well. I cooked this for Stacey following on from Stacey's Brocliflower Cheese Bake.
The ingredients are simple, I've used Prepared Mashed Potatoes and a Fish Pie Mix (I've got mine from Tesco but they are available from other stores.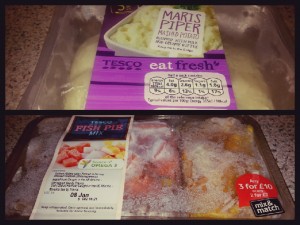 They are ideal for people who are in a hurry, and for people who perhaps don't want to buy the full set of ingredients. I sometimes frowned at these sort of ingredients because they were a "cop out" but having used them and seen the benefits they are ideal for quick cooking and great for people with some disabilities who may have difficulties in mashing potatoes or skinning fish.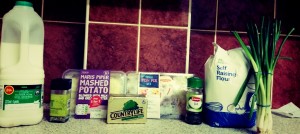 The ingredients are simple, you can leave out the herbs if you don't have them, you can add garlic and mustard if you like but it may be too strong. I don't use cheese in my fish pie as a rule but you could use it in the mashed potatoes if you wanted to. The ingredients are simple and this is reflected in the amount of equipment and utensils I used.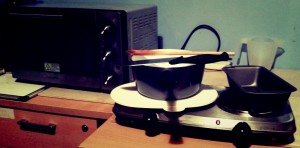 This is a fairly straight forward process, I wasn't sure where to start but I did it by chopping the spring onions finely, you can do that using a knife or with a food processor, I used a food processor so they were ooober fine. After that I made a roux by melting butter in a pan and then mixing in flour and stirring it into a paste. Slowly add in the milk, it's sometimes better to take it off the heat to avoid lumps, once you've done that add the herbs. Cook until it becomes thick and unctuous, all the flavours should meld together and become one big happy family.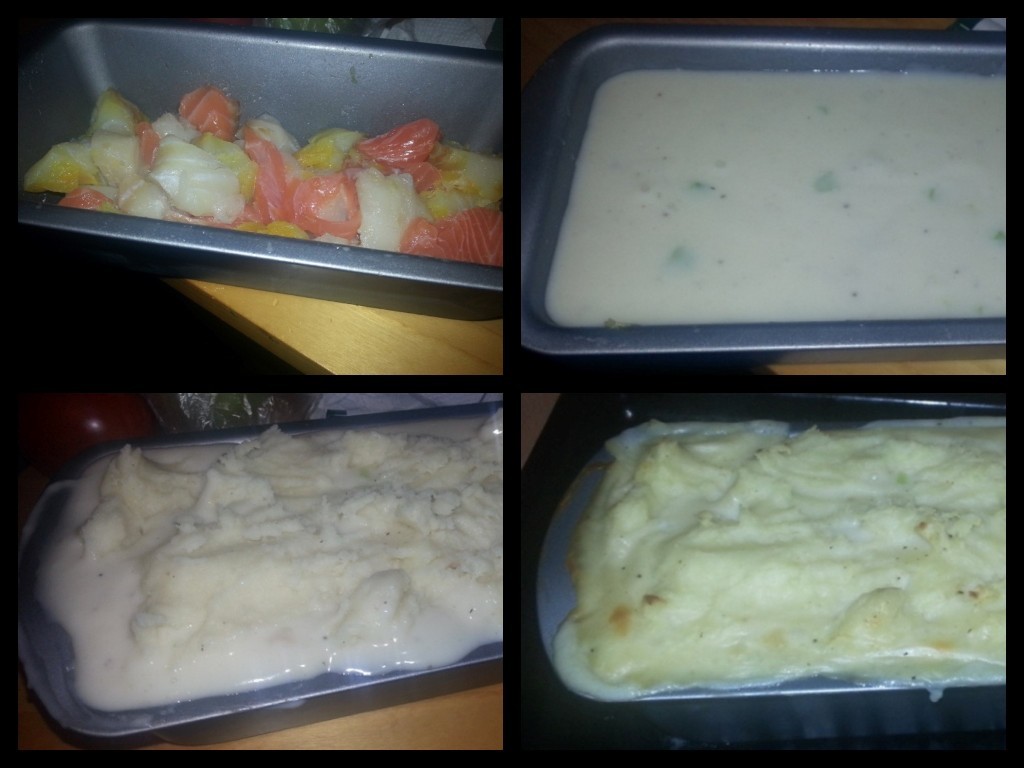 Place the fish in to the pie container (in my case it's a loaf thin)  😀 then pour the sauce in and give it a little mix to ensure equal distribution of flavours. Cook the mashed potatoes as per the instructions on the reverse of the packet, once I cooked the mash I added seasoning and butter and milk to make it a bit more luxurious. Once the mashed potato is cooled place it on top of the pie dish and then cook for twenty minutes, it is important to fork the mashed potato through to give "sticky up bits" 😛 so you can get a crispy topping on it.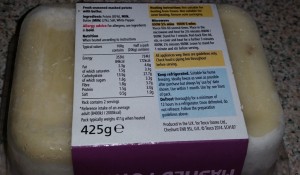 As you can see below, I've just served this as it was but you could serve it with broccoli, peas or even a garden salad (what ever one of those are) 😉 .  This is meal is quick and easy and ideal for a night where you've not got much time on your hands, this is something I make on a Tuesday night before I go to pool quite often.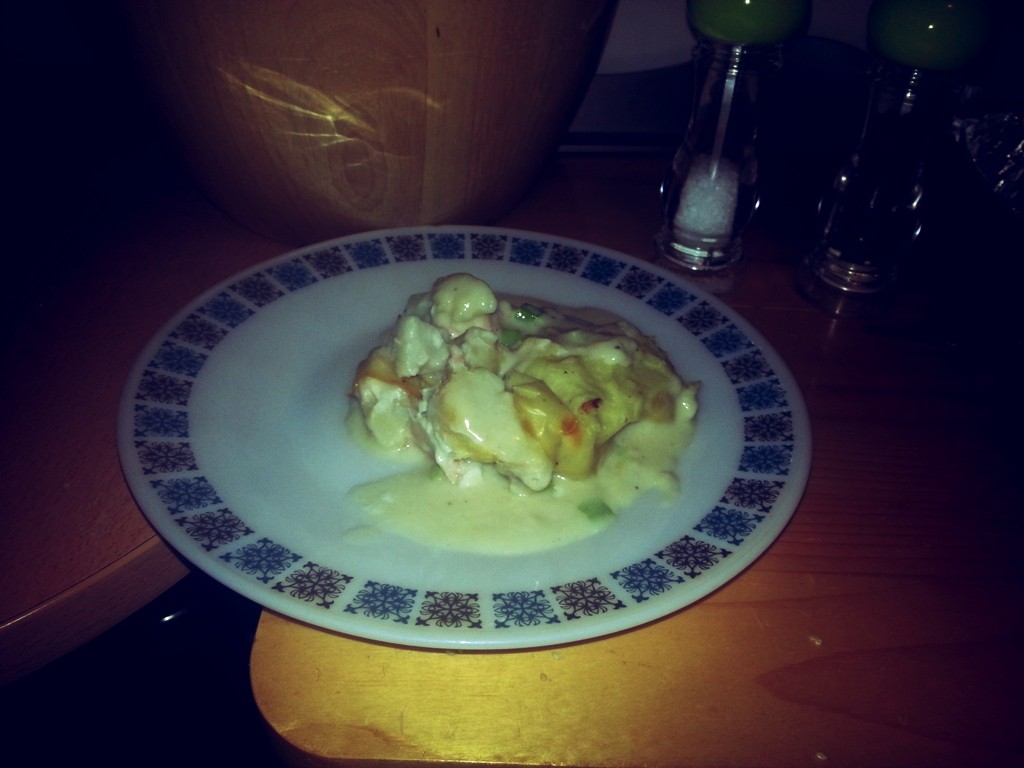 Don't forget to download our step-by-step recipe from the link here. I know it's bad manners to rave about my own food, but hey what the heck!! This was fab, as I've said earlier. I've cooked different variants of this, some with mustard, some with cheese but this is my basic recipe and I love it, I usually make a large batch and freeze it. Next up as part of my Time-Saving Tuesdays Feature I'll be reviewing John West Tuna Infusions Steam Pot.  It's quick, easy, and most certainly Time-Saving, come back and see what you think!  Following that we'll have another Comforting Classics my (Shepherds Not Cottage) Shepherds Pie 😀
If you've got any question, ideas etc, email enquiries@wheeliegoodmeals.co.uk or go to one of our Social Media pages.
Bye For Now!!