Drum roll please, here is my long awaited Speedy Sweet and Sour Chicken! I know I've been promising it for a few weeks but it's worth the wait. I've adapted a recipe by Jo Pratt, Jo's recipe can be found on the BBC Food Website.  Don't bother phoning your local takeaway with this recipe you'll have it on your plate in half the time, plus you'll enjoy it more because you'll have made it!

I'm not a massive sweet and sour fan myself but my mother is, she loves it so I found this on the net and because it was so straightforward and (because I had a pineapple to use 😀 ) I thought I'd cook it and see how it turned out like.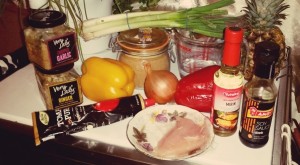 There are a few ingredients for this one, but it's quick to make and easy to follow. If you haven't got a pineapple then you can add tinned pineapple, that's what Jo uses on her recipe. The first thing you'll need to do is chop all your ingredients up. You know me, I usually always keep everything small dice but this wasn't for me. I chopped the ingredients slightly larger than I would have for myself, for two reasons. Firstly my mother's teeth aren't as bad as mine and secondly I wanted the peppers to still have a bit of bite and not turn into a mush!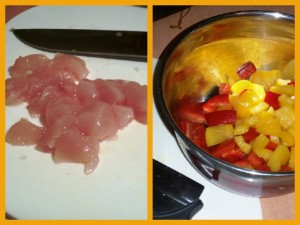 Once you've chopped all the ingredients set them safely aside for later. Remember you are cooking chicken so it is important to follow food safety guidelines. I know I've already said this in Alice's Mid Week Piri Piri BBQ Chicken and Patatas Bravas but I'm going to say it again
if you have any doubts on cooking chicken check these websites http://www.food.gov.uk/ or http://www.nhs.uk/Livewell/homehygiene/Pages/Foodhygiene.aspx.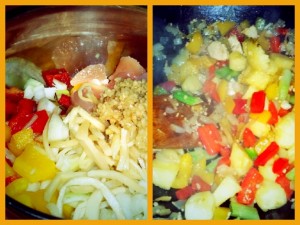 Heat the wok on a medium to high heat then the chicken, peppers, onions, garlic and ginger. You are going to cook that for 2 – 3 Minutes and then add the pineapple and spring onion and cook for a further minute. Before you add the pineapple and spring onion you'll need to make the sauce. I've got to say I really enjoyed the sauce on its own… I could have probably eaten that with a bowl of rice… ( 😥 , I wish I'd done that now).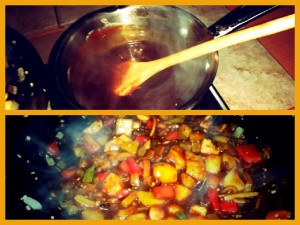 To make the sauce add all the ingredients to a sauce pan and let it cook for a couple of minutes, then mix the Cornflower and water and pour it into the sauce. Mix thoroughly and allow to thicken, after a minute or so pour the sauce into the wok.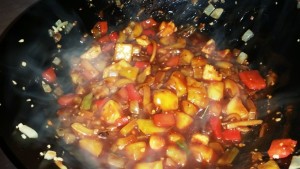 Once you've poured the sauce in stir thoroughly to allow all the flavours and ingredients to meet each other and swap the life stories! Bring to the boil, reduce the heat and simmer for 6 minutes or until the chicken is cooked through and all the flavours have combined.
I served this for my mother with some boiled rice, you could however (if you were a potato freak like me use mashed potatoes). Something I've just thought of doing while writing the recipe up is freezing the sauce, I'm not sure how that would work, but you could make a batch of the sauce (before you poured it into the wok) and freeze it to use in the future… I'm going to have to try that one. You can download a pdf step-by-step version of this recipe here.  My mother really enjoyed it, it had a good balance of sweetness and sourness, which is what you want.  Jo recommends white pepper in her recipe… does anyone know why?  I shall have to find out?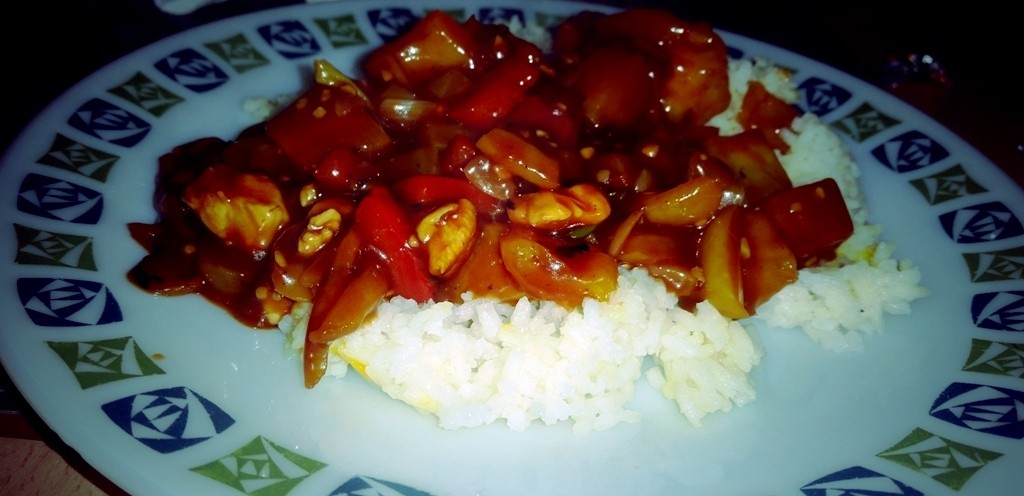 On Tuesday we'll have a Time-Saving Chicken Tikka Masala and Egg Fried Rice. A combination of a tin of Tesco Chicken Tikka Masala and a sachet of John West Egg Fried Rice – did I enjoy it? Was it Time-Saving? Will these questions ever end? Come back Tuesday and find out!
You can find Wheelie Good Meals on Pinterest come along and see what I've pinned and maybe you can help me get my head around it because I'm a wee bit confused. I'm not sure if there's going to be a recipe next week, see how I'm feeling and how much time I've got but there will be a review of my meal at Stephen Terry's The Hardwick… that's one not to miss!
See you Tuesday 😆