Since February 2008 cheating in cooking has become cool… why because Queen Delia says so in "How to Cheat at Cooking".   Don't take me dubbing her as Queen Delia as an insult, it's merely a testimony to how highly I think of her…
I have always had long standing regard of Delia Smith, she released a book and a television series which involved learning how to cook an egg. I think that's phenomenal – people would love that nowadays. It's something I'd like to do with Wheelie Good Meals and have talked to friends and fellow Wheelie Good Mealers Alice and Greg about in the past.
So how do I cheat save time. Well I do it in several ways, the first one is my cheats Shepherd's Pie that I've created .  You all know I love my Shepherd's Pie and I cook it on a regular basis but my infatuation for my Cheat's Shepherd's Pie comes from my time in hospital. I'm not one of these people who moans about hospital food because Prince Charles Hospital food when I was in five years ago was pretty good. The Shepherd's Pie however was, in my opinion a tin of mince, and some mashed potatoes…. so that's what I eat now when I'm in a hurry and I'm looking for something substantial.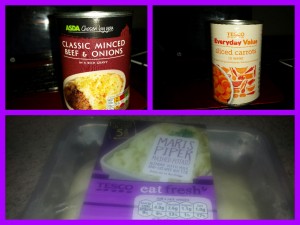 You'll see from the image above that there is a tin of Minced Meat, a tin of carrots and a packet of mashed potatoes… for me that's my luxury Cheat's Shepherd's Pie. I love… yes love… tinned Minced Meat and a Jacket Potato, I scoop out the flesh and mix it with butter and seasoning and then put the meat over it. It's my inverted Cheats Shepherd's Pie. – trust me, when people say "ooo tinned mince, stay away" they're wrong! You can get bad tinned mince and good tinned mince but so far Princes and Asda are my favourite. Off the back of that I have my Cheat's Fish Pie which I've featured on the blog in February. This recipe is using cheats ingredients (pictured below) and is not only a guaranteed success but a family fave!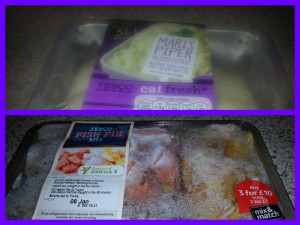 There are lots of jars available, I use loads in my recipes, there are just some pictured below: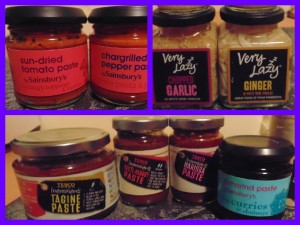 I buy them from various shops but the top two in the picture above are the two I use on a regular basis (oh sugar, you know that already!) I'm not afraid to cut corners, well unless it's in my wheelchair then I try and go around them properly)
          No wait, who am I kidding my door frames and doors are apauling I can't drive for toffee or so may parents tell me!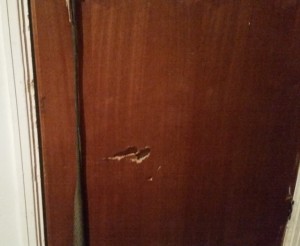 The picture above shows my living room door – you'll see the dents in the door frame and the hole in the door. I've always said "Bad Driving and Brute Force Gets Me Through Everything" (incidentally the tie helps me open the door, in case you were wondering)!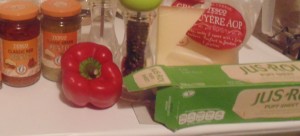 Even Michelin Starred Chef's use readymade pastry! The picture above shows I have used has been adapted from the picture used in my Strictly Supper #4 – Pesto Double. There are two Time-Saving Ingredients I swear by in this picture the Jus Rol pastry and also the two readymade Pestos!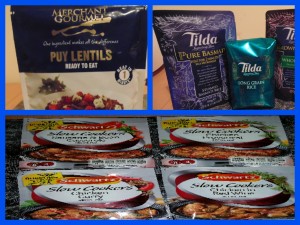 There are so many other cheat s and Time-Saving methods out there from sachets that include herbs and spices for a particular dish, to microwaveable rice and pre-cooked lentils. Don't think that I'm saying the above pictured items are all you can use because they're not – I use other ingredients of a similar nature and I don't see anything wrong with it. Remember you're cooking for you, not Greg and John (Masterchef reference there)! You've only got to impress you and your family so don't worry about what you use!
What are your favourite Time-Saving Ingredients, let me know… Check back on Friday for our latest recipe, remember to visit my social networking pages as I share lots of recipes from other blogs on there on a regular basis. You can find links to my social networking on the left hand side of the page.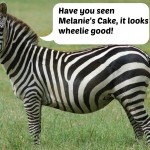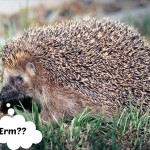 Massive thanks to Melanie from Melanie's Food Adventures for Saturday's post! You can find her Hedgehog Traybake here, if you like that then you'll love her Zebra Cake here give them a go!  I'll have my take on Jo Pratt's Sweet 'n' Sour Chicken for you later on in the week – that's one of my mother's favourite Takeaways