Hello again, carrying on from last week's #TST (yes I'm hashtagging it now) cheating theme, here's a Cheat Chiken Tikka Masala and Egg Fried Rice.
I can't claim credit for this one, this was my mother's idea! I'd bought the Chicken Tikka Masala some time ago and it was sitting in my cupboard, my mother (with the Time-Saving theme in mind) had bought me some sachets of rice.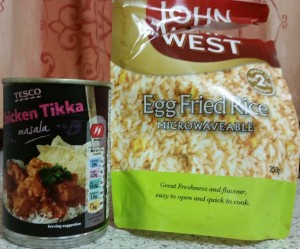 I was going out to my local for a quiz the other night and needed something in a hurry that would be fuss free but would fill me up ready for a few pints. My mother remembered that these were in the cupboard so cooked them for me.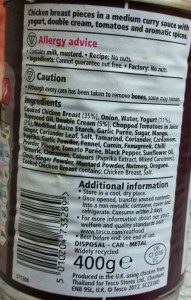 This can be cooked in the microwave 3 minutes for 800W or 2 ½ minutes for 900W. You can also cook it in a sauce pan on the hob, it takes about 4-5 minutes, stirring regularly, obviously all times vary depending on appliances (blah, blah, blah). It is described on the tin as
Chicken breast pieces in a medium curry sauce with yoghurt, double cream, tomatoes and aromatic spices.
There is a warning that says:
Caution: Although every care has been taken to remove bones, some may remain.
I don't know what to make of this, I am scared of bones, in any type of meat. I've been known to leave a piece of fish if I find a bone because of my throat and my massive fear of choking – I think I was once quoted as saying
"I'd rather be shot than choke to death"
Extreme I know but it's my worst nightmare, I remember going to a conference with my mate Adrian and another friend Derek. Derek was diabetic but (in the words of Marjorie Dawes from Little Britain) "Oh man he loved de cake". He couldn't get enough and consequently ended up having a bit of cake lodged in his throat, it took him ages to clear it and was very scary…. I don't think that's helped my irrational fears either! Right now I've scared you witless (or bored you) let's move on…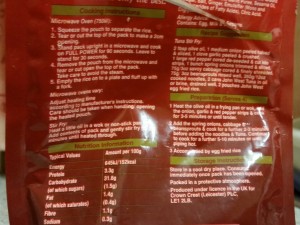 The rice was a John West sachet, the cooking was simple, for a 750W microwave you had to
1       Squeeze the rice to separate the rice

2       Tear or cut the top of the pack to make a 2cm opening

3       Stand pack upright in a microwave and cook on FULL POWER for 90 seconds. Leave to stand for 30 seconds

4       Remove the pouch from the microwave and tear or cut open the top of the pack.

5       Empty the rice on to a plate and fluff up with a fork
The curry was tasty, the chicken was tender and succulent. The pieces were small enough for me to manage them (hence the spoon in the photo below). The sauce had quite a deep flavour , it was tomatoey and had a great background heat from ginger , garlic and paprika. The rice went well with it, it was fluffy and soft, it wasn't claggy and difficult to eat.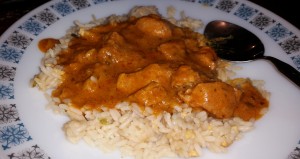 All in all this was a great success and a great idea by my mother. I'll be trying more meals in tins in the future. Come back next Tuesday to see more Time-Saving ideas. Don't forget if you have Time-Saving ideas please get in touch, you can never have too many ideas!
If you really like Chicken Tikka Masala and want to make it yourself, check my recipe out for a Leftover Chicken Tikka Masala. Thanks for reading, see you later on in the week with another recipe!