Aw shizzle (I'm late) ok well it's only an hour or so but I'm late.  Well this was written before I went to pool earlier, for those of you who don't know I am the captain of a pool team.  We have a great group of boys but we're not very successful, I was subtle in the way I worded that because we're better than our results show… well they are anyway I'm just pants lol  😥 ! We lost 8 – 1 tonight, so here's an uplifting comforting ready meal to share with you, while you share in the glory of our one win  😉 !
Now you'll remember I reviewed the Tesco Everyday Value Minced Beef Hotpot. I quite liked it, I wasn't giving star rating out then, but if I did it would have been a 5 or 6 out of ten, which isn't bad really.
This one on the other hand is in the Tesco Classic range… what does that mean, well it's meant to be premium, is it? I've got to say at this point I bought this ready meal myself and was not paid or sponsored to write this review, all the contents are my own views and opinions…. I'm sure you know that by now 😛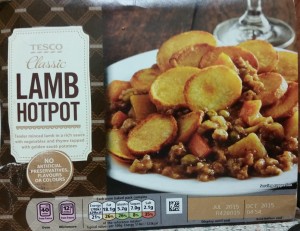 The main big difference in this hot pot to it's lesser cousin is MEAT! This contains lamb and the other contained beef…which is more genuine, you tell me. The list of ingredients was quite clear and concise and the nutritional information was clear to understand. The pack contained 429 calories, it was a portion for one (slightly greedy person) or two people on a diet!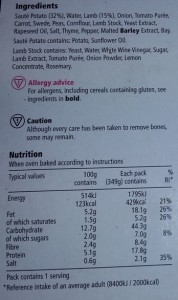 There was a lack of cooking instructions for my prehistoric microwave but I worked it out… 'cause I'm good like that 😛 ! It was quick and easy to cook and took around fifteen (15) minutes roughly with standing time.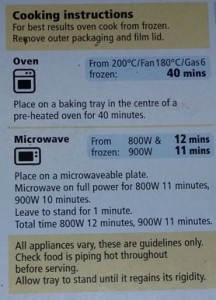 The packaging was clear and easy to read, not sure about the orange background (pictured above) but on the whole it was clear. It is described on the box as
 Tender minced lamb in a rich sauce with vegetables and thyme topped with golden sauté potatoes
I think that's a fair assessment, it was rich and unctuous, the potatoes weren't problematic they were crisp and tasty, I'm loving the taste of thyme and it came through well here. The other vegetables in this dish were great, I think the barley was an added bonus too, something different to bring to the party.

This was a definite 7 out of ten, I really enjoyed it and would buy it again without a doubt. There'll be more reviews from Tesco's ready Meals coming soon and next week we'll have my take on a quick and easy cooked breakfast!  Don't judge this ready meal on the photograph below, It's a wheelie bad photo (see what I did there 😆 ) it it's worth trying… and if Greg, Chris, Ben "The Hair" or Alice are reading this they'd say "Bad Quality Photo Boy!" (I'll explain that another time 😯 )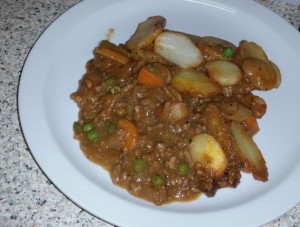 This week I'll be posting my review (at last, ok I know I'm pants at getting stuff done but it's nearly ready) of my meal at the Hardwick, don't miss it.
See you soon!