Is it me or does a Tuesday come around quickly, I think I must be getting old because time is flying. I know I've been wheelie rubbish with posting recently, I've had a nightmare couple of months in work but, that's for another day, I don't want to bore you with all that nonsense. Don't panic though I'm back on track, this week's #TST post is simple and easy and possibly one of my favourite things to eat…. yep I know I'm sad!
I'm not a massive fan of the traditional English breakfast as such, I have my own take on it…. ok it's not my own take at all, I now realise millions of people eat it lol. It's Waffles, Egg and Beans, for the purposes of this post I've only cooked one waffle and one egg. The ingredients and equipment below were used in this process… oh and a toaster and saucepan lol!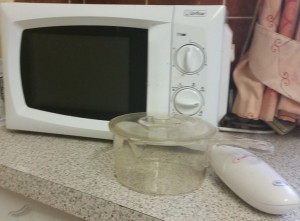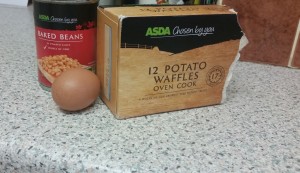 I'm not brilliant at poaching eggs, I know it sounds lame but I remember my parents going away for a weekend and trying to poach Quail's eggs for myself, Halyiegh and Dave…. not as easy as I thought! My parents went away last year and I tried to poach them again, as I was on my own. They were ok, but my nephew Matty who stayed over the next night had much more success than me (you can see mine below. with some spaghetti…. something different):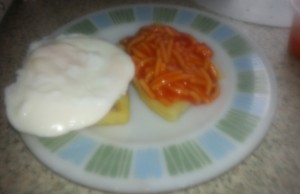 Because of my lack of success my mother bought me these Poach –Easy egg poachers so I felt it was time to try them!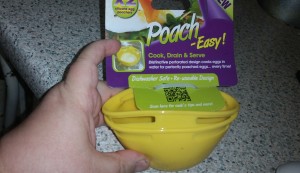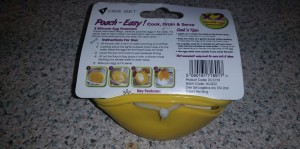 I've looked them up on their website and they are described in the following way:
Unique perforated design, perfectly poaches eggs in the water. The clever design has handles to safely lift it from the pan and perforations so the water can drain away.
It was quite a straightforward process and involved buttering the poach-easy mould and then placing them in a pan of gently simmering water. Once the Poach-Easy had sunk I had to break the egg into it, I think it's a good way of poaching eggs for people, like myself who aren't confident…. but I'm still searching for other ways!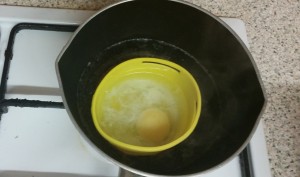 Although the instruction on the packaging was very and easy to follow, I didn't quite have the egg I wanted. I cooked the egg for four minutes which would give me a soft boiled egg, my egg was harder than I'd like. I don't think I'd brought it to the right temperature. I cooked the waffle in a toaster… this is a great way of cooking them, it's quick easy and gets a great result! Can I take credit for this one, nope… that pearl of wisdom came from Hayleigh, she's not just a pretty face really!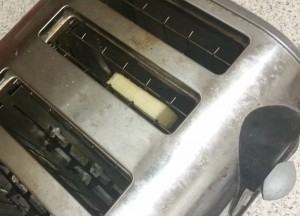 Put the waffle in your toaster and set it to the right setting, now that, my friends is where I have to leave you to your own devices ( 😆 literally) because every toaster is different, you may need to take into account that the waffles may be frozen.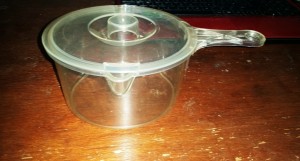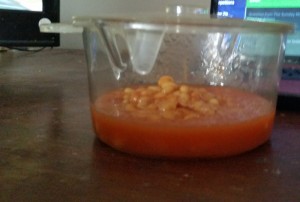 I cooked the beans in the microwave, I used half a tin and cooked them in a Kitchen Craft 900ml stain proof microwaveable saucepan. We use Chinese takeaway containers as you've probably noticed a lot in our house and I used to warm beans and tinned spaghetti in them in the microwave…. not a good idea. For some reason it stains the containers and everything looks orange after it. I saw this saucepan on the tele so bought it from Amazon here.   It worked a treat, it didn't stain and allowed the beans to warm through thoroughly, remember each microwave is different so warm them to your specific micro's settings.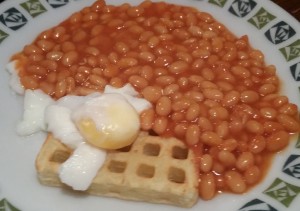 It tasted really good, I know this isn't gourmet food but stuff it, its comforting tasty food that's quick and easy. I know it's not up there with some of the finer things in life but sometimes only waffle eggs and beans will do in my life. I could have cooked the egg a little less but all in all it came out well, as you can see below…. it didn't last long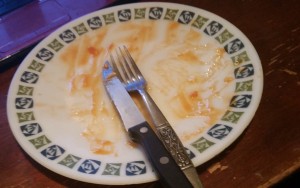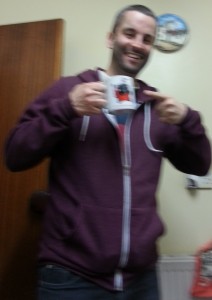 I spiced the remaining beans, ready to use in another Time-Saving Meal, come back next week and I'll show you what I did with them.  I promise I'll be back later on in the week, not saying with what yet, why, because I don't know myself yet.
I couldn't go without wishing Greg luck he's playing Edgar Linton in The Caerphilly Players Amateur Dramatics Society's adaptation of Emily Brontë's novel Wuthering Heights.  I'm not sure "Break a leg" is the right thing to say from someone who has brittle bones… but you know what I mean!