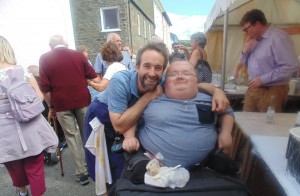 You'll know I'm a big fan of twitter and the internet, through it I've made some excellent new friends including Jo Pratt, Melanie McEwan of Melanie's Food Adventures, Saira Hamilton (Masterchef Runner Up 2013) and Great British Menu winner (2008), Chef Theo Randall. However, the one person who I've met through the net and had the fantastic pleasure of meeting in real life… yes real life… it's not all done online you know is Chef Stephen Terry. As you've seen in my review of the Cardigan Bay Seafood Festival I've had the pleasure of meeting Stephen Terry and after chatting with him decided to visit his restaurant The Hardwick in Abergavenny. My mother, Greg and I went along in September, this was probably my first taste of fine dining so to say I was nervous was no exaggeration, was I going to be too uncouth for such a popular restaurant with such a notable chef. The answer, thankfully was no, while The Hardwick has exquisite food, fantastic wine it also has an unpretentious and relaxed atmosphere and excellent service, something which in my opinion is reflective of Stephen's personality.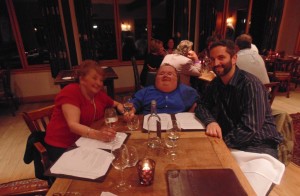 With my disability consultancy hat on the access into the restaurant was very good but we did have to walk around the outside of the building to get to our table. Don't get me wrong, that wasn't a problem but I'd always advise anyone to inform the staff of all your access requirements when you book so they can completely accommodate you. Staff members were extremely helpful and walked around the outside with us to ensure there was no access problems.
---
Starters: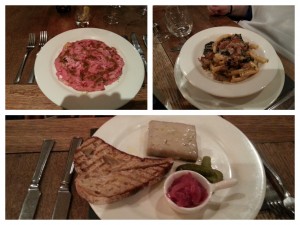 Greg ordered a Carpaccio of rare roast Jonny Morris ribeye with rosemary, anchovy & garlic dressing, crunchy brown butter breadcrumbs and Parmesan. I ordered Bucatini Pasta with Chicken Cream & Fried Sausage Meat Sauce, Parmesan and Shaved Fresh Summer Truffle. If I'm honest the pasta was a bit much for me for a first course, I ordered this simply because I've never tasted truffle. Having said it was heavy, it had great flavours to it and was really enjoyable, there was an excellent taste with the sausage meat sauce and I can now say I've tried truffle. I don't think I'd order pasta for a starter again. To find out what Bucatini Pasta is click here. My mother ordered Hot Pork Meatloaf with Grilled Swiss Cheese, Onion Marmalade, Pickles and Toast. She really enjoyed this, she's a big fan of pickles and it complimented the meatloaf excellently. We always share each other's food, for me this was my favourite starter. The cheese and pork was an excellent combination Main Courses: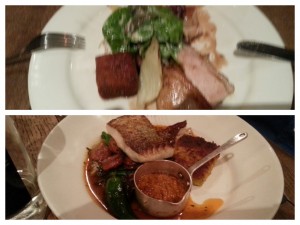 As I've said we always share out food, don't you? You'll notice from the starters that they were all different to give us a variety to try and compare…. we stuffed it up on the main course, well my mother did, but ssshhh we won't tell her it was her fault : ) I ordered Roast Cod with Chorizo Sausage, Padron Peppers, Fennel, Grilled Radicchio, Sherry Vinegar, Saffron Risotto Cake and Romesco Sauce. It was exceptionally good! There were a lot of things on this plate that I hadn't tried, hence why I ordered it – the one thing I had tasted before was Stephen's Cod (in the fish festival) and it was as gorgeous as I remembered it. The dish was well balanced, the cod and the Chorizo Sausage were fantastic and worked really well together, the Saffron Risotto Cake and Romesco Sauce were new tastes for me and really enjoyable. I thoroughly enjoyed the Romesco Sauce, it was served in a really nice little saucepan on the side (incidentally a sauce pan I quite fancied and will be buying some soon…. I like little things like that : )) Greg and my mother had Roast Middle White Pork Loin, Slow Cooked Belly and Cromesqui of Ham Hock with Gentleman's Relish, Served with Local Organic New King Edward Potato Salad, Roast Fennel and Local Organic Heritage Carrots. Desserts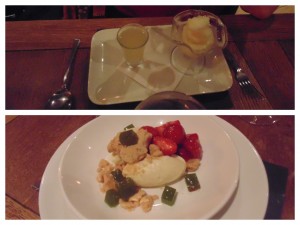 We got this one wrong too, Greg and I both ordered the Baked Vanilla Cheesecake with Strawberries, Basil Jelly & Shortbread Crumble – that wasn't a mistake lol we both liked the idea. It was fantastic, the only thing that wasn't to my taste was the basil jelly, but that's a personal thing – I couldn't say anything bad about it it was just not to my taste! The other components of the dish was fantastic, the strawberries were awesome and the way the dish was laid out in a deconstructed fashion was excellent and very appealing to look at. It was recommended to us by one of the staff, I'm honestly glad they did! My mother ordered Amalfi Lemon Sorbet with Limoncello… wow! That was awesome, I love lemons and normally go for a lemon dessert but I didn't for some reason this time, I will next time. My mother thoroughly enjoyed it, the lemon sorbet was stunning and the Limoncello was *coughs* very strong! I've seen Limoncello on lots of cookery programmes and always thought "I'd like to try that one day" well now I have I'm glad I did! My mother really enjoyed it, and was very pleased she chose it, although the Limoncello was a bit too strong for her (or at least that's what she says 😉 )
This slideshow requires JavaScript.
---
The whole night was fantastic and we had an awesome time, Stephen came out to have a chat, I left him a Wheelie Good Meals mug, he's been good enough to show it off with his fellow chefs. The decor in the restaurant was sophisticated, comfortable yet homely and elegant. There were lots of paintings of welsh celebrities around the restaurant, paintings which made for a good talking point amongst the guests. The seating arrangement allowed for movement around for wheelchair users and the lighting on the whole allowed good vision for those with most disabilities.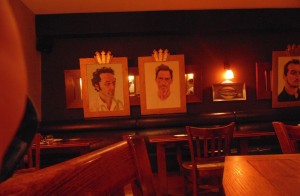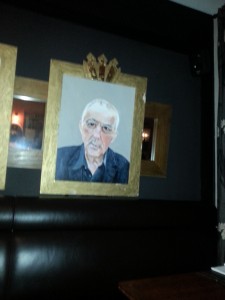 On The Hardwick Website Stephen says the following about a menu:
It should be easy to read and understand. Descriptions should be concise and informative. A customer will generally take a few words or seconds to decide whether they like a dish or not and move onto the next. So it is important to keep it to the point and not go off on some mad creative writing exercise as is often the case with too many menus.
It was easy to read, I'm not sure if it was available in other formats (Braille, large print etc) but the service staff were so helpful I'm sure they would read the menu to someone should it be required. Price wise, it was reasonable, not cheap but overly expensive. People who know me through my work know I love the word relative. It was relatively priced when you consider a) the service and b) the quality of food you get.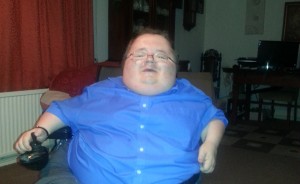 I know I'm late posting this and I am sorry for that, we went there September last year, I'd like to thank Stephen and his team for his hospitality; we will most certainly be back. Where will we be reviewing next…. all shall be revealed soon. This review is a work in progress as Greg's thoughts have to be added, but as you'll know from Tuesday's post he's been tied up with rehearsals so I haven't had chance to quiz him. See you on the weekend for a quick and easy recipe…. now we're back in the swing of things.