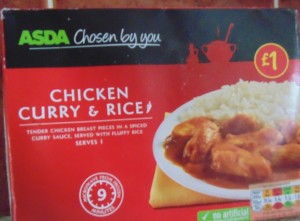 The week just gone has been a slightly hectic one for me and was rounded off with a trip to watch a band in a local pub. So what do you want before you're about to go out on a heavy night out…. a curry you say! Well no you probably don't but this was my choice of pre night out fodder.
The term curry, as I've learned from Rick Stein doesn't exist in countries like India it's a word we Europeans coined to mean the gravy that the meat is served in. This ready meal was described by Asda as:
"Tender chicken breast pieces in a spiced curry sauce, served with fluffy rice."
The first half of that description was correct, there was pieces of chicken which was tender and it was in a sauce was spiced. However, I wouldn't have honestly said the rice was fluffy, now it could have been the way i cooked it, but I wouldn't be me if I admitted that now would I 🙂 . The cooking instructions stated that you had to add a tablespoon of water to the rice half way through the cooking process…. I did that and still it wasn't fluffy. Don't get me wrong, the rice was ok, just not fluffy as it was described.
The rice wasn't my main problem with this ready meal, my main problem with this is the blasted cooking instructions…. don't get me started on them, oh ok you have! As you know WGM (Wheelie Good Meals) is geared towards people with disabilities, these cooking instructions were singularly the most pointless instructions on the planet (see below, along with nutritional content):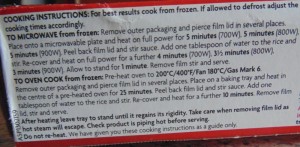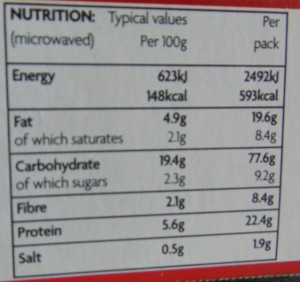 The instructions state
"To microwave (from frozen) remove outer packaging and pierce film lid in several places"
All ok so far, then it goes on to say
"… heat on full power for 5 minutes (700W) <which my micro is> 5 minutes (800W), 5 minutes (900W)"
I ask you, do they really need to give three different temperatures if they are all flaming 5 minutes. That is the most pointless piece of information I've ever seen, I've never noticed this before so I will be keeping an eye out for it in the future and maybe even tackling the manufactures of these meals… that'll be fun won't it.
The rest of the cooking instructions were much along the same line but just not as blatantly stupid. What do you think of them, am I on my own in thinking these are an insult to people who buy this product. Right that's my rant over, someone pass me the ramp so I can get off my soap box.
I really enjoyed it, it was slightly creamy and had a nice gentle spice which wasn't too "kick you in the face and steal your wallet" but more of a "reassuring hug after you'd failed your driving test". I would may buy it again although the cooking instructions are a bit of a obstacle for me… petty I know.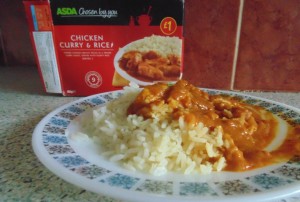 In honour of the start of Strictly Come Dancing, we're going to be publishing an extra recipe this week based around the SCD theme. Do you have any suggestions, if you do let me know our links are on the left hand side of the screen.
Do you have cooking tips tips, ideas or recipes share the love with us.  We'd love to hear from you we want you to get involve and help Wheelie Good Meals develop.
Come back again soon and, together, we'll make more Wheelie Good Meals!
Ciao For Now 🙂