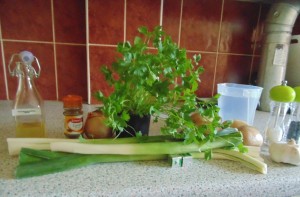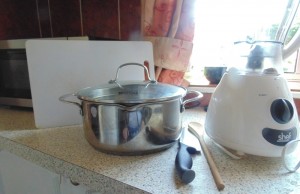 This is probably my favourite soup and one I make regularly, you can use frozen or fresh leeks for this recipe. I first got introduced to it at a local pub although it was called Irish Potato soup, it was amazing. I've tried lots of different versions of this soup and I'm happy with this, although I'm always looking to improve it.
The key to this soup is it uses simple ingredients. Potatoes and Leeks are easy to find and when bought can be used for lots of different dishes. I've added cumin powder and garlic but they can be left out, you could also add some coriander powder. If you haven't got fresh garlic then garlic granules or lazy garlic will do fine.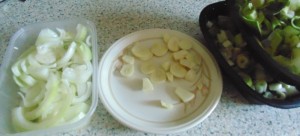 It's quick and easy too because you just chop up all the ingredients and let them cook slowly in the sauce pan. As I was liquidising I wasn't bothered about the size of the ingredients, this meant it was quicker to put together. If you don't want to liquidise it, but really you should 🙂 then you can eat it as it is, in the picture below you can see the two stages of the soup, before and after it's been liquidised.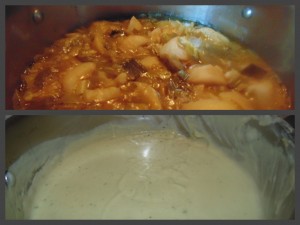 My mother recommends making a big batch of this and freezing for when you haven't got (can't be bothered) to cook. I've served it with a squiggle of cream and (my mother's favourite) leaf of parsley. It's great with some crusty bread to dip in and soak up the soup…. yum 🙂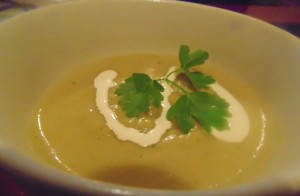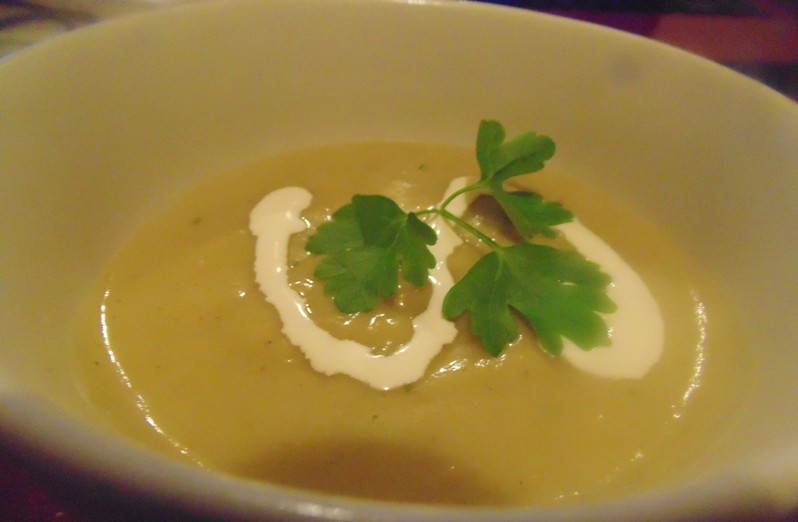 As always you can download our straightforward step-by-step guide here.  Check out Ready Meal Monday for a review of our next Ready Meal. Don't forget to get involved at Instagram, Twitter, Youtube, Google+ and Pintrest, share your ideas, photos and recipes with us and watch our blog develop.  If you have any questions you'd like to ask about either myself or the Wheelie Good Meals concept please feel free to drop us a line on enquiries@wheeliegoodmeals.co.uk.  Do you have any ideas for us, or some suggestions of things we could cover, ways we could take the blog forward – give us a shout! Come back again soon and, together, we'll make more Wheelie Good Meals!
See you soon 🙂