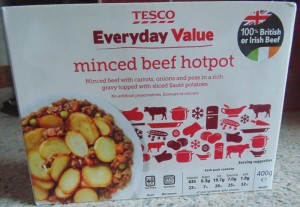 As a one-time Coronation Street fan I've always fancied giving Betty's Hot Pot a go so when I saw this Tesco Beef Hot Pot on the shelves I couldn't resist. I was quite looking forward to this as I'd also seen lots of celebrity chef's making hot pot's on television including the great Nigel Howarth, Gary Rhodes and one of my personal favourites Brian Turner. It's not much different to a Shepherds Pie really, the only difference is the topping is not mashed potato it's slices of potato.  It's the first Tesco Everyday Ready Meal I've tried and it was quite pleasant. It had minced beef, carrots and peas in it along with gravy, and that was the only drawback, the gravy. It was a little bit sludgy, I like a nice rich deep gravy, that was the only disappointing bit.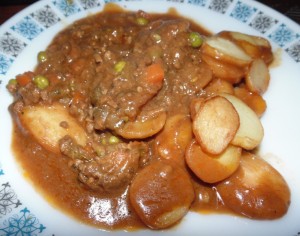 It is described on the box in the following way
Minced beef with carrots, onion and peas in a rich gravy topped with sliced Sauté potatoes
As you can see from the untouched image above it looked fairly vibrant with a good amount of vegetables running through, I would say with that it does what it says on the tin or box in this case :)..  With that in mind on the whole I enjoyed it and thought it ate well, it was fairly tasty and with a bit of seasoning it was quite enjoyable. Below are the ingredients and the nutritional information.  I'm not sure if I've told you before but I don't like peas, there's some childhood food aversions that we all still hang on to and peas are mine :'( lol.  I can't say that I minded them in this meal and am even warming to peas but ssshhh don't tell my mother 😀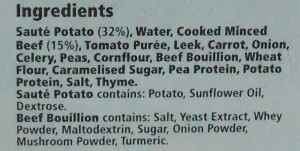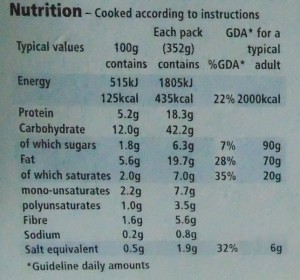 Keep your eyes peeled for our next Ready Meal Monday review and also for our next recipe, it'll be up on Wednesday!  Don't forget to get involved at Instagram, Twitter, Youtube, Google+ and Pintrest. What are your favourite ready meals, do you find them easier than cooking, let us know your thoughts.  Also if you have any other cooking tips, ideas or recipes share the love with us.  We'd love to hear from you we want you to get involve and help Wheelie Good Meals develop.  If you have any questions you'd like to ask about either myself or the Wheelie Good Meals concept please feel free to drop us a line on enquiries@wheeliegoodmeals.co.uk.  Come back again soon and, together, we'll make more Wheelie Good Meals!
See You Soon 😀