I came up with the idea of this pie because I was thinking one day we've got Shepherd's Pie for lamb and cottage pie for beef but nothing for pork…. so here it is. You can add or remove most of the ingredients (apart from the Pork Mince naturally)! If this dish had a theme tune it would be "You've Got A Friend In Me" from Toy Story as I didn't come up with it alone, Jo Pratt helped me tweak the recipe and my long suffering best friend Rhian (Rant from Rant's Cod) drew the logo! I've uploaded it today as it's Jo's birthday and it's in her honour as a thanks for all the help she's given me since we became friends – Happy birthday Jo 🙂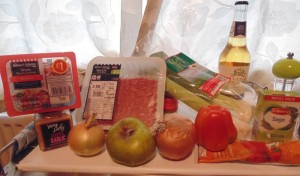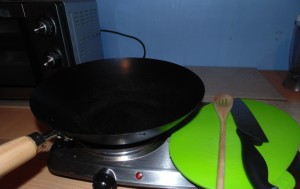 I've used some store cupboard items like Lazy Garlic, you can substitute that for 2/3 cloves of Garlic (in the photo above I used Garlic Granules). I also used some leftover Mashed Potato, I'll cover the makings of that another time. The one thing I wouldn't scrimp on is Cider, I usually use a Welsh Cider, that wasn't available for the purposes of the photograph but any dry cider will do, not the type you drank as a teenager in the park though.
This is one of my personal favourites and one that I've had a lot of success with, Ben (as of Ben Way), Alice, my mother and others have really enjoyed it, I'm hoping you will to. When I actually made it for the purposes of photographing for the blog I didn't use the Lardons or the Grated Cheese but I normally would.  It's so quick and easy it's ideal for a Mid-Week Meal and can be on the table in very little time.
Thanks to two other people for their help in re-creating this dish for the blog. Thanks to Alice for testing the recipe and for Ben's photography skills. Click here to get step by step instructions on how to make this recipe.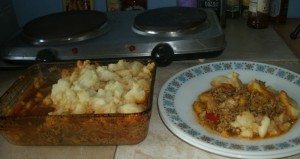 Remember you can get involved at Instagram, Twitter, Youtube, Google+ and Pintrest, share your ideas, photos and recipes with us and watch our blog develop.  If you have any questions you'd like to ask about either myself or the Wheelie Good Meals concept please feel free to drop us a line on enquiries@wheeliegoodmeals.co.uk.  Come back again soon and, together, we'll make more Wheelie Good Meals!
See you soon 🙂