Ok so yet another hairbrained idea, I thought I'd honour the six nations by making "The Six Nations of Food". My first two nations are Ireland and England, I've made Toad In The Hole and Champ.
Toad In The Hole
An old school classic, Toad in the hole is a traditional British dish made up of Sausages in a Yorkshire, it is often served with onion (hence why I've made onion gravy lol). Wikipedia states that the origin of the name "Toad-in-the-Hole" is disputed. Some suggest that the dish's name comes from its resemblance to a toad sticking its head out of a hole.
Champ
Champ represents the Irish team in the Six nations and is a dish of inexpensive ingredients, it's made by combining mashed potatoes and chopped spring onions. According to Wikipedia some areas the dish is also called "poundies.
The Recipe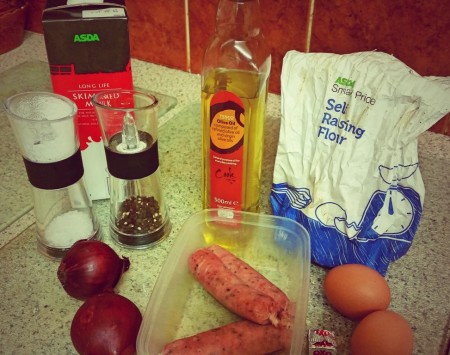 To make this you need nine ingredients, the majority of which are in people's larder, freezer or store cupboard. As you can see the batter is flour, milk and eggs, sausages are the star of the show, and a stock cube and onions for the gravy. There's also 500ml of water missing from the photo above.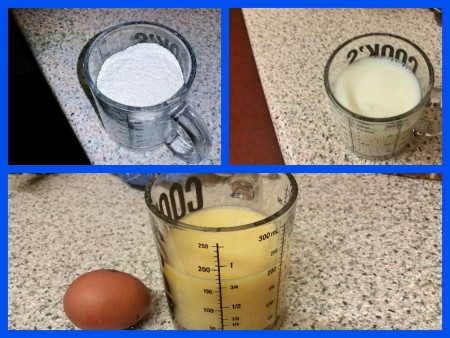 I made the Yorkshire pudding batter using Brian Turner's recipe, it's so easy and, as you'll see later really effective. You measure out the flour, milk and eggs in the same cup same quantities of everything. I used approximately 200ml of flour milk and eggs, it was roughly four eggs and one yolk. I know that sounds like an excessive amount of eggs but trust me it's worth it.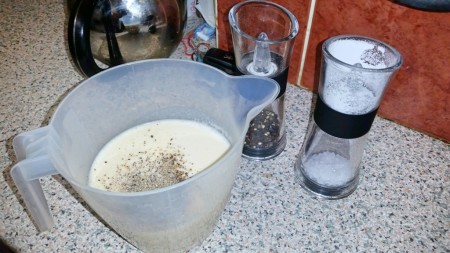 Mix thoroughly to ensure you haven't got any lumps, if you do have lumps (like I did) pour the batter through a sieve to get rid of any lump bits. Season well with salt and pepper and mix, place in the fridge for half an hour or so to rest. I've just seasoned with salt and pepper but you could put herbs in or a spice to give the batter a bit of a kick – the world's your oyster Yorkshire Pudding.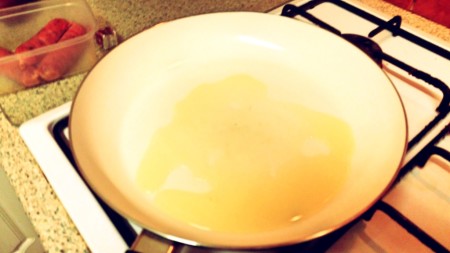 Add some oil to an oven proof dish and place it in the oven 220oC and allow the oil to get hot. Place some oil in a frying pan and allow it to heat up, you can use vegetable oil and butter if you want here, but don't use butter on its own.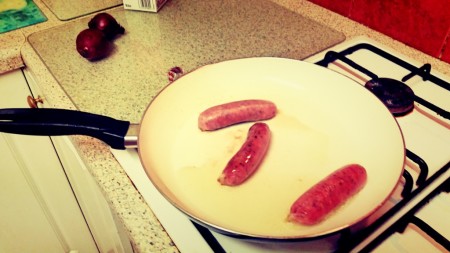 Place the sausages in the frying pan, be careful they spit – I nearly lost an eyebrow doing this. Cook them on all sides until they are brown, you don't want to cook them all the way through yet. Once cooked put on a plate for later…. keep the pan we're going to make our gravy in that.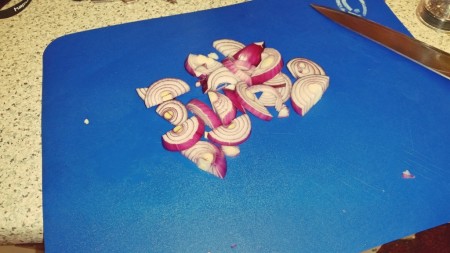 Chop the onions into half moons and then cut them into strips, you don't want them to fine because we'll be cooking them slowly. We'll be cooking them on a low heat to allow them to caramelise.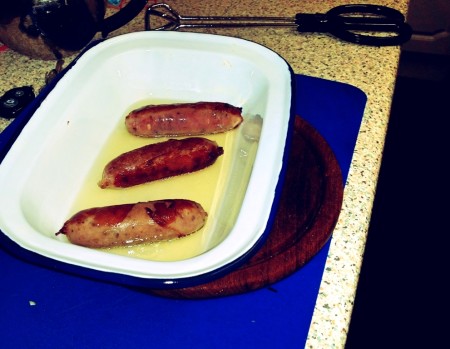 Check on the oil in the oven, if it's hot take it out and place in the sausages. Remember to keep the oven door closed so that you don't lose any heat.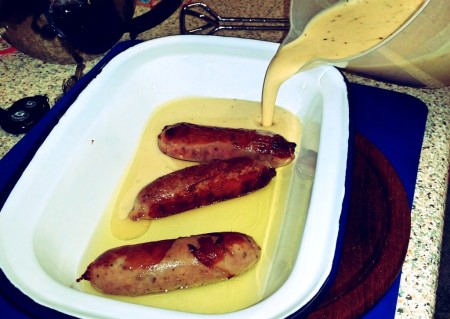 Take the batter out of the fridge and pour into the ovenproof dish. Because the oil is hot, be careful!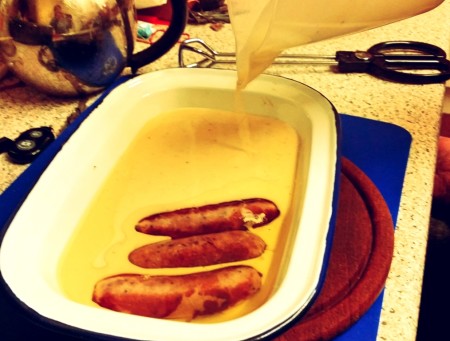 Pour all the batter in, remember that the oil is hot so be careful, if it's hot enough the batter will start to cook as your pouring it.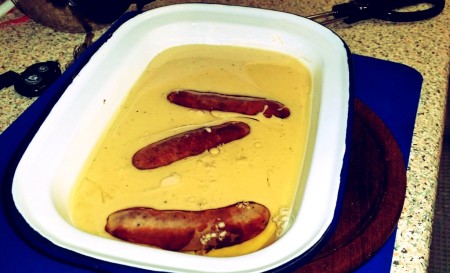 In the last picture you'll notice that the sausages had slipped because they were carried by the batter. Straighten them up otherwise you'll have one area of sausage and nothing elsewhere. Put the dish back in the oven to cook, I cooked it on the middle shelf for around half an hour, it may need more it may need less, every oven is different.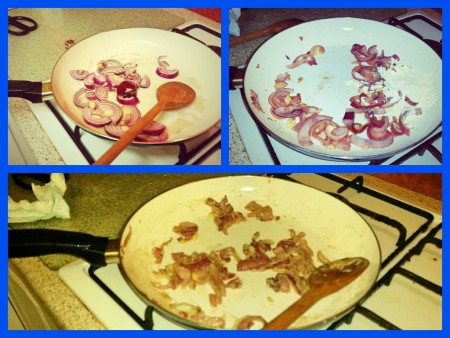 Add some more oil to the pan if needed and fry the onions low and slow, when they start to soften and become a little sticky. Next sprinkle over a dessert spoon of flour, you can use regular plain flour here, I used self raising because that's all we had. Stir the flour through the onions so that the onions are covered in flour.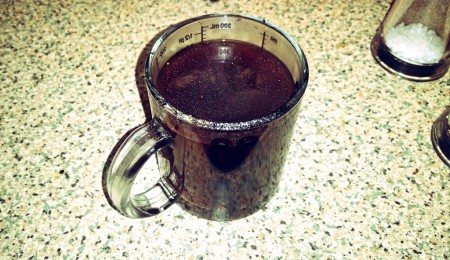 In a mug/jug pour 500ml of boiling water and add a stock cube, I season the stock now so that the salt and pepper is evenly distributed around the finished gravy.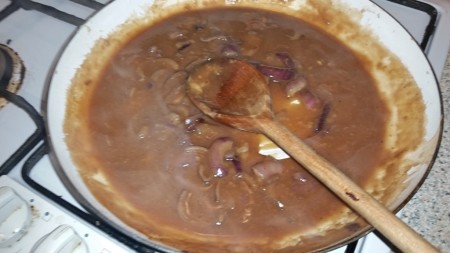 Pour the stock into the frying pan with the onions and stir continuously, try and pick up the sticky bits of sausages that were left behind. Cook until there is no taste of flour, I was really proud of this, I know it's not what people would call "proper gravy" but oh my it was nice! Deep rich flavour of the onion and a silky smooth texture, not that I'm boasting or anything.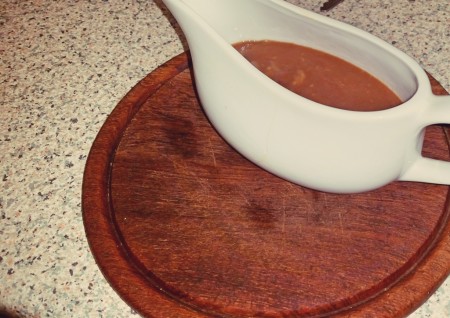 I bought this gravy boat yonks ago and never really get to use it, until now, how good does the gravy look in it???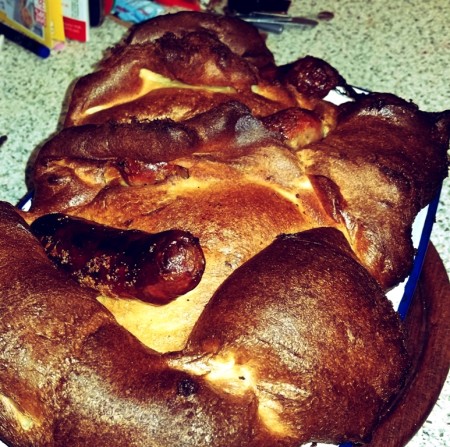 When it's ready take the Toad In The Hole out of the oven, this one took on a life of its own. It was huge, I knew Brian Turner was a legend, and a chef I'm a massive fan of but wow… he knows his stuff!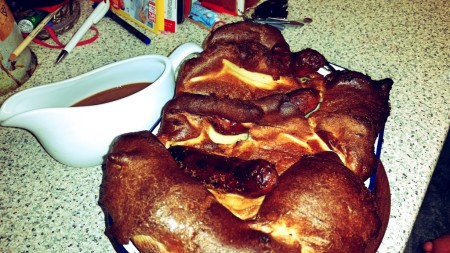 You could just eat it like this, rip bits of the Yorkshire pudding off and dip it in the piping hot gravy, but as we're civilised human beings…. I made champ to go with it.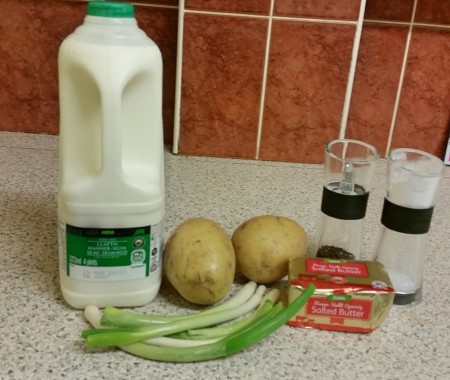 I've covered this on the blog before, it accompanied my Stunning Spiced Sausage Stew champ is so easy to make, Sharon my carer suggested it to me a while ago and made this way, it's quick and easy.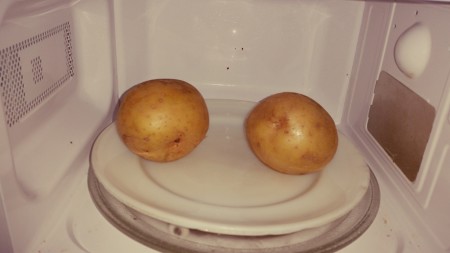 Prick the skin of the potato in several places and then cook on high heat for 10 minutes or more, you want the potatoes to be soft and fluffy when they are ready.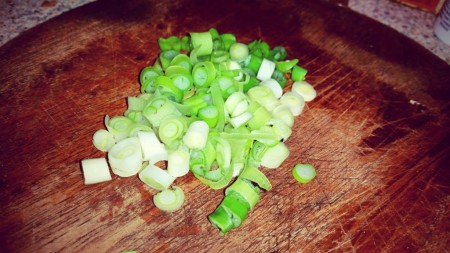 Finely chop a spring onion and set it aside ready for the potatoes. I've only used two spring onions here, really speaking I could have probably used another one or two.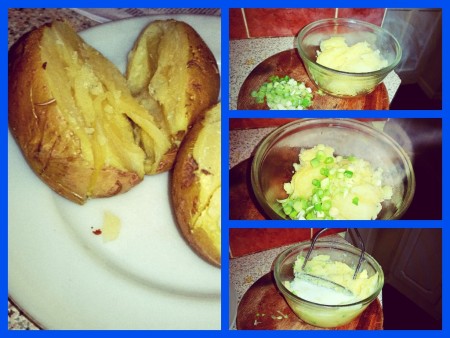 Here we go, this is the straightforward bit, the jacket potatoes are cooked, the potato is soft and fluffy. Scoop the inside out, and place in a bowl, then add the spring onions and stir through, next add the milk and butter and combine all the ingredients together. I've used more milk here than I wanted, why, well because I'm heavy handed lol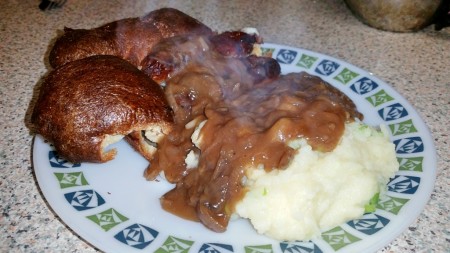 This was stunning, I really enjoyed the whole process, anyone can make Yorkshire Pudding, it really is that easy, and so was the gravy, oh and the mashed potato was simple to, win win! The photos are not doing the meal justice at all because the Yorkshire Pudding was crisp and well risen, the mashed potato had a great hint of onion and was fluffy and the gravy was rich and deep in flavour.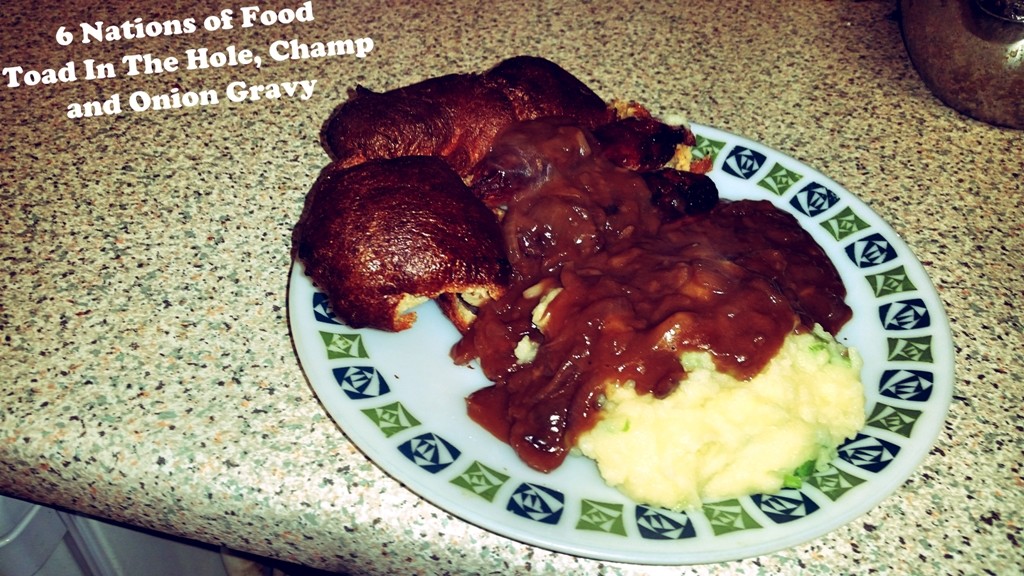 Give this one a go, it won't disappoint I promise, it reaffirms my belief in TV Chef's because this was Brian Turner's Yorkshire Pudding batter recipe was amazing. If you do give it ago let me know.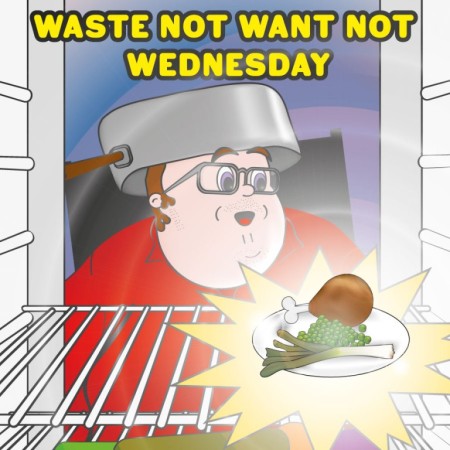 I'll be back on Wednesday with "Waste Not Want Not Wednesday" sharing my Gazpacho recipe from our Mother's Day meal this year. I'm not going to be publishing the step by step recipes on the day, I will be writing them up and adding them at a later date.
Remember to get in touch, you can visit our social media pages below, or subscribe to the blog for regular updates.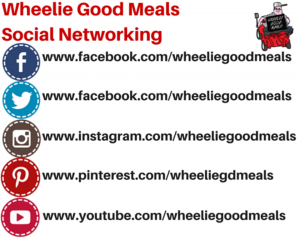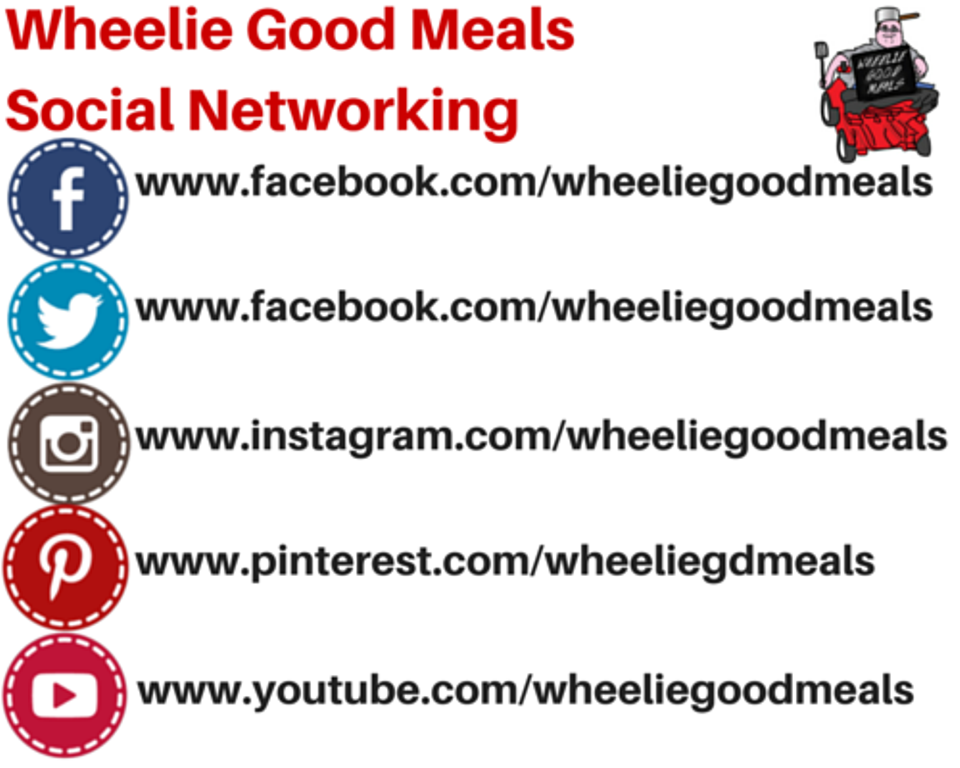 See you Wednesday