I know this post title sounds cryptic but bear with me, for Mother's day this year Heather (my sister), Graham (my brother-in-law) and I decided to cook for our two mother's – and as they're like a double act that wasn't hard to do. As always Heather came up with the idea Christmas time and, after, some discussions and some delayed emails we decided on a menu of taster dishes which we'd prepare in advance and on the day – there was one snag…. Jeremy Corbyn.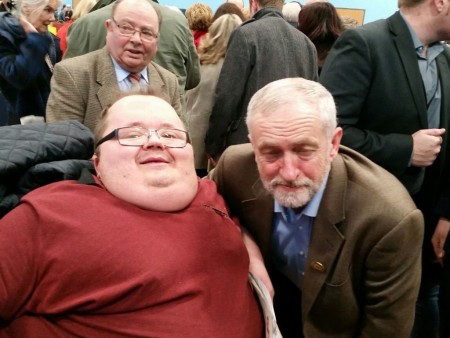 Don't get me wrong the Labour Leader doesn't normally affect my plans but Saturday 5th March he was guest speaker in the Kier Hardie Lecture in Rhondda Cynon Taff and I had tickets! Was I going to pass that up for my beloved family…. no! 😆 , no I'm not that harsh Heather and I worked a compromise where her and Graham did some things in advance in their house and I prepared some in advance at home and we brought it all together on the day (well they did mainly, I just sat around 😀 )!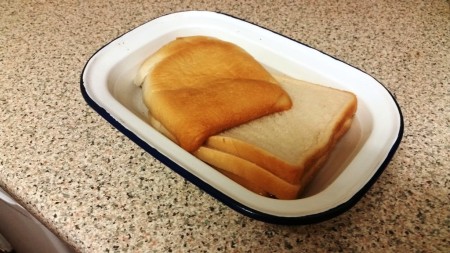 Now, you're probably wondering why the post is titled the way it is, well let me start with Thursday – I was making Gazpacho, I will publish the recipe in a the week, but let me tell you, it was not my favourite thing to cook. I hate getting my hands dirty and this recipe called for soaking bread (see above) in water for twenty minutes, squeezing the bread dry then ripping it up into chunks, before blending…. yuck

!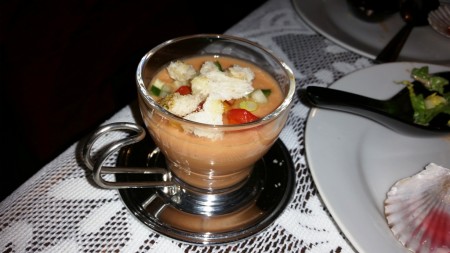 Was it worth it, it really was! I had my doubts I'd only tried Gazpacho once or twice and couldn't really get passed the cold soup thought. This was really refreshing, and great with the added garnishes of croutons, finely diced pepper, cucumber and spring onion. This was a real surprise with me, even though I made it I thoroughly enjoyed it, and so did everyone else.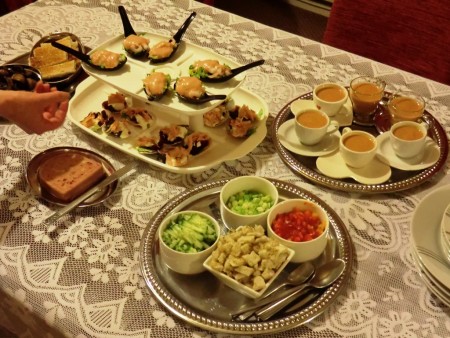 The starters are above, working our way around the table starting at the top left hand corner (by Heather's hand) we have:
Garlic Sautéed Mushrooms,
Toast for Pâté (shop bought Pâté under Heather's Hand)
Prawn Cocktail Spoons
Beetroot, Horseradish Crème Fraîche and Warm Smoked Salmon Shells,
Gazpacho Espresso Cups
Garnish for the Gazpacho (finely diced pepper, cucumber, spring onion and croutons)
There wasn't anything on here that I didn't like but there were some surprises, I had always been put off Horseradish by mother who doesn't like it but we are both converts now, I know you can get different strengths but Graham mixed it with the Crème Fraîche and it was excellent with the picked Beetroot and Smoked Salmon. For the Beetroot pickle I was a bit scared, I had to deviate off my normal recipe which usually goes down very well with the family, especially Heather. I didn't have any Balsamic Vinegar (which isn't like me) so I used White Balsamic Vinegar instead (150ml of White Balsamic Vinegar, 250ml of Red Wine Vinegar, Brown Sugar, Salt and Pepper to taste). On the theme of things I didn't like I've been proved wrong here, twice once with the Gazpacho and secondly with the Horseradish.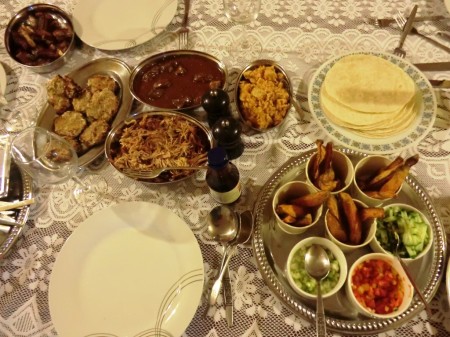 Again, starting top left hand corner and working our way around we have:
Pork Three Ways starting with Pork Belly Squares,
Potato and Apple Rostis,
Pork Cheeks in a Paprika Sauce
Chicken and Chorizo Risotto,
Wraps
Sweet Potato Fries,
Salad Garnish
Pulled Pork in the middle by the Hoisin Sauce
There wasn't anything here I didn't expect to like, but I hadn't tried Pork Cheeks before, and they were a revelation, so much that I finished them off the next night. The sauce was awesome, there was a hint of smokiness from the paprika but it wasn't too heavy. I also loved the Sweet Potato Wedges, Graham roasted them with some Herbs De Provence Alice (my Niece) had bought for me. The Risotto was also excellent, and was another dish that acted as my tea the next night and the night after for that matter. Graham and Heather made all of the main course, and it was all superb, and, as you can imagine I'll be pinching their recipe for Risotto and the Pork Cheeks soon for you all! We went for Pork as the main component for this course because it's my mother's favourite meat.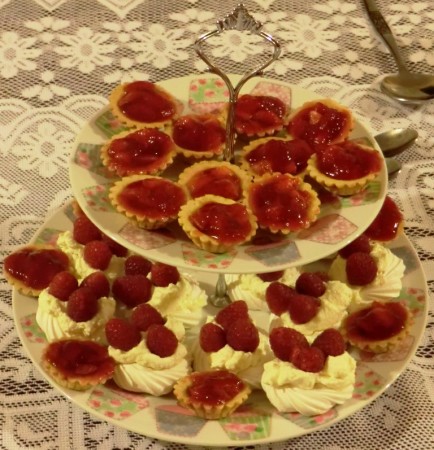 Here are two of our three deserts, Strawberry tartlets and mini Raspberry Pavlovas. Graham and I can take no credit for this course, well not as far as I know anyway because Heather did it all… in fact I'm now calling her Heather Berry.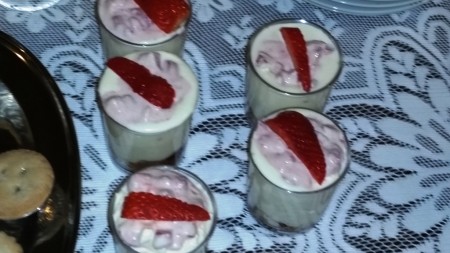 Oh yes, wait there's more mini shop bought mince pies and mini Strawberry and Kirsh Triffles. These were awesome, and a great way to end our meal, the recipes, and processes for these will follow soon.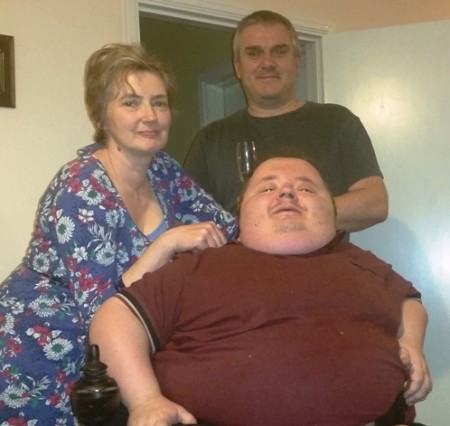 We all had a fantastic time, Graham's mother enjoyed herself, my mother enjoyed herself and even enjoyed the Horseradish Crème Fraîche. The biggest revelations of the night for me were Gazpacho which was extremely refreshing, so much so I finished the last one off and Graham's Pork Cheeks (that's not an insult) and his risotto….. recipes to follow, I hope!
It's important to remember when planning a dinner party, manage your expectations.  Make some things in advance, buy some things and get as much preparation done as early as you can – and most importantly enjoy yourself.  And if you can't think of what to cook, make a taster menu, lots of little things gives people more choice and it can often be easier than three larger courses.
I couldn't go without telling you about the other thing I ended up eating that I didn't like…. I was going to leave this paragraph out because there's not mushroom for it…. but then I realised I was such a fun guy I had to put it in… 😳 Yep you guessed it I think I'm starting to like mushrooms, garlic mushrooms in the starter, well let's just say I polished quite a few off.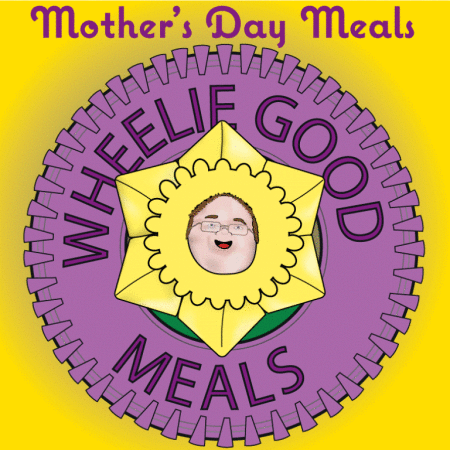 I'll be back on the weekend with a 6 Nations post but until then have a good week, I know this hasn't been Time-Saving Tuesdays but there's plenty of them to come. Thanks to Dave for this excellent logo, and Happy belated Mother's Day to all you mams and mams to be out there. Don't forget to get in touch with your ideas, pictures, comments etc, I'd love to hear from you.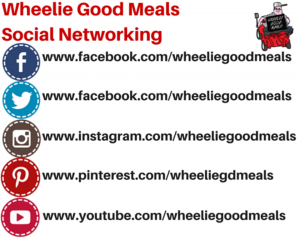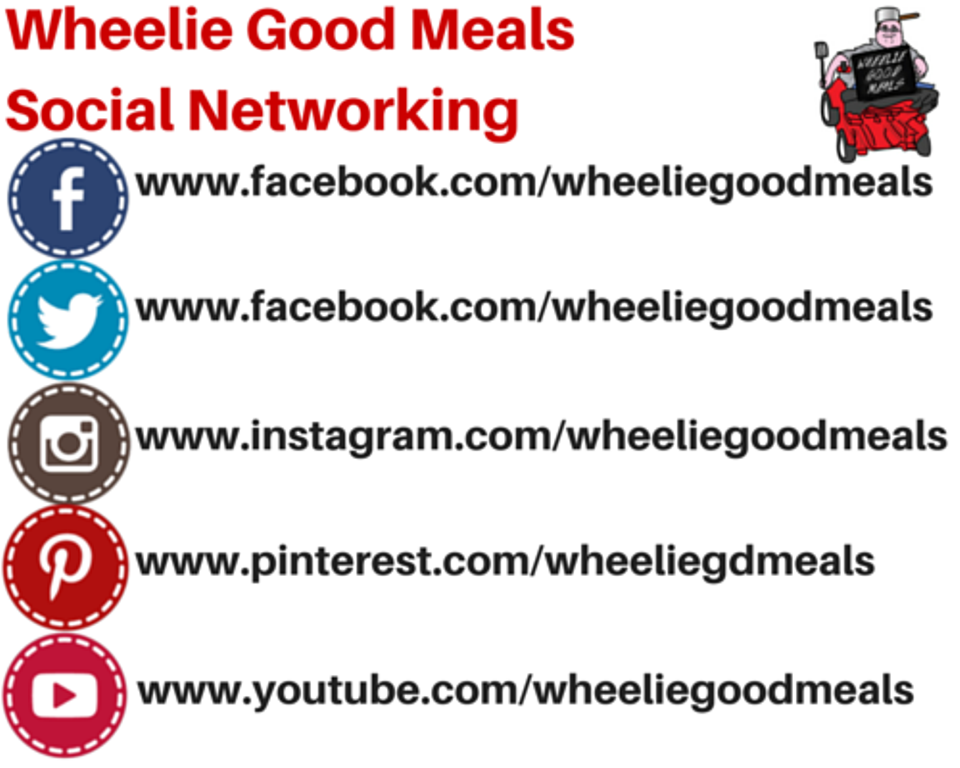 Incidentally the Kier Hardie Lecture was an excellent event with 1000 people turning up to see and listen to him Jeremy Corbyn speak. Thanks to Greg as always for his company, photography and driving, a really good day all round.