Merry Christmas, happy New Year and Happy Easter (oh wait we haven't got there yet lol). It's been a while since my last post, but I'm back, the beginning of the year has been slightly hectic but now things have calmed down I can start cooking… and eating again!
Visit To Old Trafford
We were only a day into the New Year and Greg and I were off to the Theatre of Dreams Old Trafford, home of our beloved Manchester United. We were lucky enough to get tickets for Manchester United v Swansea, a game that always weighs with us because Swansea is our local Premiership team.
My mother wanted us to take some food with us, so she suggested making these Pizza Pies, as she calls them. She's been cooking them for parties for years for us, she also cooks them for me if she goes away so I've got something to munch on. It was my turn to make them this time, although I didn't make the pastry – my mother is the queen of pastry so why reinvent the wheel, her pastry is better than anything I do. It was a short crust pastry, I can't give you the recipe because she makes it by eye but there is a good recipe on the BBC Good Food website. The pastry was rolled out and cut into circles which were put in lined cake tins.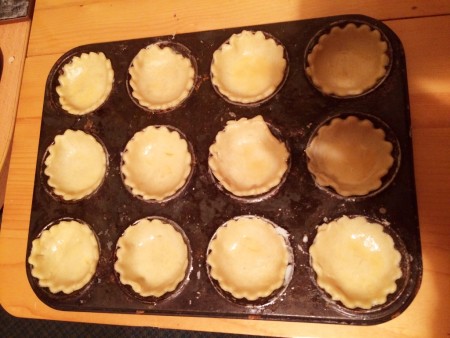 I made two types of Pizza Pies one with Chorizo and a little bit of spice and one with tinned potatoes and herbs.
Chorizo Pizza Pie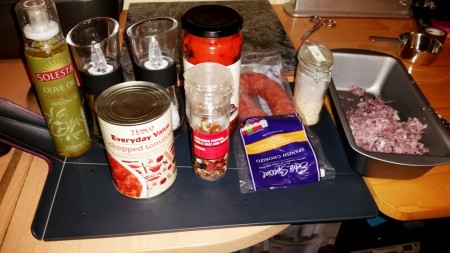 Other than the chorizo the ingredients are fairly simple mainly store spices and a few store cupboard essentials. It's a quick and easy recipe to make and great to take away on trips or for parties, you can mix up the recipe, add more spice – other types of meat like cooked chicken etc.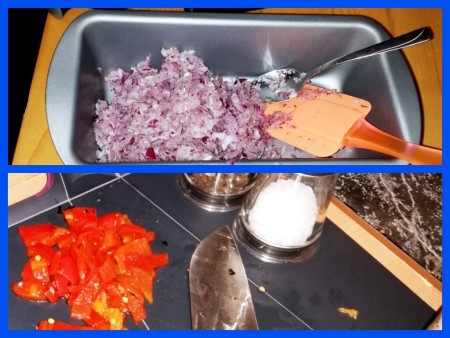 The first thing you need to do is preheat your oven to 1800C, then you'll need to chop all the ingredients. I've used onion, peppers and chorizo in this one, you can use any form of cooked meat, I've had some with chicken in and they were lovely. You can also grate the cheese at this point, it saves time later – grate enough for both recipes!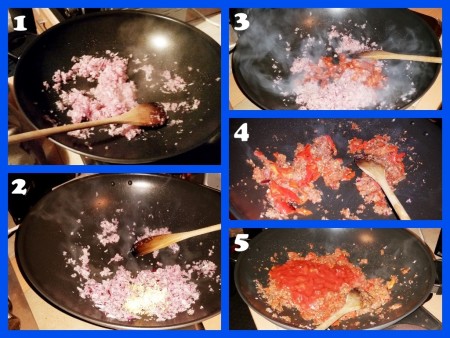 Here comes the easy bit, whack it all in a pan and away to go! Firstly add some oil to a pan and heat it up, then fry the onions until they start to soften (1). Add the garlic and cook that for a few minutes (2), then add the chorizo and the chilli flakes (3). Cook the chorizo for a few minutes so that the oils start to come out, stir regularly so that all the flavours get to know each other. Add the roasted red pepper and stir continuously so that all the ingredients are mixed together thoroughly (4). Lastly add the tinned tomatoes and stir thoroughly, allow to cook through so that all the ingredients come to temperature (5). Let the ingredients cook until they start to thicken, season and take off the heat.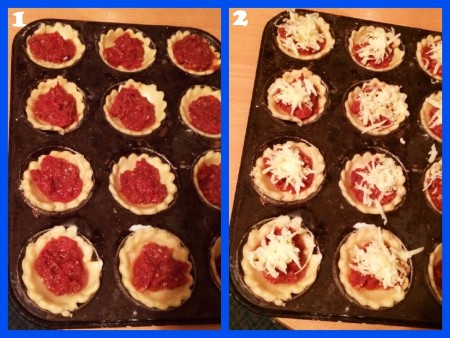 Allow the mixture to cool first then spoon into the individual pastry cases, remember not to fill them too full as you're topping them with cheese (1). Top each individual pie with a handful of grated cheese (2).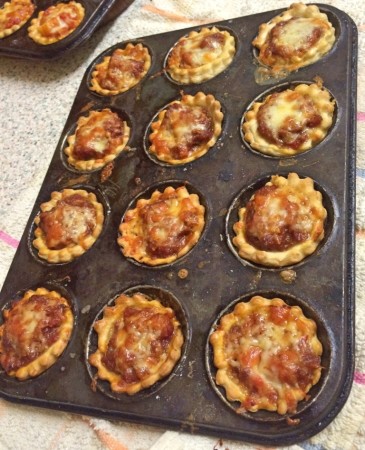 Place in the oven and cook until the pastry is golden brown and the cheese is melted. As all the ingredients have been cooked earlier you're just cooking the pastry case and melting the cheese. Once cooked take out of the tray and place on a wire cooling rack to cool, you can eat them out of the oven but they will be hot, be careful because of the cheese.
Vegetarian Pizza Pie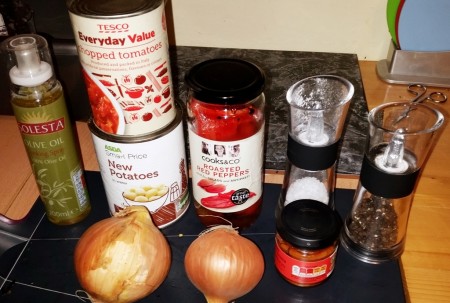 These are not spicy, they're more Italian/Mediterranean orientated… with potatoes! You can cook these in the oven at the same time as the Chorizo Pizza Pies, not to waste the oven heat. I'm also using a jar of Sun-Dried tomato paste from Sainsbury's which is not in the picture
Firstly, like their non-vegetarian cousins to start this recipe you'll need to chop all the ingredients. I've used onion, peppers and tinned potatoes in this one, you could add other vegetables like courgettes, carrots, butternut squash or fennel for example.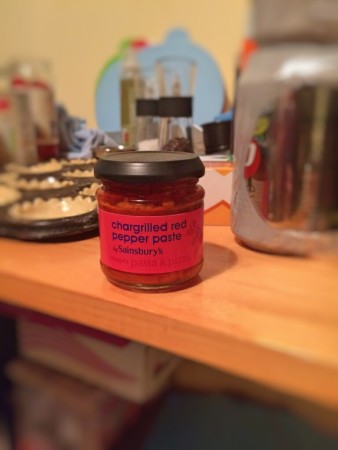 There are two random in this recipe, there's Sainsbury's Char-grilled Red Pepper Paste, a product my sister bought for me years ago. It's does what it says on the tine, it's not so much of a paste as a purée and has the smoky taste of roasted red peppers, I use this in loads of recipes and always have a jar either unopened in my cupboard or open in the fridge, but if it's open it doesn't last long.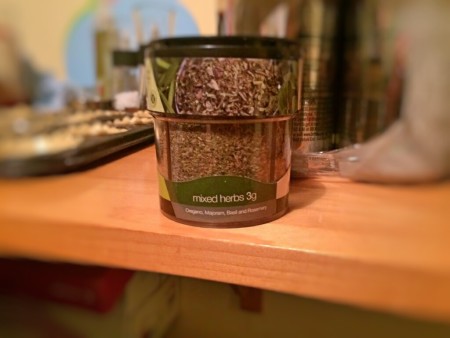 The other random ingredient is mixed herbs…. ok not so random you're probably thinking but they are when they come from the dispenser above! Heather and her family bought it for me for Christmas it has a few different dry herbs, and a section for mixed herbs, it's ideal for someone who has a small kitchen and doesn't want to go to the expense or hassle of buying lots of herbs. It's also great for someone who hasn't got the time to mix all the dry herbs together – like me in this instance. If you haven't got mixed herbs, you could use a packet of blogenese herbs or Italian herbs.
Again like the previous recipe, this is the easy bit, one pan cooking, what more can you ask for? Firstly you'll need to add some oil to a pan and heat it up, then fry the onions until they start to soften (1). Add the garlic and cook that for a few minutes (2), once you've done that add the Sun-Dried Tomato Paste and stir through to ensure all the ingredients have combined (3). Give that a couple of minutes then add the Char-Grilled Roasted Red Pepper Paste and stir through to ensure all the ingredients have combined (4). Cook that for a few minutes then add the peppers and potatoes, these are already cooked so they won't need long in the pan (5). Remember to stir continuously, next add your herbs and stir to combine all the ingredients in the pan – as I always say it's like a party, you want to make sure all the guests meet each other (6). Lastly, add the tinned tomatoes and stir thoroughly so that everything combines really well (7).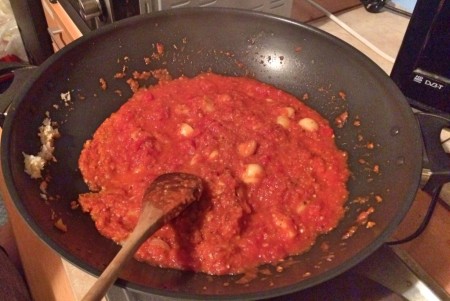 Leave to thicken, season and take off the heat.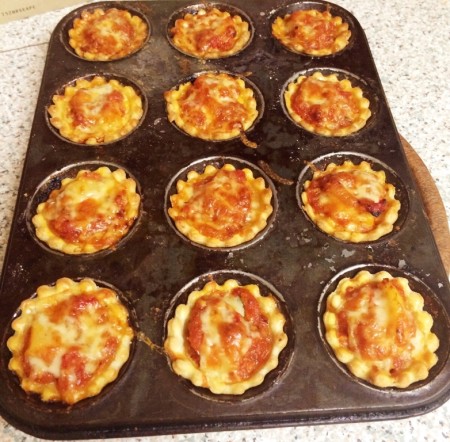 Repeat the same process as above, once cooled place the mixture in the pastry cases and top with cheese, cook in the oven until the pastry is golden brown and the cheese has melted. Once cooked take out of the oven and place on a cooling rack – or eat straight away if you dare!
Multi-Purpose
These are awesomely practical and massively tasty, they're great for parties, trips or late at night when you come home from the pub.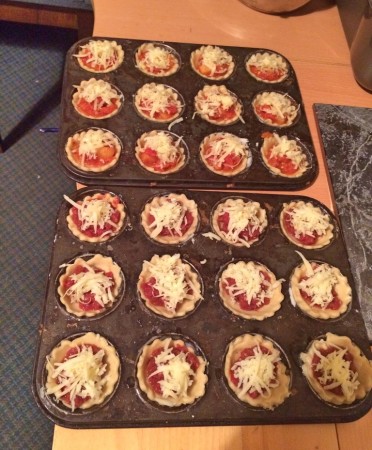 You can use any hard cheese; you could grate Parmesan over or Gruyère for a more nuttier texture.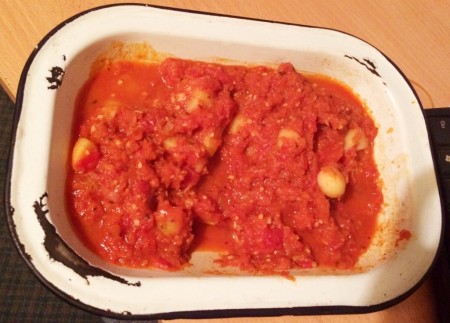 If you've got any leftover, put it in the freezer and you can have it again, you eat the vegetarian version with fish or meat, the chorizo version you can have with pasta or rice.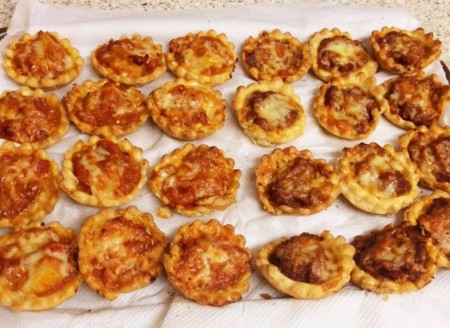 They can be frozen, eaten hot or cold and are great, as I've said in a number of different scenarios. They're popular with lots of my friends and served Greg and I well when we went to Manchester.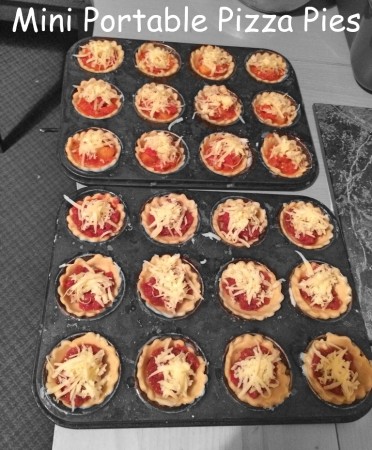 I hope you enjoy these, give them a go, you can download a step-by-step recipe here, but be warned you'll need paper in your printer! I'll be back on Tuesday with a quick and easy pasta/rice sauce and then Cauliflower Cheese Burgers on the weekend… yep you heard me, Cauliflower…. Cheese…. Burgers (happy days!)
Remember to get in touch, you can visit our social media pages below, or subscribe to the blog for regular updates.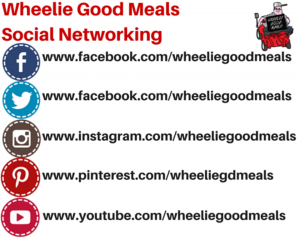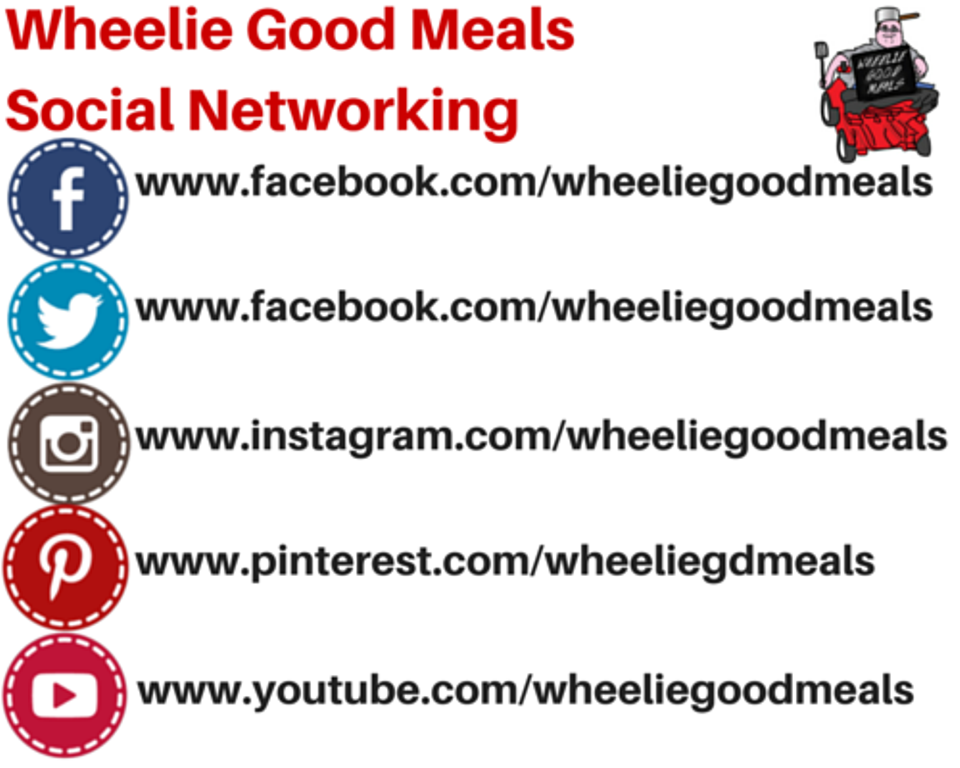 See you Tuesday