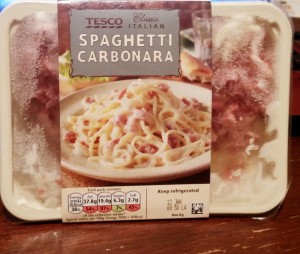 Here's something I wouldn't normally eat, it's Spaghetti, I'm not a lover of the long strands of pasta, they don't go well with my fear of choking 😀 . But I bought this to try and overcome that fear…. How brave am I lol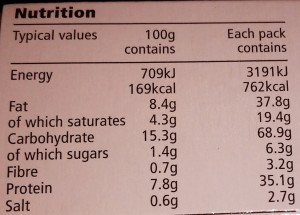 The nutritional information is clear, the whole packaging was clear and easy to read, although it was black and white some people with certain medical conditions may have difficulty reading it. Personally I feel the calorie content of 762Kcal, 37.8g Fat and 19.4g Saturated Fat is high. I decided to look in to the recommended levels of these ingredients. According to the NHS.UK website…
the average man should eat no more than 30g of saturated fat a day

the average woman should eat no more than 20g of saturated fat a day
The website also went on to say about the different levels, this dish would be considered high because it had more than 5g of Saturated fat per 100g. There was a red marker on the front of the package, all the key figures of this dish were high, now I feel like I probably shouldn't have eaten this lol. I'm going to look into this more and maybe see if I can make it myself and hopefully reduce the bad elements.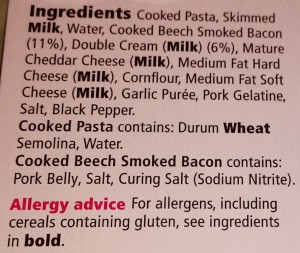 The packet described the product as:
Spaghetti and beech smoked bacon in a creamy cheese sauce.
The ingredients list is straight forward enough, things you'd expect to find in a Carbonara. I don't quite know what the purpose of the Pork Gelatine in the ingredients were, so I asked Tesco? I sent them a tweet eight days ago…. no reply as yet 😡 will let you know when I do get one though.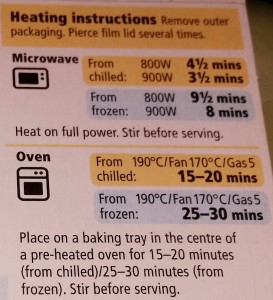 The cooking instructions were great, they were clear to understand and although not displaying times for my microwave it was easy to work out the correct time.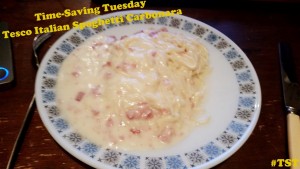 This wasn't a bad ready meal in all fairness, it wasn't my favourite but itI don't have any doubt that some people would really enjoy it. The pasta was ok, it was a little chewy but I'm not daft that was probably the way I cooked it. The sauce was creamy but slightly claggy, the pasta was stuck together too, I did stir it but it didn't seem to make a difference. The sauce didn't really have the smoky flavour to it that I was expecting and the bacon was pointless, they weren't really big enough to taste.

I'd award this five stars, the packaging was clear, the instructions were straightforward and the taste wasn't too bad. It's not the best meal I've had from Tesco but it's not the worst. Maybe some more garlic and a bigger hit of smokiness and we'd have been ok.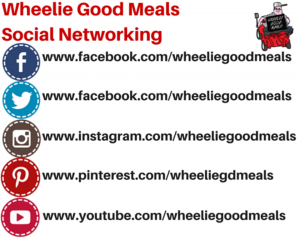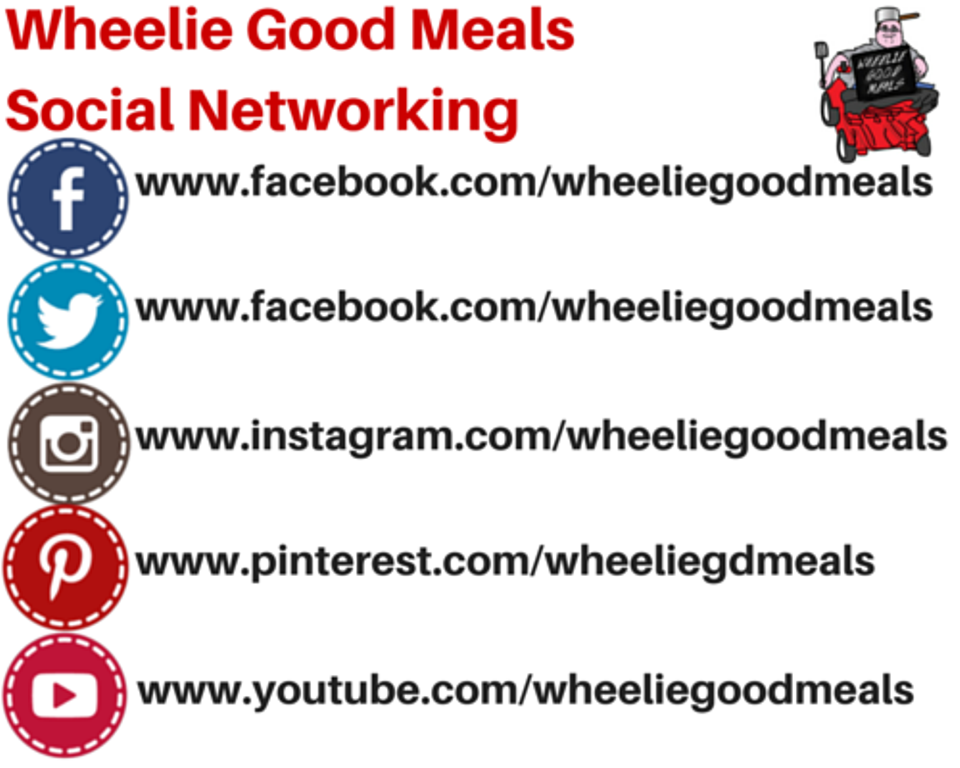 As always you can get in touch using the social networks above, I'd love to hear from you. How are your Christmas preparations going, are you all ready? I've done all my shopping and they're all wrapped so just bring on the festivities. On the weekend I'll be sharing with you my take on Rachel Khoo's Cauliflower Cheese Burgers, they're totally veggie and great as a starter or main course… or even as a snack!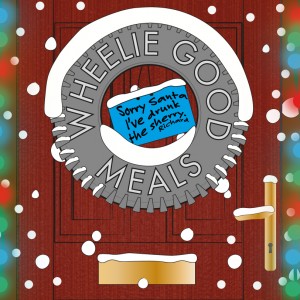 I'd like to thank Greg (for his company, on our trips away and his photography and not to mention his driving), my mother Mags (for being my sous chef and chief taster, and for putting up with me), Chris (for his technical help), Melanie (Melanie's Food Adventures for listening to me moan and for her guest posts, which have been some of the most popular posts to date), Alice and Heather (for their ideas), Dave (for his fantastic artwork), Kirsty (for her photography) and Sharon (for the glass). Thanks also to everyone who hosts the linkies I've linked up with over the past year, and I'd especially like to thank you all for your support and for stopping by week after week to read the posts.
I doubt I'll be posting anything until after the new year, so just in case I don't I'd like to wish you all a Merry Christmas and a Happy New Year.