Mother's Day Meal 2015 Pt 2 – Main Course – Duck with Sautéed Potatoes and a Balsamic Berry Jus
Carrying on from last week's post this is the Main Course from my Mother's Day Meal. It's follows on from the Starter of Scallops with Curried Cauliflower Purée with Smoked Bacon Crisps, this is Duck with Sautéed Potatoes and a Balsamic Berry Jus. Like last week the pictures aren't as detailed as I'd have liked them but they offer an outline to the basics of the recipe. I am a big fan of duck, from Daffy to Donald…. no ok not that duck! My mother and I really enjoyed this dish and I'd definitely make it again.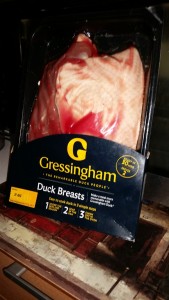 The duck breasts were Greshingham Duck Breast, I bought them from Tesco but you can find out more about them here
Preheat the oven to 220oc, or 200oc if you have a fan oven, for the duck, score the fat and salt and pepper the breasts, place them in a cold pan and on a medium heat and cook for seven minutes. Once browned place the breasts skin side up in a roasting tray in the middle of the oven.
Rare – 10 minutes
Medium – 15 minutes
Well Done – 18 minutes
I cooked it for around 13 minutes, it was just between rare and medium. Don't throw the fat away as we're going to cook the Sautéed Potatoes in the duck fat.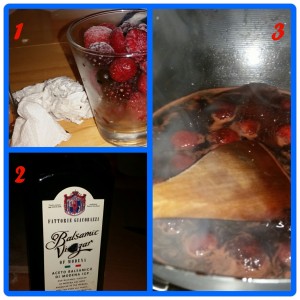 Making the Jus, or sauce as we would call it, you need to place the chose berries in a saucepan. I bought Tesco Frozen Berries (strawberries, raspberries and blackberries and possibly blackberries). Put the berries in a saucepan, add a sprinkle of chilli and then a couple of table spoons of Balsamic Vinegar, I may have added a bit of water, it all depends on the consistency you want. Cook the sauce until it gets to the consistency you want, I went for a sauce, if I was going to do it different, I may have added some honey and reduced it a bit more so that it was a sticky sauce…. I would also add red wine or port.
Cook the potatoes in the duck fat, use pre-boiled potatoes and cook them until they are golden brown like the ones above. Keep the duck fat for your roast potatoes on Sunday if you're not making Sautéed Potatoes.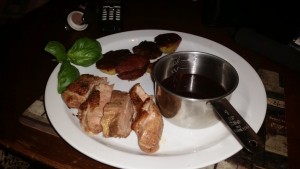 Ok now it's a bit chefy, and show offy but I've served the sauce in a mini sauce pan… oh wait! It's a measuring cup! This is a brilliant brain wave my sister had, she bought me a stack of measuring cups for Christmas to use as mini sauce pans. You'll remember I went to the Hardwick and I was really jealous of Stephen's mini saucepans. I also added a chefy bit of Basil, as this was my Mother's Day meal I thought I'd make the effort, she deserves it!
This is a stunning recipe, the sauce needed a bit of work but as I've said, add some honey and some port and it should come together nicely. I really enjoyed the potatoes, however I may serve it with a potato and fennel gratin next time…. just a thought lol. You can download a fully copy of my recipe here.
On Tuesday we have a cheat's Chilli Con Carne and then later on in the week we have my Nutella and Oreo Cheesecake… it's a stunner!
Don't forget to get in touch with us on our social networking pages… if you fancy a bit of spice visit the lovely Sarah from Sarah 'n Spice or check out my good friend Melanie over at Melanie's Food Adventures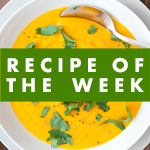 See you Tuesday