Mother's Day Meal 2015 Pt 1 Scallops With Curried Cauliflower Purée with Smoked Bacon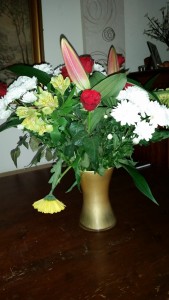 Yes, yes, at last I know 😆 ! Here is the first in my Mother's Day Meal menu. I served Pan fried Scallops, Curried Cauliflower Purée and Smoked Bacon.
The pictures aren't as good as I'd normally have but they outline the basics of the recipe. I love scallops, they are my favourite seafood, oh wait there's crab, oh and lobster… ok I love seafood in general lol 😳 . This starter is a combination of hot and cold, the bacon and purée was served cold and the scallops were served just after I'd cooked them.
I don't have pictures of these steps but the first thing to do is Preheat the oven to 2000c, then you need to place some foil on a baking tray and then place on the bacon.  Once you've done that cover the bacon with foil and place another baking tray on top to ensure the bacon stays flat. Place in the oven and cook for 15 – 20 minutes or until golden brown and crisp.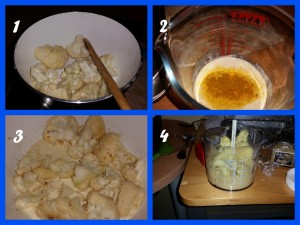 When making the purée you need to roast the cauliflower, cut the cauliflower into small pieces. Melt some butter and with a glug of oil in a sauce pan and add the cauliflower. Allow to cook for 3 – 5 minutes stirring regularly. While that is happening pour your milk into a jug and add some curry powder, you could mix the spices yourself but I've chosen to use a shop bought mild curry powder – it works well. Once you've put the curry powder and milk together pour it over your cauliflower and cook for a further 12 – 15 minutes until the cauliflower is soft. When the cauliflower is soft enough place everything in a food processor or blitz with a hand blender. Whizz it up until you get the required consistency.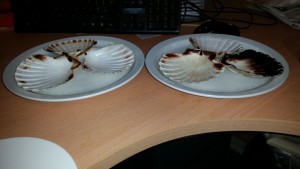 You can serve this dish without the scallop shells but, it always adds a bit of oomph. If you are using the scallop shells place them on the plate – to keep them still you can place a little bit of coarse salt under each shell.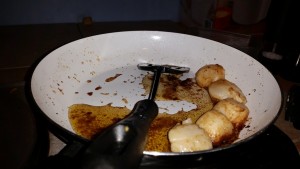 When you are cooking the scallops put some oil and butter in a frying pan and allow the butter to melt. Once that has happened and the pan is hot place in the scallops, you want to put them in a clockwise pattern starting at twelve o'clock and then working your way around – that way you know which ones to turn first. You should cook them for 90 seconds on one side, don't touch them, when the 90 seconds is up turn them over and cook for a further 90 seconds. This needs to be done on a high heat. It's important not to overcook scallops as they become rubbery. Mine were nice plump scallops from the fishmonger's counter of the supermarket.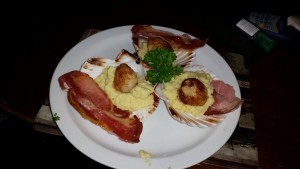 Place the purée in the scallop shells with the scallops on top of them, then place the bacon on the plate. I've added a little parsley garnish to make the plate look pretty, I served the purée and bacon cold but the scallops were warm.  You can download a full copy of this recipe here.
To view the Main Course of this menu click here
Do you like Seafood, then try my Prawn Cocktail from last year's Mother's Day Menu. This is part of my Mother's Day Menu, the main course is coming on the weekend and the dessert, well that's worth waiting for. Have you got much lined up over the weekend, what are you going to be cooking – let us know on our social media pages. Come back on the weekend and see the next instalment on this menu.
See you soon, so we can make more Wheelie Good Meals
Rich 😎