So I decided it was time to stop sponging off my parents and actually do a shop of my own recently, for the purposes of Wheelie Good Meals of course (not because there was nothing nice to eat in the house honestly your honour)! I bought these two ready meals – now before this review goes any further ssshhh don't comment on them, wait 😀

Now while flicking through the ready meal section of the Tesco website I stumbled across these on offer from Annabel Karmel. I didn't think anything of it, when the delivery arrived my mother commented on how small they were. Well she was right, they were for babies over the age of one! Now wait, you'd think I'd feel like a right plank now and give them to either Gemma or Stacey who have little ones… nah, I hadn't realised until I was taking pictures of the packet after eating it… doh 😳 !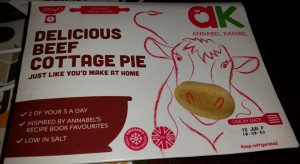 After reflecting on the humongous mistake I'd made I thought the packaging was very clear. Quite clever in fact it wasn't geared especially towards children in a way that made them kick, scream and shout until they had it. It was clear, concise and informative and had a pretty little picture of a cow on it. I noticed on the box it said it included "two of your five a day" which when catering for children is impressive.
We eat with our eyes and I didn't think it looked particularly appetising, that being said if you're a one year old I suppose looks isn't important. That being said, I wasn't disappointed with the flavour of it, you'll notice from the picture above (and below) there were carrots in the mash, ingenious!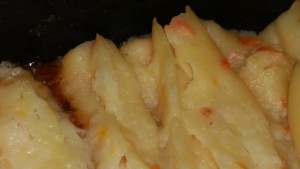 I don't have children but have been around enough family members' children and watched enough television to know sometimes the best way to get vegetables into their diet is to hide them. My grandmother Mam Shep tried to convince me for years parsnips were potatoes…. I think that's why I don't like them now!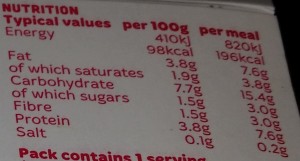 Now when it comes to children's nutrition I have no club… scratch that, when it comes to any form of nutrition I have no clue! So I asked an expert, a mother, and who better than Melanie from Melanie's Food Adventures!  Mel  thought the Nutritional information was fine. She felt that the levels of Salt and Sugar were low enough and there was a good level of Protein.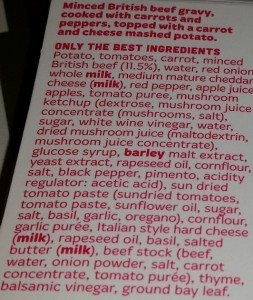 I thought the ingredients list was very large, there were some excellent ingredients in there, especially introducing them to children but there were some that I was unsure of like acetic acid…. do you know what that is, if so help me out because I'm clueless – it doesn't sound healthy though! This a quote from Annabel Karmel on the side of the box:
As a mum i understand how important it is to give our children the best, even on those days. That's why I've created a range of easy meals inspired by my trusty homemade recipes. They are full of flavour and fun to eat – just like my cookbook favourites. Toddlers and children will love them.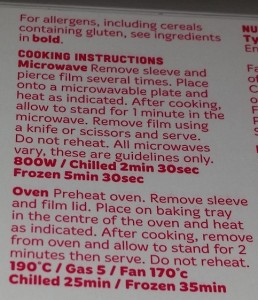 You'd have thought if I'd have read that I'd have realised! The cooking instructions were clear, the only issue… yes… as always is there was only instructions for 800W. The packaging also gave cooking instructions for oven cooking which is a good idea as not everyone likes to use a microwave. The description on the package is:
Minced British beef gravy, cooked with carrots and peppers, topped with a carrot and cheese mashed potato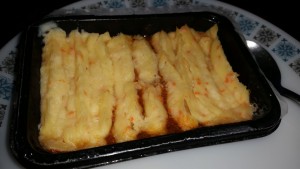 I think that's a fair assessment of the dish, I'm not sure about the Minced Brittish Beef Gravy…. was there any mince in it, that doesn't imply so! There was a) because I read the ingredients and b) because I saw it.

What would I score this out of ten, well as an adult (not taking it's size into consideration) maybe it would get a 3, personally I thought it was very tomatoey and very carroty. With that in mind, it's not an adult meal and I can understand why there was carrots in the mashed potato and why it may have been so tomatoey as children like the taste of tomatoes so I'd give it a six as a children's meal. If your child(ren) has tried this then let me know what they thought.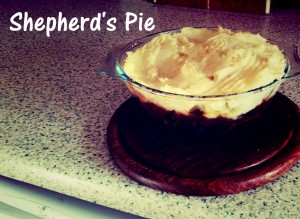 I never put tomatoes in my Cottage Shepherd's pie, click on the picture above to see my recipe. On the whole, would I feed this to my children if I had any, yes I probably would – would I eat it myself, yea if it was in the freezer 😆 but I probably wouldn't knowingly buy it again – wouldn't want to spoil my street cred J. Later on in the week we have the rest of my 2nd Dinner Party number 2 menu including Scallops and Chorizo with Greg's Pea and Mint Purée and Ginge's Lamb Kofta Curry with Greg's Saffron Rice 😀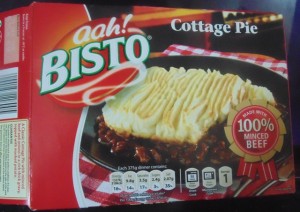 If you want a quick and easy adult Cottage Pie try Bisto's Cottage Pie, you can click on the image above to take you to my review.  Come back soon and together we'll make more Wheelie Good Meals