Well as it was our first anniversary last week I thought I'd write this post up dedicated to my darling sister Heather. I've always cooked loads, for as long as I can remember but it's by eye…. a little pinch of this and a glug of that but that had to change when the blog launched! I had to be more specific, actually creating recipes as opposed to trundling through things by trial and error. Heather and I often have this conversation as she tends to make the same dish differently each time she makes it. She has staples that she makes on a regular basis and they're all quite random… in name alone! For example she has her Salmon Thing, and her Spanish Chicken Thing… yep they're all called Thing… hence the name of this recipe!
This is easy, really easy in fact it, it is just peppers and onions with a few friends. Give it a go, it's worth a try I promise you you won't be disappointed.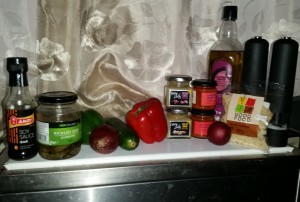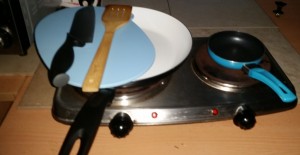 The ingredients are simple a few peppers, onions, garlic, ginger and then you choose the extras really. Customise it how you want to, I've used Sun-Dried Tomato and Char-Grilled Red Pepper Pastes I bought from Sainsbury's, Lazy Garlic and Ginger, Gherkins and then a good glug of Dark Soy Sauce. You'll see I'm not using too much in the way of equipment either, do you love my little blue pan…. it's sooo cute  😳 and really me, I love little things… is it because I'm short, yes possibly – I bought this from Home Bargain's many moons ago, and I love it.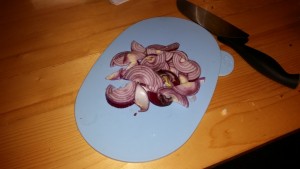 Chop the onions in to ½ moon shapes. Don't cut them too thick as you're not going to cook this for long.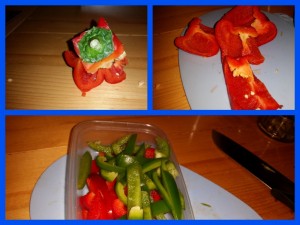 Once you've done that you need to take the cheeks off a pepper – what's a pepper cheek I hear you ask well it's the side of it. I learned this term from James Reeson who is the host of Australia's "Alive and Cooking" honestly, it's one of my favourite cookery programmes. James is English but lives in Australia. You know I watch a lot of cookery programmes from the land down under but this is the best. Take the cheeks off and then cut them into strips.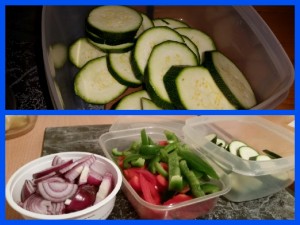 Once you've cut the peppers into strips, cut the courgette into rounds, cut them into 1-2 cm thick circles. These could discolour so you need to cover them. Once you've cut all the vegetables put them in separate containers and set aside, I've ordered them above in the order I'm going to cook them. To start cooking place a frying pan or wok on a medium/high heat. Add some olive oil and allow to warm up, once warm add the onion and 2 teaspoons each of ginger and garlic (more or less depending on your taste). At this point you want to toast your almonds for a couple of minutes, be careful – they go from lovely to burned in a matter of seconds, or at least they do in my experience (he says while he throws a batch of almonds away).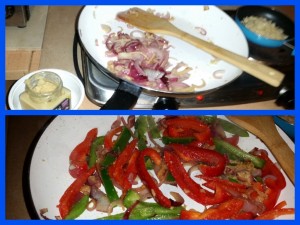 Once you've fried the onions until they are soft add the peppers and stir thoroughly, allow the peppers to get to know the onions and get coated by the ginger and garlic. Cook until the peppers start to soften, you don't want them to be mushy but you do want them to soften.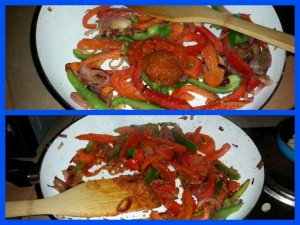 Add the Char-Grilled Red Pepper and Sun-Dried Tomato Pastes, I've bought them from Sainsbury's but other shops do them, you can of course add Sun-Dried Tomatoes and the Roasted Red Peppers from a jar. Give it all a stir, keep it moving to allow the flavours to meld and mingle…. they should be like neighbours talking over the garden wall 😆 .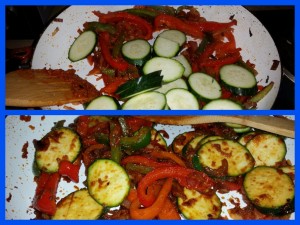 Then as you can see above, I added the courgettes; you want to cook them until they are slightly brown. When they start to colour add the soy sauce, it's important to add a good glug, obviously if you don't like it eave it out but it goes well in this recipe. Also add the pre-cooked potatoes, this is an optional extra really and I was using them up because they were left over.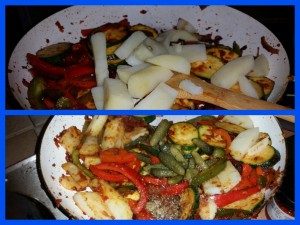 Keep the potatoes moving along with everything else, you want to spread the flavour around the pan to ensure all the ingredients gets to know each other. Once you've done that add the gherkins if you are using them and cook for a further one or two minutes. Season and stir to ensure that the seasoning is evenly distributed throughout, don't use too much salt because you are using soy sauce and it can be salty. You can take this off the heat then as you're ready to serve.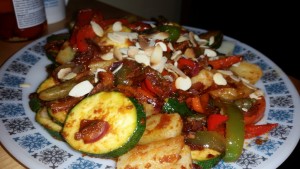 I placed on a plate and topped with the flaked almonds, you could use pine nuts or breadcrumbs for a bit of texture. My mother really enjoyed this one you could serve a smaller portion than the one above with rice or noodles. Give it a try it's a really quick and easy mid week meal and great for using up vegetables that are in your house, you can add more vegetables, Pak Choi maybe, baby sweet corn or some sugar snap peas – make it your own, that's what it's all about. You can download a fully copy of the recipe here.
If you like peppers then why not try out my Peperonata or you can try my Sticky Aubergine with Soy Dressing Red Pepper, Onion and Sweet Potato Wedges. Tuesday I'll be reviewing a different type of ready meal, what do I mean, come back and have a look.
I've had a busy couple of weeks with the blog's anniversary and social networking it's been quite hectic. On the positive side I've got a few more recipes in the bank and potentially a new feature lined up… it's all good so keep checking back for more updates.
See you Tuesday 😀