Following the success of July 2014's dinner party I hosted another one in December 2014 – why are you only hearing about this now you ask… mmm I don't have an answer ( 😳 )
The guest list started off at about eight people and slowly people dropped off, I'm not sure why (crosses fingers it wasn't because of my cooking 😆 ) but the final list became myself, Greg and Ginge. Greg features quite often in this blog, other than being one of my best friends he's one of the Parkers (he's drives me) and of course he plays pool with me.
Ginge on the other hand hasn't featured much. He's the better looking half of our double act Ginge 'n' Jones. I used to run an entertainment society and Ginge and I compèred the shows for years…. some would say we were rubbish others would say nothing at all! Before Ginge 'n' Jones we were known as the Ginger Ninja and The Wheelie Wonder… why, no one really knows lol!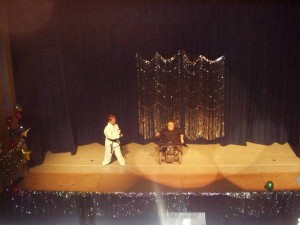 The recipes are all new, well mostly, for this dinner party. I wanted to try some new recipes out, in my last dinner party I served food that people had already seen on the blog and wanted to try. This time it was a new starter and a new main!
I will upload the recipes at a later date and link them back to here, however, for now the menu was:
---
Starter
Pan Fried Scallops, Pea and Mint Pureé and Chorizo
Main Course
Dean Edwards Lamb Kofta Curry with Saffron Rice
Dessert
Apple Charleston Served with Cream Chantilly
---
As with most of my dinner parties there's a bit of cooking for the guests to get involved with. Both Greg and Ginge are used to helping me in the kitchen, this time it was Ginge's turn to play sous chef for the majority of the cooking, along with my trusted side kick Mags!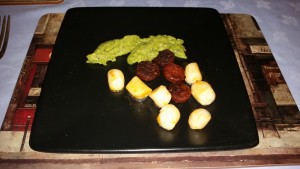 The starter was cooked by me on my own, well mainly honestly 😀 it was Scallops with and Mint Pureé and Chorizo. The chorizo were fried in a pan and then they were taken out and the scallops were cooked in the oil that came from the Chorizo. The Pureé was made by blending Coleman's Mint Sauce and frozen peas. It's a simple and easy recipe to knock up, ideally better when you've got bigger scallops. Everyone enjoyed this although it was commented that there wasn't quite enough of it…. I suppose that's the point of a starter though to leave you wanting more!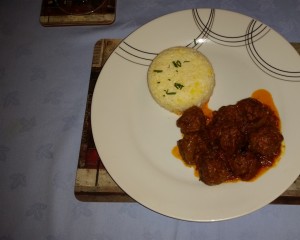 Ginge felt the Kofta curry was very authentic and tasted "as if a Moroccan had made it" (his words not mine 😳 ). They were cooked in a rich sauce taken from Dean Edwards Mincespiration recipe book which is an amazing book to own if you love mince of any variety. The rice was cooked in the microwave, it was cooked with saffron and topped with a sprinkle of herbage! The recipe will follow for this, it's worth waiting for honestly, it's another fantastic recipe from a fantastic book.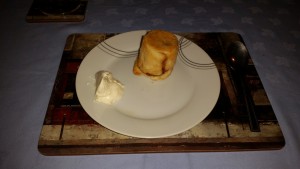 The dessert was Strictly Suppers #5 Apple Charleston served with Cream Chantilly. This was double cream whipped, sweetened with icing sugar and infused with fresh Vanilla Seeds. I had difficulty getting the seeds out of the pod, but I had Ginge on hand for that job… honestly every good home should have a Ginge on hand! This was a nice dessert, I think I should have served it with something that had a bit more oomph. Maybe with some flavoured ice cream and/or a coulis.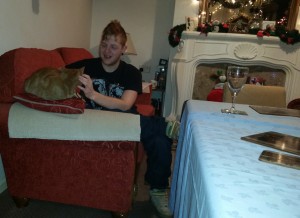 A great night was had by all, really nice atmosphere which culminated in a meeting of two Ginges…. This is Will my father's cat, and friend to all (except me lol)
Not sure when the next dinner party will be but I'm going to be experimenting with slow cooking soon so maybe that'll be on the menu haha.
Don't forget to visit us on our social media pages and get in touch with your thoughts, suggestions and ideas. If you've tried this recipe.
See you Tuesday,
Richard – Wheelie Good Meals 😀