Well this recipe is a great one for the forthcoming cold nights, it's Sausage Meatballs in a Spicy Tomato Sauce with Boiled Rice. I love meatballs and usually make mine from scratch, you'll know this if you'e read my take on Dean Edwards Thai Pork Meatball Curry or my take on another of Digger Dean's recipes my Lamb Kofta Curry (ok it's not a meatball in name but it is really lol)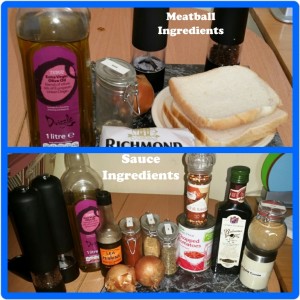 Because of how easy this recipe is I didn't use much in the way of equipment, the picture below does not have an oven tray in it… it shout doh 😉 ! My original intention was to fry the balls in a frying pan, I tried some in the frying pan but chose to oven cook the majority of them, I felt they had a better texture and cooked more evenly that way.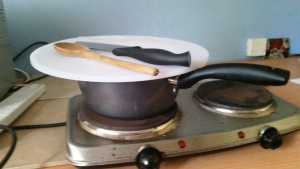 The first thing you'll need to do is cut up the onion, I just chopped them in quarters and then put them in a food processor, you can chop them up finely.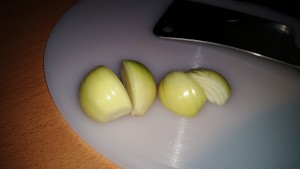 You'll notice that my cleaver is in the picture above, it was an amazing Christmas present from Santa… yes folks Santa brings meat cleavers too! It's lush, admittedly I wouldn't normally use it to cut onions but it was all that was sharp in my drawer. Not the case now though thanks to Chris Vickery who has sharpened my knife… see the picture below which I shared on Instagram a few weeks ago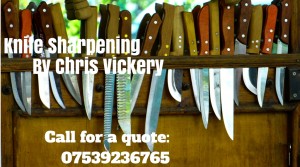 The way I would do that is to chop them into half moons and then cut the finely along the clock face… not making any sense, I'll try to show you below.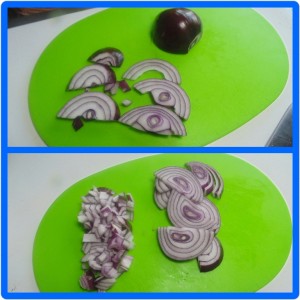 Put the bread in the food processor and blitz until you have breadcrumbs, then add 1 teaspoon of sage (more if you like it) and blitz that so that it goes throughout the breadcrumbs.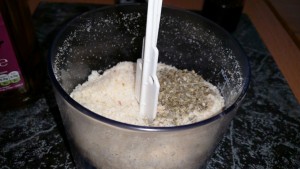 If you haven't chopped the onions yet, do it now in the food processor, doing it with the onions will stop it turning completely to mush… or that's what I think anyway :lol:.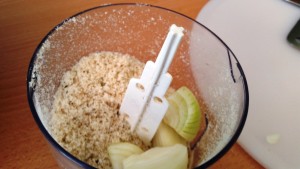 Take the sausage meat out of their skins and place in a big bowl, then add the breadcrumbs, onion and sage mixture and mix thoroughly. This is the bit I hate, so if you're anything like me you should have a friendly Alice, Hayleigh or failing that a parent to help…. or anyone else off the streets if you're feeling risky… no scratch that ignore me I'm waffling!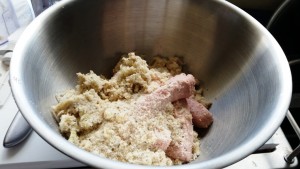 Next you'll need to shape this pile of mincey loveliness into small balls, probably about the golf ball shape. I'd then put them in the fridge for about half an hour so that they have time to firm up, probably best to cover them too. After that you have two options you can pan fry them and set them aside to reheat in the sauce or you can cook them in the oven.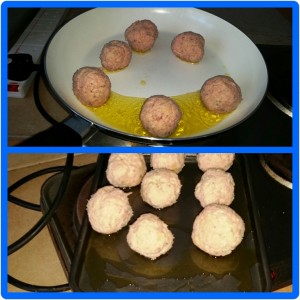 I tried both but chose the oven ones as the best outcome, I preheated my oven to approximately 1800C and once it was warm enough placed them on a baking tray in the middle of the oven. It is important to turn them regularly and take them out once they are golden brown. When they are ready take them out of the oven and set them aside covered in foil. You can allow them to cool down and then put them in the fridge.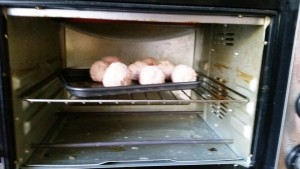 Next it's time to make the sauce, now this sauce is so adaptable and you can tweak it to how much spice or as little as you like. Personally, I hate it when chefs dump spice into a dish one at a time, I don't think the flavour gets evenly distributed through, I always mix my spice together…. or at least try to. You can see them below, they are:
1 tsp of Ground Cumin,
1 tsp of Smoked Paprika,
1 tsp of Mixed Ground Garlic,
¼ tsp of Chilli Flakes,
1 and ½ tsp of Ground Coriander,
2 and ½ tsp of Mixed Dry Herbs

Sausage Meatballs in a Spicy Tomato Sauce – The spices ready for the sauce

As I said earlier use as much or as little as you like, you can add ginger, or some Turmeric to give it a more Indian flavour, the world, as they say is your lobster!

Sausage Meatballs in a Spicy Tomato Sauce – Sweating the onions ready for the sauce

Next you need to cut two onions for the sauce, I've chopped them in to half moons but stopped there, I didn't want them too fine because I was going to cook the sauce low and slow. Sweat the onions in some butter (not featured in the picture earlier) and some oil. You want them to start to soften; you're not making burger van onions though!

Sausage Meatballs in a Spicy Tomato Sauce – Tomato Purée joins the onions for the sauce

Next ladies and gents we add the tomato purée and give that a stir through, it's important to add this early on in most dishes so you cook out the harshness of it…. interesting fact but my friend Ben Way eats tomato purée on its own.

Sausage Meatballs in a Spicy Tomato Sauce – The spices are added to the Onions and Tomato Purée as the sauce progresses

Then add the spices and give them a good stir, it's important to remember to keep things moving at this point because the onions have become claggy from the addition of the purée and the spices may catch on the pan.

Sausage Meatballs in a Spicy Tomato Sauce – One Tin of Chopped Tomatoes and 500ml approx goes in to the sauce

Once you've taken some time to let the flavours get to know each other you can add the tinned tomatoes, once you've emptied the tin in fill it full of water and pour that in, if I'm honest I probably added two tins of water, because I let it reduce a little, plus I wanted a sauce.

Sausage Meatballs in a Spicy Tomato Sauce – The sauce thickens and the balls are added back to re-heat

Add some balsamic vinegar (probably about 1 tablespoon full) and Worcestershire Sauce (I added a few glugs). I'd never put it in my tomato sauces before so I aired on the side of caution, not that I don't trust my sister Heather…. but you can never be too careful.

Sausage Meatballs in a Spicy Tomato Sauce – The sauce thickens and the balls are added back to re-heat

Now you can serve this with some good old fashioned mashed potatoes, I would normally, but as I was making it for you lovely people I went for rice instead. I put two cups of rice and four cups of boiling water in a sauce pan with a large pinch of salt. Put on the heat and bring to the boil, once it's boiling I reduced the heat and covered it and left it for 10-15 minutes. Once that time was up I forked it through to get it nice and fluffy, how do you cook your rice? Share with me on social media.

Sausage Meatballs in a Spicy Tomato Sauce – The sauce, meatballs and rice all cooking away nicely

You'll notice my balls (oooh matron 😳 !) are back in the sauce now, leave them there to cook through, they should already be cooked it's just a case of bringing them to temperature.

Sausage Meatballs in a Spicy Tomato Sauce – Ready to eat

Serve and enjoy, I've kept both the balls and the sauce in the fridge and they would also both probably freeze, but I eat them too quickly for that. Remember you can download a step by step recipe from here

Come back Tuesday for a review of a gadget, I'm not sure what one yet but I'll review one lol. I recently asked #SortedFood what their favourite time-saving gadget was… here's what they said

Screenshot of a Twitter Conversation with #SortedFood

Don't forget you can drop me a line to give me suggestions for my Mystery Bag meals, email mbm@wheeliegoodmeals.co.uk

Mystery Bag Meals Information

Thank you for stopping by remember you can sign up to the blog for updates and visit us on our social media pages which are listed below.

Facebook:         www.facebook.com/wheeliegoodmeals

Twitter:              www.twitter.com/wheeliegdmeals

Instagram:        www.instagram.com/wheeliegoodmeals

Youtube:            www.youtube.com/wheeliegoodmeals

Pinterest:          www.pinterest.com/wheeliegdmeals

I'd like to wish everyone starting back in university this week luck, especially friends and family, Ben, Siân, Adam and of course Ben "The Hair" Way and anyone else I've left out.

See you Tuesday

Rich