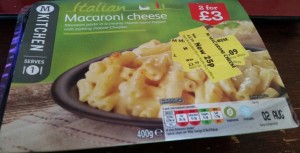 Ok so I look like I'm addicted to Macaroni Cheese, I've reviewed three so far. On 11th August 2014 I reviewed Asda Macaroni Cheese, I wasn't overly impressed with it, in fact my words were that I "felt a bit let down by this as I was quite looking forward to it". I then reviewed Tesco Everyday Value Macaroni Cheese on 22nd September 2014, I said that there was a topping missing and that it needed "lots more seasoning needed to be added to this to make it tasty". So let us see if things can get better with this one.
I'm not going to lie my photographs are horrific of this ready meal, Greg would say my photographs are always horrific lol, I can't take a good photo to save my life.
The picture I took of the nutritional information is very blurred, so I've taken a screen shot of it below, this picture also includes the ingredients.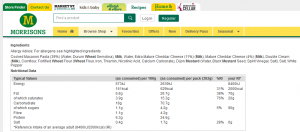 The ingredient list didn't throw up anything that I hadn't seen in any other lists but I do worry about eating something that is called "Nicotinic Acid" and "Thiamin"… what are these, well I've decided to tweet Morisons, and the other Ready Meal manufacturers that I review to see what they say…. let's wait and see what they say!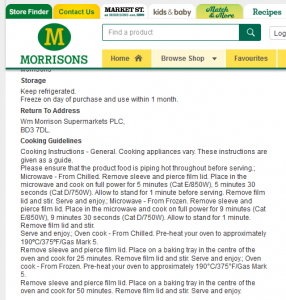 The screen shot above is taken from the Morrisons website and shows that the cooking instructions are clear and include my cronky old microwave. On the packet the instructions are clear and laid out well, including the oven instructions which is always a bonus.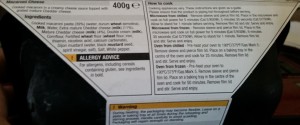 The picture above shows the cooking instructions taken from the actual packet…. as opposed to downloaded from the net. It shows how clear the packaging was and how easy the cooking instructions were to follow.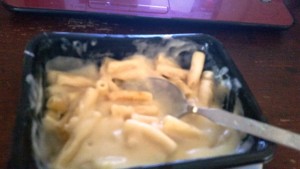 You'll remember I reviewed Asda's Rockin Chilli & Chorizo Mac and Cheese on on 22nd July this year. I gave that one a 6 out of 10, it was marked down because it had to go in the oven, however, it had great taste and a warming level of heat from the spices and the Chorizo.

This one too had nice warmth to it, warmth that was comforting. There was a texture on top which I actually thought was breadcrumbs but it wasn't. The sauce was cheesey and rich and just what you'd want on a cold winter's night. The heat came from the mustard which added a good depth of flavour to it, my only real negative was that I thought the texture could have been improved. Like some of the previous Macaroni Cheese I've reviewed it was a bit congealed and claggy. However, it was still a very tasty meal.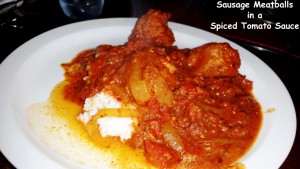 Come back Thursday for my Sausage Meatballs in a Spicy Tomato Sauce. Don't forget you can visit us on social media, please feel free to like and share the reviews and recipes on this site, get involved on my social media pages to tell me what you think, or give me some ideas for Time-Saving Tuesdays or recipes I can make.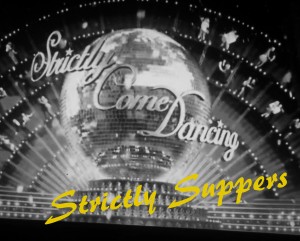 Also if you're a fan of BBC's Strictly Come Dancing you'll know it's coming back on soon. To mark that I'll be re-launching my #StrictlySuppers feature again, so any ideas you have on that will be greatly appreciated. If anyone's interested my money's on Ainsley…. who else would it be on lol!
See you Thursday
Rich