This is another one of Heather's brilliant bargains… oh wait that sounds like a feature on its own lol. This was Morrisons NuMe Cumberland Pie, I've never really had a Cumberland Pie before, so was looking forward to it, something new is always good.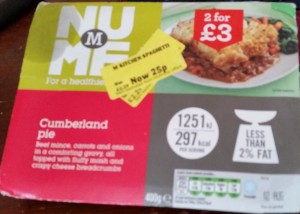 The packet describes the pie as being:
beef mince, carrots and onions in a comforting gravy all topped with fluffy mash and crispy cheese breadcrumbs.
So what's the difference between this and a Shepherd's Pie you may ask, well there doesn't appear to be one other than a layer of breadcrumbs. For more information on Cumberland Pie click here.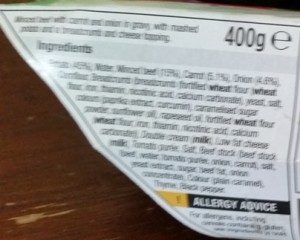 I know the picture is blurred above but you can find out more about it and the cooking times by visit the NuMe website. I've messaged Morrison's and asked them about the ingredients I've talked about in earlier posts. Here's the reply they gave me to my tweet.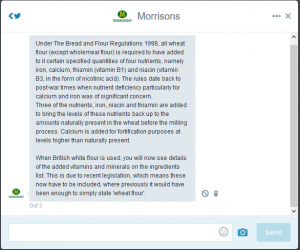 The reply is clear enough and makes perfect sense, I just wish there was a way of passing this information out to the public so we knew what we were eating.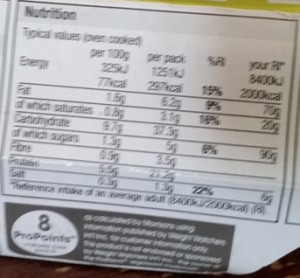 The nutritional information is quite good in this with it having 297calories and fairly low levels of salt and sugar. The cooking instructions were clear and easy to follow, though you wont get a picture off me for them because they were partially obstructed by sale barcodes. To find out about the cooking instructions visit the website mentioned above.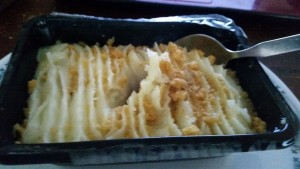 This was great, really tasty and a pleasure to eat. The gravy was deep and rich, the minced meat was easy to eat, the carrots and onions were easy to eat. The mashed potatoes was fluffy and not heavy and claggy like some other ready meals, the breadcrumbs were crunchy and cheesy and added a different dimension to what was in essence a Shepherd's Pie. I thoroughly enjoyed this and would certainly buy it again, oh wait I did on the weekend lol with that in mind I've given it seven out of ten.

I've got a few good posts coming up, Strictly Suppers #1 will be out on Thursday, then we've got a review of the Brecon Food Festival which Greg and I attended on the weekend and then next Tuesday a Tomato Risotto cooked in the microwave.
I've been tweeting, pinning and sharing other recipes on facebook lately, go over and have a look, there's loads to read and enjoy.
Facebook:         www.facebook.com/wheeliegoodmeals
Twitter:              www.twitter.com/wheeliegdmeals
Instagram:        www.instagram.com/wheeliegoodmeals
Youtube:            www.youtube.com/wheeliegoodmeals
Pinterest:          www.pinterest.com/wheeliegdmeals
See you Thursday
Rich