This is a variation on "Graham's Caramelised Red Onion and Goats Cheese Tart" I posted back in August 2014. This tart was using up ingredients that I needed to use up, and it was a good use of them too. Give this a go, it's quick and easy and one I know you'll love – and Graham will for that matter!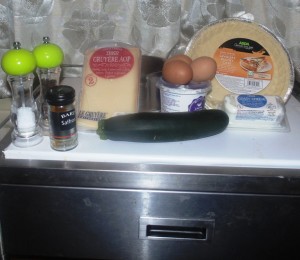 This really is quick and easy…. I know I say it all the time but trust me there's hardly any effort in this one at all. Just beat a few eggs, do a bit of grating and then whap it in the oven… job done! The first thing you'll need to do is preheat your oven to 2100 Celsius.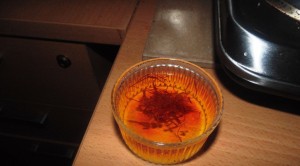 Place some saffron strands in a glass. Try not to use too many because they say saffron can have a metallic taste. Pour some boiling water on top of the saffron and allow it to steep for about fifteen minutes. I love saffron, it's very opulent and weight for weight is more expensive than gold! It's mainly used as a colouring but does offer a slight taste, for more information on Saffron visit Wikipedia.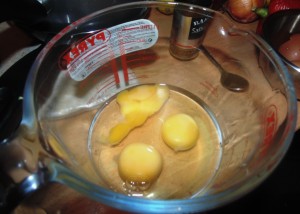 Crack three eggs into the jug, add salt and pepper, as you can see I've used whole eggs, they give the body to the tart! Season well, you can't beat a bit of salt and pepper!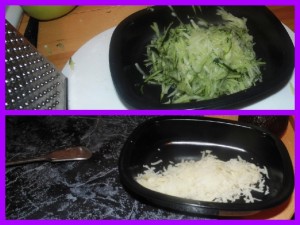 The next step is probably the hardest bit in the whole process, it's time for a bit of grating…. or not! I've grated the courgette and the cheese here but equally you could put them in a food processor, why not! I suppose the only reason not to is the washing up afterwards, but I don't do that in my house so it's not a problem… ssshhh don't tell anyone I said that! Remember to keep some circles of courgette back for decorating at the end, I used five but you can use more or less – or not bother… make the recipe your own!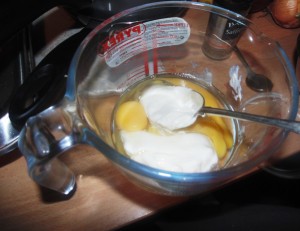 Add 2 tablespoons of Crème Fraiche to the eggs and whisk again until combined. Don't panic if it looks a bit lumpy, it'll come together when you whisk it, set that aside for now!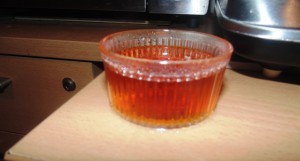 After allowing the saffron to steep in the boiling water add that to the egg mixture and whisk in. You're only really using the saffron as a colouring for this recipe.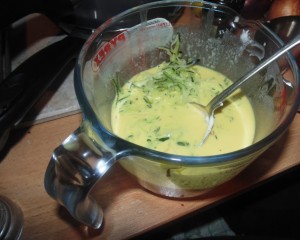 Next add the courgette to the whisked egg mixture and stir through, then take the tart case and break off the goats cheese bit by bit placing them on the tart case. You want to try and get an even layer of cheese, if you don't like goats cheese you could use mascarpone or mozzarella.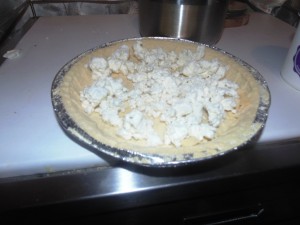 Then pour the egg mixture over the cheese and top with the remaining courgette rings, on top of that sprinkle the grated cheese, this with give it a golden finish.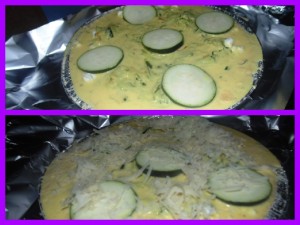 Cook in the preheated oven for 30 minutes or until golden brown. The tart should be slightly firm but with a little wobble.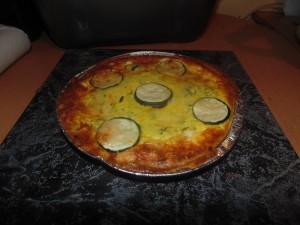 I served it with a side salad, you can serve it on its own it's that good! I love courgette's and this was a great way to use them up. It's light but tasty, an ideal light lunch, packed lunch option or a snack to keep you going. You can download the recipe here.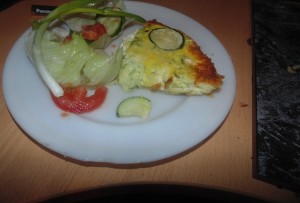 Come back Tuesday for a review of Tesco Chilli Con Carne in a tin and also this week sees the launch of my new feature Mystery Bag Meals, a feature which sees me taking on a Ready Steady Cook esque challenge with ingredients suggested by anyone who wants to take part… more on this to come.
Thank you for stopping by remember you can sign up to the blog for updates and visit us on our social media pages which are listed below.
Facebook:         www.facebook.com/wheeliegoodmeals
Twitter:               www.twitter.com/wheeliegdmeals
Instagram:         www.instagram.com/wheeliegoodmeals
Youtube:            www.youtube.com/wheeliegoodmeals
Pinterest:           www.pinterest.com/wheeliegdmeals
Congratulations to Greg and everyone at the Caerphilly Players for an excellent p of Under Milk Wood… I went to see it last week with Ben "The Hair" Way… I miss performing! Also coming up this week is my write up about mine and Greg's visit to the Cardigan Bay Fish Festival.
See you Tuesday
Rich