Ok, I know it's not Tuesday but it's not far off… and it's worth the wait lol!  Today's post is an interesting one, I'm not sure if it counts as being Time-Saving but we'll give it a go!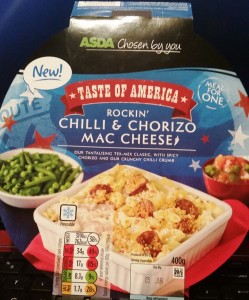 Actually, thinking about it I suppose it is Time-Saving because it only takes about 30 minutes in total but you do have to cook it in the oven. On the plus side, it is just a case of whacking it in the oven and away to go, well apart from peeling the lid off after 15 minutes, see the cooking instructions below:

Like the Asda Pasta Bolognes Bake I wasn't really looking forward to this one, and… like that post I was well and truly wrong! It was rich and tasty, here is the ingredient list and nutritional information.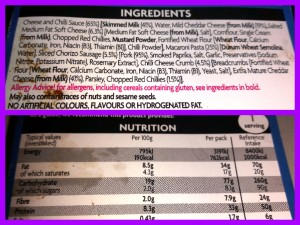 The package described this as being:
Macaroni Pasta in a spicy cheese sauce with Chorizo and topped with a Chilli Cheese Crumb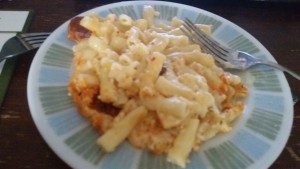 This was another stunner, it was so tasty. It had spice, deep tastes of chorizo which was had tastes of smoked paprika. It also had the deep cheesey taste which made it comforting. It did have B3 and B1 (Niacin and Thiamin) as ingredients, so this provokes more thought. On the whole I'd give this a 6/7 out of ten, I've gone with 6 because it uses the oven but I'd certainly buy it again!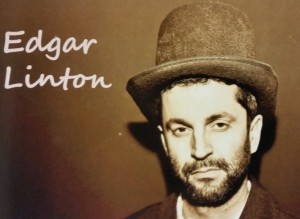 Later on in the week we've got my review on the Cardigan Bay Fish Festival 2015 and my dreams of expanding Wheelie Good Meals. Thanks for stopping by, good luck to my mate Greg for his tour of Under Milk Wood, I'm going today so I'll let you know how it goes. Greg and I went to the Fish Festival again this year, you'll see his photos soon!  For now, read last year's Cardigan Bay Fish Festival Review.  Greg gave an excellent portrayal of Edgar Linton in The Caerphilly Players performance of Wurthering Heights – I'm very proud of him and I'm sure they're all going to be amazing (The Butchers Arms Boy!)
Rich 8:)