Tuna Infusion with Soy and Ginger and Mushroom Couscous Steam Pot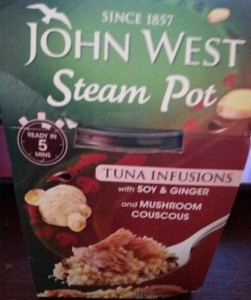 I'm sorry that there was nothing coming last week, I've had a hectic few days, including a visit from my lovely niece Alice. You'll probably know by now that Alice has been partying studying in France for the last ten months through her university course, but now she's home! I'd missed her, although, if I'm honest, I probably spoke more to her when she was in the land of onion and garlic than I ever did when she was home 😆 . We did lots of cooking while she was up, some was very, very successful – some was utterly disastrous… you'll know about it all soon enough 😆 !
This review is the other John West Infusion Pot I bought, you'll remember I reviewed the Infusion Pot which was Tuna with Coriander & Cumin and Lime and Coriander Cous Cous.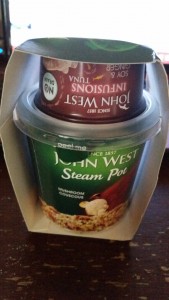 This was a great quick and easy snack, I really love the idea of the two little pots and with the tuna, it ticks all the boxes for me. This one was a bit of a surprise because it has mushrooms in it… come all we all know I don't like Mr Legumes, but taking one for the team I decided I'd buy this one and review it.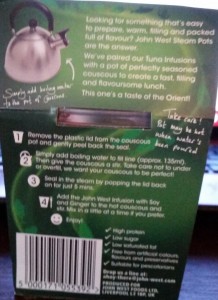 The instructions are easy to follow, they're exactly the same as the other one we've reviewed in the past. As I've said in my previous post it is a glorified pot noodle really J it's made in the same way… simple!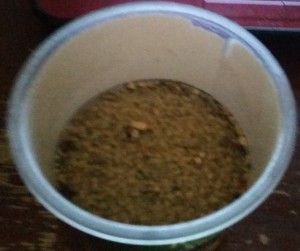 Water is added to the dry couscous and the lid is replaced it only takes about five minutes once the lid is replaced. Open the tin of tuna, I'll admit it doesn't look the friendliest, some would say it looks like cat food but trust me it doesn't taste like it.
When the five minutes is up mix the two together, you can, like me eat it from the pot or have it in a nice little bowl… you choose! Below you can find the nutritional values for this Steam Pot, each pot contains 413 calories and 10 grams of fat (1.4 grams of saturated fat) and 1.4 grams of salt.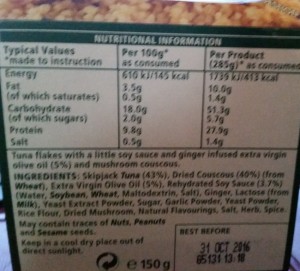 This was an excellent quick and easy snack, it's quite filling and takes next to no time to prepare. The packaging describes it as
Tuna flakes with a little soy sauce and ginger infused extra virgin olive oil (5%) and mushroom couscous
I love the whole soy ginger flavour combination, I've used it before in Soy Chilli and Ginger Trout Recipe. I can't say I noticed the mushrooms in this recipe so they didn't really bother me lol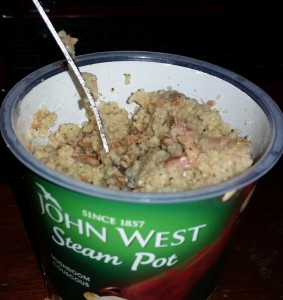 A year ago today we launched our Ready Meal Monday feature, so it's only fitting that this is a good product to review for Time-Saving Tuesday. Come back Thursday for "Something Fishy 2015"!  I'm also embarking on a new feature called Mystery Bag Meals coming at the end of the week, we've got a shiny new logo for the brilliant talent that is Dave Hole and a set of ingredients for the lovely Melanie from Melanie's Food Adventures
Remember you can visit us on all our social networking pages or you can email us.
See you soon
Rich
Ps…. I know my time keeping is sometimes rusty but this was written on Tuesday but for some reason it didn't post…. grrr 👿 .