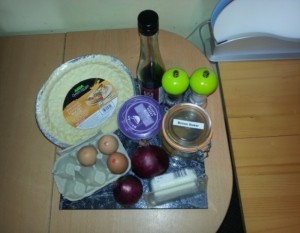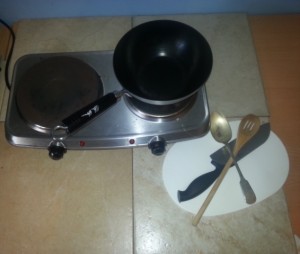 I recently bought some Goats Cheese as I'd never tried it before. I had however, tried Goats Milk and it wasn't a nice experience. My mother's friends gave it me some Goats Milk when I was a child and it wasn't my cup of tea, even though it was in my cup of tea 🙂 ! I wanted to do something that I'd like and that wouldn't be too goatey (Wheelie Good Meal Word) and too cheesey! I made a good choice, this tart was quick and easy and it was really enjoyable – even my mother enjoyed it.
I've called it Graham's Caramelised Red Onion and Goats Cheese Tart in honour of my brother-in-law also as I've made it a few times for him and he enjoys itmy brother in law who, like me is a big fan of cheese and really enjoys it. The inspiration came from Lemon Squeezy website (http://tinyurl.com/kblb6zj), take a look it's a good website. I hope you enjoy and remember post your photos and share the fun with us.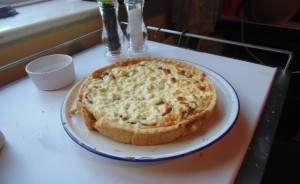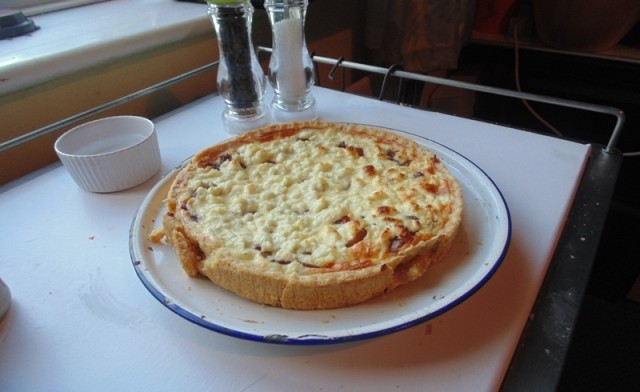 As you can see below I've chosen to serve this with a small side salad of herbs and tomatoes but you can accompany it with a larger chopped salad or a jacket potato. Remember you can download step by step instructions for this recipe by clicking here.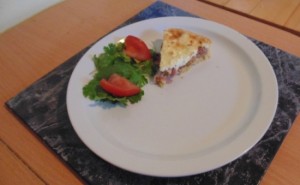 Don't forget to get involved at Instagram, Twitter, Youtube, Google+ and Pintrest, share your ideas, photos and recipes with us and watch our blog develop.  If you have any questions you'd like to ask about either myself or the Wheelie Good Meals concept please feel free to drop us a line on enquiries@wheeliegoodmeals.co.uk.  Come back again soon and, together, we'll make more Wheelie Good Meals!
See You Soon