Mother's Day Meal 2015 Pt 3 – Dessert Course –Nutella Cheesecake with a Wheelie Good Oreo Base
Phew…. and breath! This is the last instalment in my Mother's Day Meal it's the Dessert Course Nigella's Nutella Cheesecake with a Wheelie Good Oreo Base. It's follows on from the Starter of Scallops with Curried Cauliflower Purée with Smoked Bacon Crisps and a main course of Duck with Sautéed Potatoes and a Balsamic Berry Jus. This post is firmly dedicated to my mother, she's in hospital but fighting fit and hopefully will be out this week with half a new hip 😆 . I am such a lucky person, I know I said this on Tuesday but I am so grateful for my family and friends. Other than all the running around Rhian, Gemma and Chris have been doing since my mother has been in hospital I've had some of the most amazing food brought up to me which has made things so much easier. My father is a really good cook but, as you know he's has plain and simple tastes. I'll fill you in on the food I've had in a bit but on to the Cheesecake!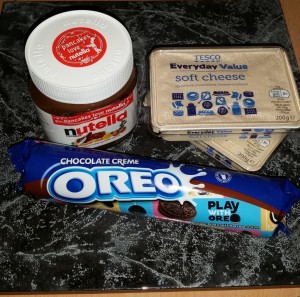 The ingredients are simple…. we have Nutella, but you can use any chocolate spread, Oreo and Cream Cheese…. oh and Icing Sugar! You can use any cream cheese, when I normally make a lemon cheese cake I use Mascarpone but we had Tesco own Cream Cheese in the fridge. The equipment is easy as this is a no cook Cheese Cake you only need:
A Cake Tin
Spatular
Food Processor
Large Bowl
Big Spoon
Cling Film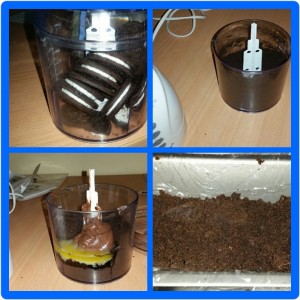 It's time to make the base, firstly throw the pack of Oreos in to the food processor and blitz them, if you don't have enough in a packet – use more or use some plain digestives. Once you've done that melt a large knob of butter in a small pan, once melted add to the biscuit base along with a heaped tablespoon of nutella. Once you've done that take the biscuit base and line your tin with it. Make sure that there is an even layering of base and it's spread out to all the outer edges of the tin.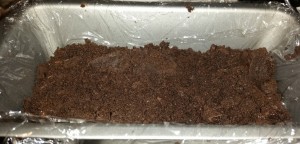 You can see in the picture above I've used a loaf tin to make the cheesecake, ok, I know it's not conventional but convention is boring 😆 ! Before you place the base in the tin line it with some cling film, that will allow you to lift the cheese cake out. If you have a loose bottom (embarrassed face) to your tin then you won't need cling film. Once you've placed the base in the tin, put it in the fridge for at least an hour or as long as it takes for it to set.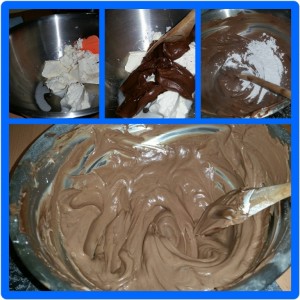 To make the topping for the cheese cake add the cream cheese to a large bowl, remember don't do what I did. I added the water from the cream cheese and it meant my cheese cake didn't set very well. The add the remainder of the jar of Nutella and mix thoroughly and then add the icing sugar. Mix that in again to allow it all to combine thoroughly. Once you've done that cover and set aside until the base is hard and ready to come out of the fridge.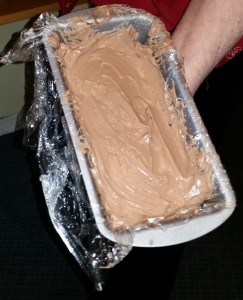 Once you've mixed the topping and you're happy the base is set spread the topping out over the base, it is important to remember to get to all the edges and make sure that it's evenly covered. Place in the fridge and allow to set .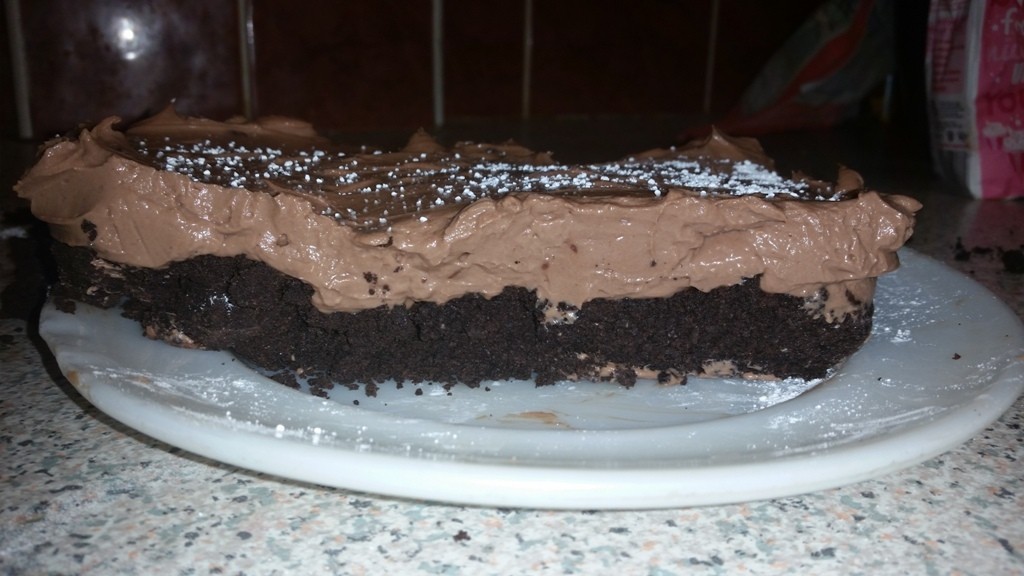 When you are ready to serve dust with some icing sugar, you can serve with a berry compote. This is a stunning dessert if I do say so myself, I borrowed the idea from Nigella Lawson who came up with the idea but she sprinkled toasted flaked hazelnuts on top of it. You can download a full copy of my recipe here.
Come back on Tuesday where I'll be reviewing Asda Pasta Bolognaise Bake. Later on in the week I've got the long awaited Lamb Kofta Recipe from my dinner party with Greg and Ginge.
I know I said this last week but I'm so lucky my friends are brilliant, I've had food from both Hayleigh (well her mother really but because of Hayleigh 😆 ) and Stacey. I couldn't ask for better friends and family. My mother is doing well and hopefully all will be right in camp Wheelie Good Meals soon.
I read an heart warming post entitled #LiveItForGeorgie so this Nutella and Oreo Cheesecake is dedicated to #LiveItForGeorgie. Go over and have a read and see what you can do to #LiveItForGeorgie
Lastly congratulations to my brother who completed his 3 peaks challenge this weekend. Not bad going for an old man 😉
See you Tuesday