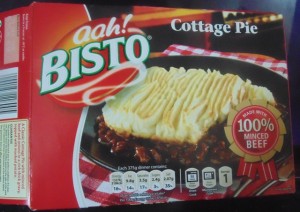 Firstly I have to start with an apology, I know it's Thursday and I'm not very good with my timings but I've had a hectic week. Now before you get the violins out, my busyness has been in a good cause, I've been busy preparing for the Youtube Channel launch, which is coming soon. I know posting has been erratic and chaotic but we're all back on track now. I have my mate Ben Way Boy and my Niece Alice to thank for getting the Youtube channel preparations underway. Well now I've got that off my chest let's talk ready meals, I know I say this all the time but, I'm a bit of a fan of minced beef I'm sure you're sick of hearing that. And I make a pretty mean cottage pie so when I saw this in the freezer at home I thought I'd see how they compare. This one doesn't come off that bad I'm surprised to say. It had a fairly deep flavour and the texture was good, the mashed potato was tasty, though not as creamy as I'd have liked. There was a nice rich gravy which was part of the pie filling and it all came together as a really nice ready meal.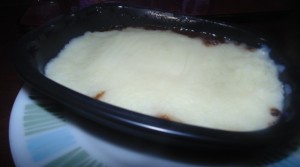 I'll make my own Cottage Pie for you all to see soon, but as a meal for one, something that is quick and easy to prepare I'm very impressed with Bisto's Cottage Pie.
Keep your eyes peeled for our next Ready Meal Monday review and also for our next recipe as we've got lots coming up.  Don't forget to get involved at Instagram, Twitter, Youtube, Google+ and Pintrest. What are your favourite ready meals, do you find them easier than cooking, let us know your thoughts.  Also if you have any other cooking tips, ideas or recipes share the love with us.  We'd love to hear from you we want you to get involve and help Wheelie Good Meals develop.  If you have any questions you'd like to ask about either myself or the Wheelie Good Meals concept please feel free to drop us a line on enquiries@wheeliegoodmeals.co.uk.  Come back again soon and, together, we'll make more Wheelie Good Meals!
See You Soon