Coconut, Lemongrass & Coriander Hake Fillets with Minted New Potatoes followed by Key Lime Pie and Ulmen Sauvignon Blanc 2014 – All For £10 – Ding Dong!

Well it was that time of year again… It was Eurovision weekend, and my mother and I decided to watch it together with a meal deal she chose from Marks & Spencer.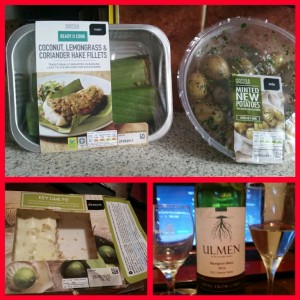 I have to be honest I wasn't overly looking forward to this one 😕 , as you'll know by now my mother picks one element, I pick one and then we both usually agree on the dessert. My mother wanted this Hake dish…. I can't say I was excited would be an understatement, especially after fishbonegate! I was hoping to be proved wrong, like I was for the Sainsbury's Bistro Chicken!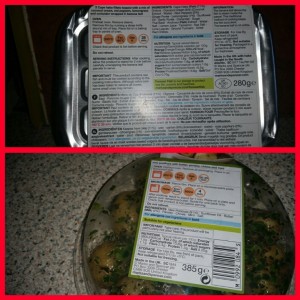 Both the main and side were cooked in the oven, I cooked the fish for potatoes for 35 minutes with the fish needing 28 minutes both of which were in a 2000c. The fish was wrapped in a banana leaf, I thought that was a really nice touch, we didn't eat it though… should we have?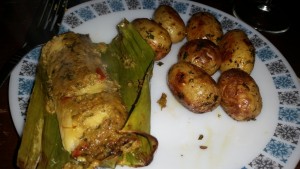 The main is described on the box as:
2 Cape hake fillets topped with a mix of coconut cream, red peppers, lemongrass and coriander wrapped in a banana leaf
Well as always I was wrong, it was sensational…. the hake was moist and flaky with a flavoursome topping of citrusy lemongrass and slight notes of coconut. The photo above doesn't do it any justice it really doesn't it was first class and so were the potatoes. The banana leaves help to steam the fish which in turn makes it more moist… clever! The side is described as:
New potatoes with butter, parsley, chives and mint
You know me I don't like potato skins but these potatoes were lush to use a Gavin and Stacey ism. I suppose the only disappointment I had with the potatoes was, not that they were hard like previous meals, but that they weren't particularly buttery. That could have been my doing though when I was cooking it.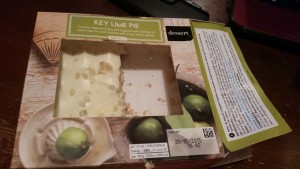 The dessert was also excellent, but we'd had it before. It was a great way to end a meal, citrusy and light. I'm not sure if I've said this before but it brings back so much nostalgia of being in Florida when I was a child, possibly one of my favourite desserts. It's a glorified cheesecake but my it's good. I surprisingly for me liked the lemon zest finish which isn't like me.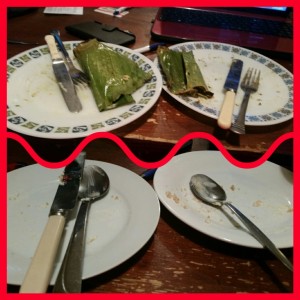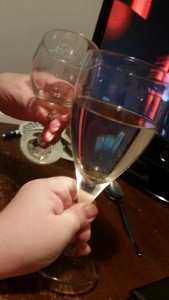 The wine we washed it down with was a Chilean Sauvignon Blanc, it was really nice. We don't tend to chose the wine we let Heather do that for us and as always this was a cracking choice. It was zesty and refreshing, it was slightly fruity but not overly, you know me I prefer a dry wine to a fruity little number. The Marks and Spencer website describes the wine as:
 Crisp & Refreshing with aromas of lime, grapefruit and gooseberry, this is a deliciously dry and pure Sauvignon Blanc
All in all an excellent night, for the meal and the wine I'd give a really high nine out of ten. For the Eurovision performance and the tactical voting nil pois I think it's one of my favourite so far and a really good choice by my mother…. next week on the menu is humble pie!

The M&S Meal Deals are really worth it, it's great value for money for £10 – a main course, side and dessert for two with a bottle of wine, you can't ask for better than that can you! Ok well maybe a michelin star chef to cook it for you!  For now though I've got to settle for Wheelie Good Meals Stars, nine of them in fact 😆 !  See you soon with another recipe, I've been busy cooking this bank holiday weekend so lots to share with you. I hope you all had a great bank holiday and you're making the most of the weather.
Bye For Now
Rich 😎