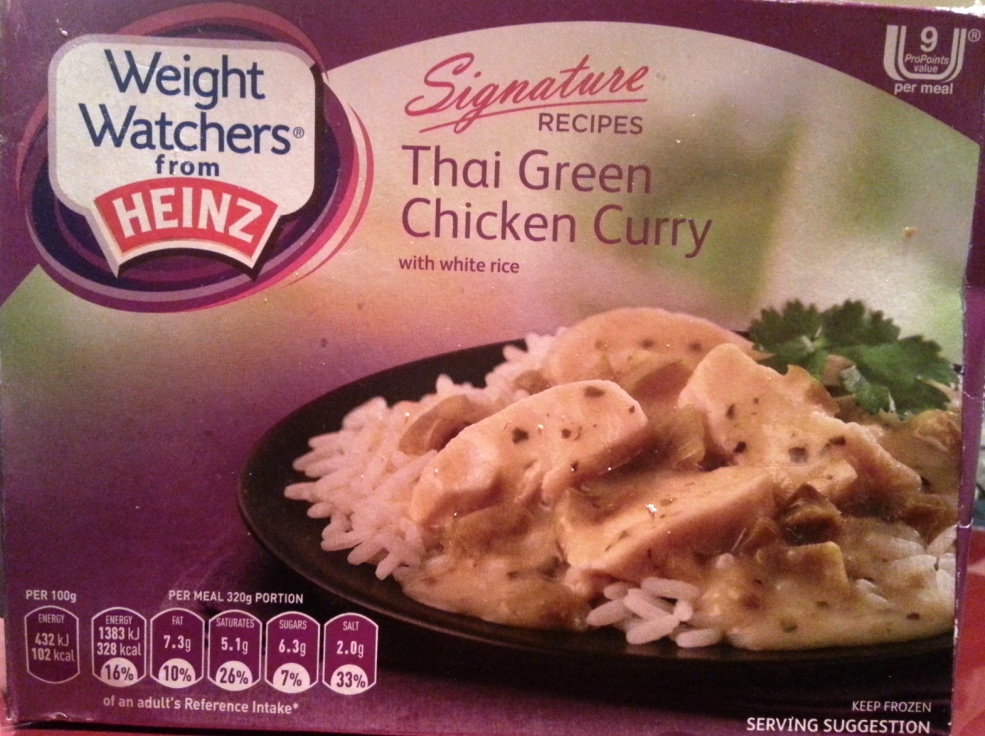 Only just making it in on time but we're jetting off to Thai Land for this week's installment of Ready Meal Monday…. how exotic I hear you say! This is Thai Green Chicken Curry, I've only experimented with Thai flavourings properly once and I really like them. I've made what I call Thai Fish Cakes but they're not really authentic. Weight Watchers describes this ready meal on the packaging by saying:
Tender chicken breast pieces in a Thai green curry sauce with white rice.
This Ready Meal has 9 ProPoints, if you are a Weight Watchers subscriber you will know what this means, this will mean. For more information on the nutritional information and the ingredients see the image below:
The cooking instructions were ok, I feel though that because of the colouring of the packaging these instructions may be difficult for people with a visual impairments to read. The image below doesn't show clearly the cooking instructions for oven cooking but they are there lol

This was nice, I know nice is a bland word but that's probably the best way of describing it. The flavours were good nice hint of coconut which seems to be the essence of lots of Thai dishes. There were flecks of what I could only describe as spring onion going through the dish and clearly defined pieces of chicken. The only drawback for me was it was a bit congealed it wasn't as saucy as I'd have liked…. but I was in a rush and left it in the container because I was in a hurry before I went to pool.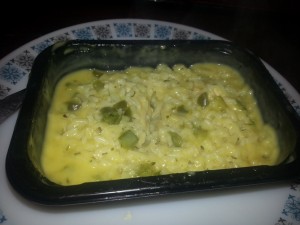 I wouldn't rush out to buy this one again, it may not have been cooked properly my end although I pretty much followed the instructions – as well as I could because I have a weird 700W microwave. I've rated this a four out of ten, although this may be me being a slight bit stingy.

Well let's see what we've got in store next week, let's see what's sitting in the freezer further on in the week. Remember you can join us on all our social networking pages or send us an email at enquiries@wheeliegoodmeals.co.uk. Come back again soon and, together, we'll make more Wheelie Good Meals.