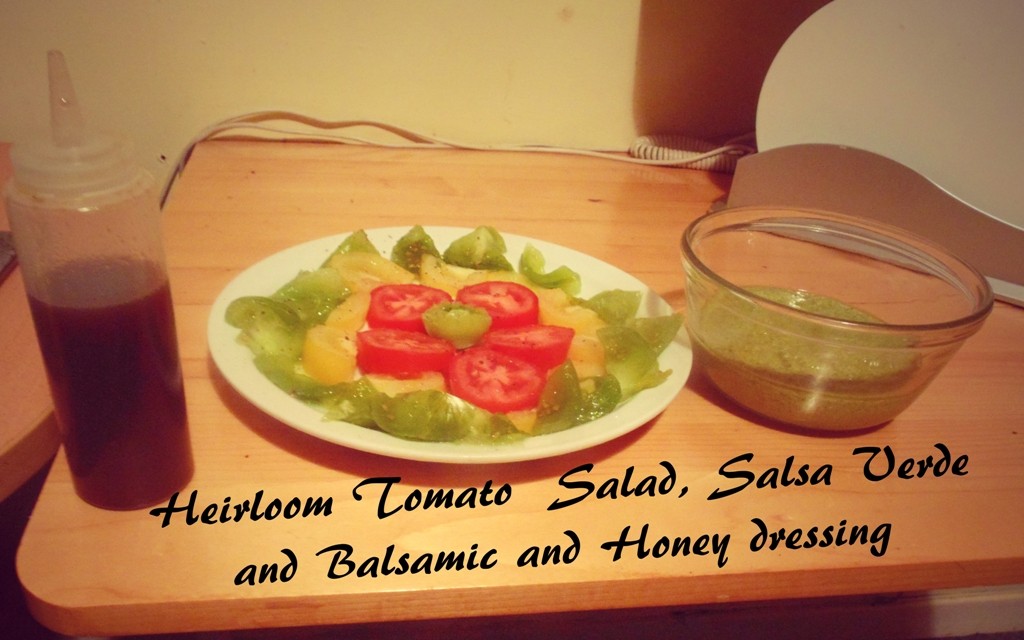 This is a three for the price of one recipe because it's a fantastic Heirloom Tomato salad, my take on a wonderful Salsa Verde and a Balsamic and Honey dressing which went well with the whole dish.
Essentially this dish is simply a tomato salad, but with a difference! Greg and I called in to the Newport Food Festival on the weekend, we weren't there long enough to write about it but we were there just long enough to see a fantastic grocery stall called Love Fresh.  In the picture above you'll see nearly all the ingredients, the only exception is capers. I use capers in my Salsa Verde, I didn't have any today so I used Sainsbury's Caper Paste which was an excellent substitute.  The water bottle contains an excellent home made Extra Virgin Olive Oil my nephew Ben and his girlfriend Sophie bought me and my mother from Crete.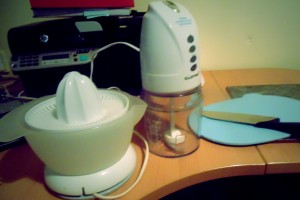 You can see from the picture of the equipment I used, it was quite easy to make, if you are "strong like bull" you can squeeze the lemon without the Juicer…. sadly I'm not!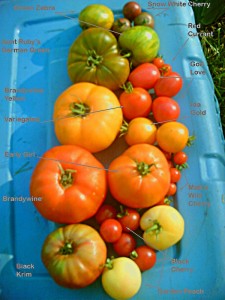 When at the stall I bought a Basil Plant, the tomatoes and a celeriac (a vegetable I've been trying to find and cook with for a while… winner)! This recipe is a combination of two of my tried and tested staple recipes and the Heirloom Tomatoes which (after seeing lots of cookery programmes I've been dying to get my hands on… that will be used very soon). The tomatoes that featured in this dish were one God Love Tomato a pair of Ida Gold Tomatoes and one Aunt Ruby's German Green… or at least that's what I think. I've had a look at the picture above (taken from Wikipedia) and they seem to match up to what I had.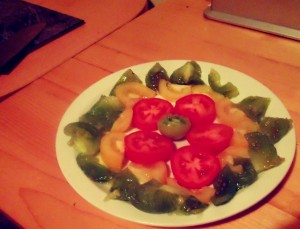 As you can see from the picture above I cut the tomatoes up, the God Love Tomato had more seeds in it than you can shake a stick at. The other two were a little less generous with their seeds, not that that was a bad thing. I was planning when I first thought about the dish in my head to be all chefy and cut things on jaunty angles and spread them out but um…. the OCD in me kicked in. I chopped them in to slices and arrange on the plate in a circular look here, it's quite uniformed but I'm sad like that. The tomato in the middle is an under ripe tomato taken from my green house on the day the dish was made.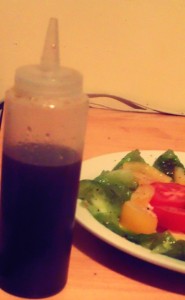 For the dressing above I mixed all the ingredients together in this chefy sauce bottle. When I first started cooking I had to have all the little chefy things you see on tele, cooking rings, moulds and this sauce bottle. Most people thought it was a fad…. but here I am now probably about four years later and running a food blog lol and loving every minute of it. Remember when you put your dressing together to mix it thoroughly. I looked like Tom Cruise from Cocktail (I Wish >-I ) when I was shaking the dressing, it is important for all the ingredients to emulsify and get to know each other.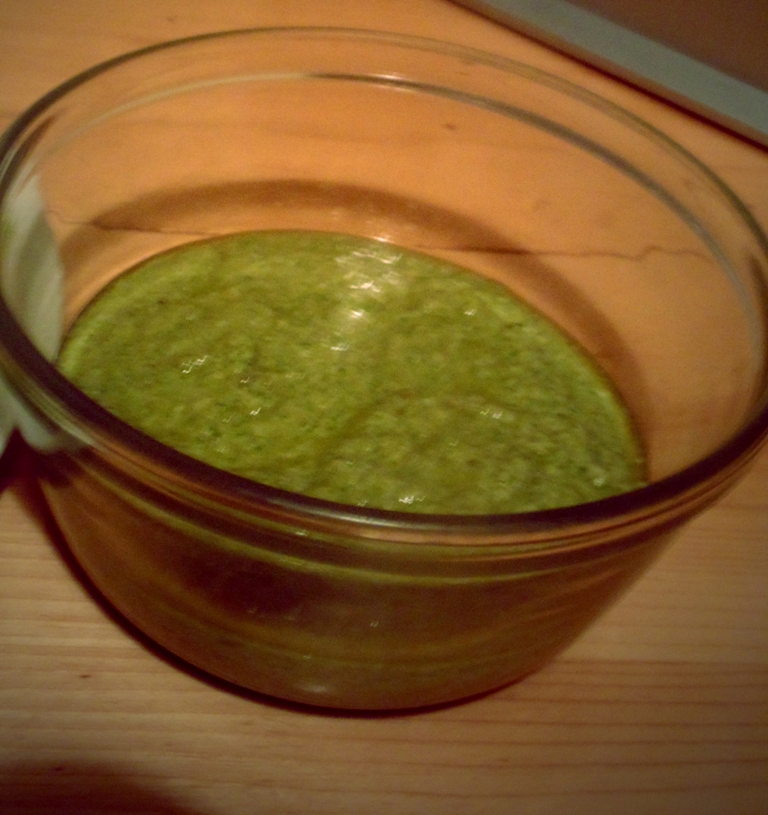 My Salsa Verde recipe is one I've cobbled together from lots of different recipes. I have been known sometimes to call it a pesto… so it's got a bit of an identity crisis. I make it by the jar full and store it in my fridge if you keep it in an air tight container topped with oil it should keep for a couple of weeks and is great with cheese or meat. This always makes me laugh because people say they don't like capers, anchovies, gherkins (Alice) but they love my Salsa Verde 😀 It is important to season the finished dish quite well, tomatoes can take a lot of salt and pepper. One thing you could do which I didn't was to reduce the Balsamic dressing in a pan to turn it into a glaze, but that's chefy, hence why I didn't do it lol. This was a great success and I thoroughly enjoyed making it, and my mother absolutely loved it. Sometimes when I make my Salsa Verde it has a grainier texture, she's not a fan of that but loved this one, you can make it in a pestle and mortar which I do have, I've never used it but it's on my shelf lol.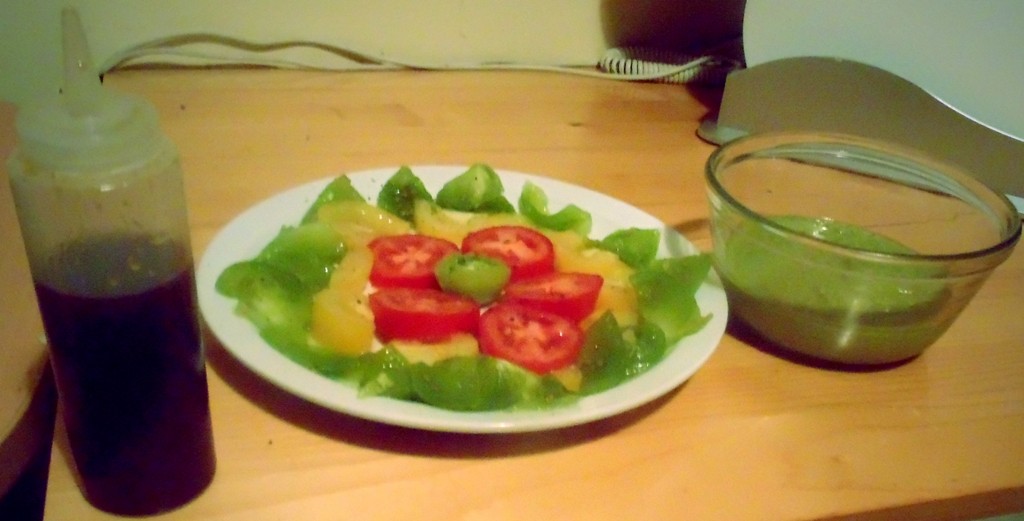 It was great to go to Newport, they had a fantastic array of stalls in the indoor market, something living in a small valleys town we don't always have (cue the violins)!  Love Fresh had an excellent array of produce and products that we don't have in our area, I will certainly be visiting again. To find out more about the Newport Food Festival click here perhaps next year we may visit the entire festival 🙂 ! As always you can download our step-by-step recipe from the link here. If you have any questions or ideas you'd like to ask about please feel free to get in touch by emailing enquiries@wheeliegoodmeals.co.uk.  Come back again soon and, together, we'll make more Wheelie Good Meals.
Ta ta 😎