I've decided to pilot a new feature to my blog called, wait for it, "Ready Meal Monday".  We all know I'm an advocate home cooking, you can't beat a home cooked meal especially one you've taken time to lovingly prepare but are ready meals easier for people with certain health conditions.   My parents have bought a new Microwave now so we can find out what's good and what's not in the world of ready meals, and who knows I may even try to recreate some of them.  So for our first Ready Meal Monday we're going slightly off piste and reviewing a Marks and Spencer Meal Deal I recently had.  My sister lives near a Marks and Spencer so when she comes home to visit she lets me know if the Dine In For £10 offer is on and picks something up for me.  This time we had Pea and Mint Sea Bream Fillets (with a cool Crème Fraiche and a touch of lemon) with Cheddar Cheese Croquettes followed by Raspberry Panna Cotta all washed down with Loretto Trebbiano Rubicone.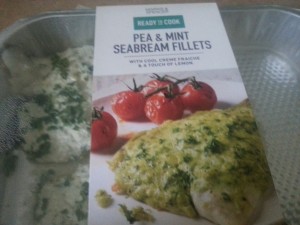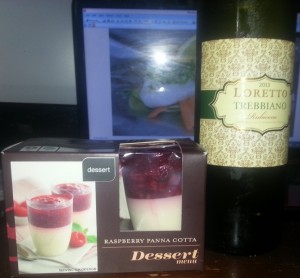 This meal was shared with my mother, we've had lots of the meal deals before but this is the first time we've had Sea Bream in the offer.  I really enjoyed it, I thought it would be a bit too much for such a delicate fish but it wasn't and there were no bones in the fish which is my biggest worry.  The only comment I'd make which, was my fault because I chose them, was that the Croquettes were a bit stodgy and perhaps not the best accompaniment for the fish.  The croquettes would have probably gone better with the Sea Food Casserole which was also on offer.  Nonetheless my mother and I enjoyed the main course.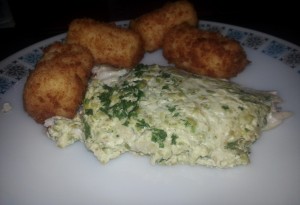 This was followed by Raspberry Panna Cotta, I know you wouldn't think it to look at me but I'm not a massive dessert fan, I'd rather have two starters than a dessert, but the Panna Cotta was excellent.  It had a nice consistency to it and the fruit was lovely on the top (it also came in a nice little plastic container which my mother has taken a shine to)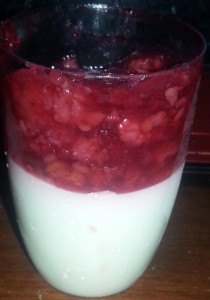 The wine was excellent and probably the best bottle of wine I've had for a while, I didn't choose this one my text to my sister said "…. and any bottle of white wine…." she knows how to pick them fair play.  I am a big wine drinker but as she was in the shop and could read the bottles I gave her the choice, and I was right to do so.  It was crisp and dry and weighed in at 12.5% ABV it went well with the fish and the fruity Panna Cotta I would definitely buy it again.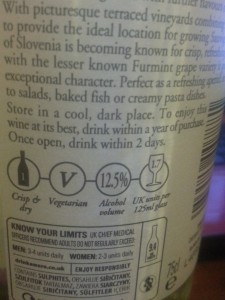 Keep your eyes peeled for our next Ready Meal Monday review and also for our next recipe, it'll be up on Wednesday!  Don't forget to get involved at Instagram, Twitter, Youtube, Google+ and Pintrest.  What are your favourite ready meals, do you find them easier than cooking, let us know your thoughts.  Also if you have any other cooking tips, ideas or recipes share the love with us.  We'd love to hear from you we want you to get involve and help Wheelie Good Meals develop.  If you have any questions you'd like to ask about either myself or the Wheelie Good Meals concept please feel free to drop us a line on enquiries@wheeliegoodmeals.co.uk.  Come back again soon and, together, we'll make more Wheelie Good Meals!
See You Soon