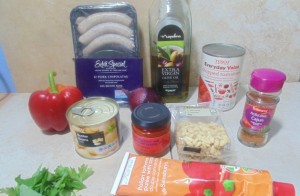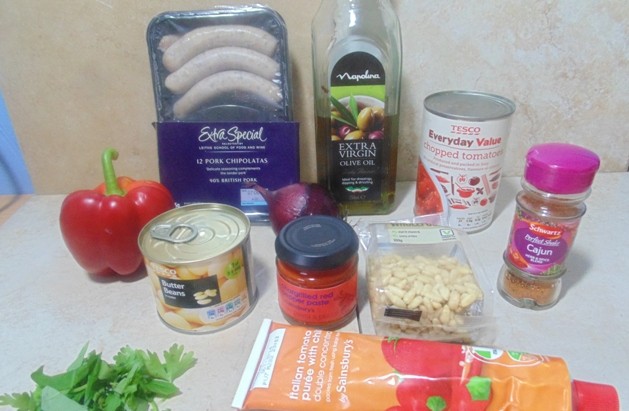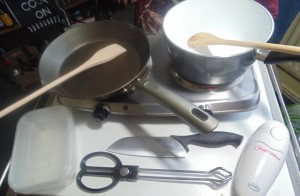 When I first started thinking about the Wheelie Good Meals concept I started uploading photographs of dishes I had cooked to twitter and instagram and tagged anyone in I could to get some inspiration, these people included Tesco, Asda and Schwartz. I struck gold with Schwartz because they liked the photos and were interested in the concept, so they gave me a few retweets and recommended this recipe, it's plain and simple…. a bit like me lol you can find the original here. As always I've put my own take on the recipe and jazzed it up a bit but I definitely think it's worth cooking at home and guess what, it's fuss free!
Only two tips I have, firstly it would be good to use the best possible sausages you can afford – it'll make a difference, after all, they are the star ingredient! Secondly I've added fresh herbs, I personally, as a home cook, have nothing against dried herbs but sometimes in a simple dish it's good to have fresh herbs to lift the flavour.
I served this with Sautéed Potatoes, but you could serve it with rice, pasta or good old Mashed Potatoes…. it's your choice (you don't need the basil leaf either that's the chefy side of me coming out)!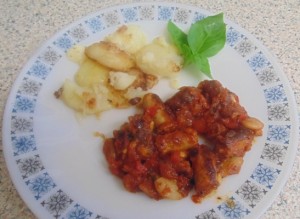 Click here for a full copy of the recipe.  Get involved at Instagram, Twitter, Youtube, Google+ and Pintrest, share your ideas, photos and recipes with us and watch our blog develop.  If you have any questions you'd like to ask about either myself or the Wheelie Good Meals concept please feel free to drop us a line on enquiries@wheeliegoodmeals.co.uk.  Come back again soon and, together, we'll make more Wheelie Good Meals!
See You Soon