"Rant's Cod in Foil" with Dauphinoise Potato followed by "Second Time Lucky" Tiramisu
For Mother's Day, I cooked my mother a two course meal featuring "Rant's Cod in Foil" served with my Dauphinoise Potato followed by my "Second Time Lucky" Tiramisu. If you'd like to make these dishes please feel free to download the step by clicking on the appropriate links .
Rant's Cod in Foil with Dauphinoise Potato (Click Here To Download "Rant's Cod In Foil" with Dauphinoise Potato)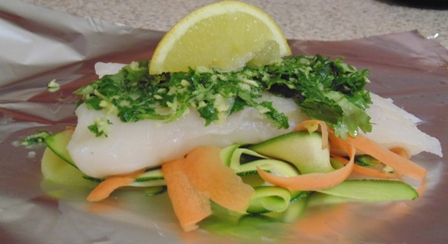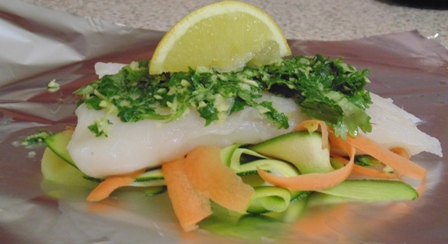 Sitting in work I was trying to decide what to make for my mother later that afternoon. I've cooked salmon in foil lots of times but, if I'm honest, I've not really cooked with white fish except in fish pies. So, struggling to think of something different and with no recipe books at hand, I asked my friend – this is where the Rant part of the title comes in.
Luckily, my best friend Rhian, whose nickname is Rant (to my Rave), was working with me that afternoon and she suggested this recipe. Thus the idea, and the name, of Rant's Cod in Foil with Dauphinoise potato was born. I have to say, like with everything I do at Wheelie Good Meals this is my take on a Dauphinoise, I have been told it's more like Boulangère potatoes – but what's a potato dish between friends!
Second Time Lucky Tiramisu (Click here to download "Scond Time Lucky Tiramisu")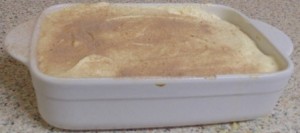 For the dessert, I made what I affectionately call "Second Time Lucky" Tiramisu. Why second time lucky you ask? Well, it's because the first time I ever made a Tiramisu I royally stuffed it up. I didn't use this recipe, I used one from another well known chef who shall remain nameless, but this recipe is based on an interpretation of one by Gino D'Acampo. I chose to serve this as one large Tiramisu but you can serve it as smaller, individual ones in glasses.
Remember to click the links above to get full versions of the recipes.  Get involved at Instagram, Twitter, Youtube, Google+ and Pintrest, share your ideas, photos and recipes with us and watch our blog develop.  If you have any questions you'd like to ask about either myself or the Wheelie Good Meals concept please feel free to drop us a line on enquiries@wheeliegoodmeals.co.uk.  Come back again soon and, together, we'll make more Wheelie Good Meals!
See You Soon