Below are five of my favourite gadgets I use on a regular basis to make cooking easier.  There are others, and I'll refer to them at other points in the blog but these are my five main ones:
Juicer: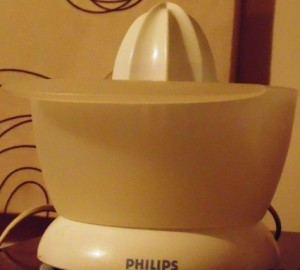 I know this sounds daft but I find great difficulty in juicing citrus fruits, especially Lemons and Limes.  I use a lot of them in the dishes I cook.  I also use a lot of lemon and lime juice because it helps relieve the mucus on my chest (sorry if that was a bit gruesome!)  After some time struggling with this process I found this Philips HR2737/70 Citrus Press, 25 Watt, 0.4 Litre on Amazon. It's ideal, you only need to cut the fruit in half and it does the job easy as pie.  Place the fruit on the top and press down.
One tip I've learned is that if you put your lemons and lime in the microwave for a

few seconds before you juice them you get better results
This juicer comes in three parts, the base which has the wire attached to it, the basket to catch the pips and seeds in and also the drive section in the middle.  I strongly recommend this one, the only downfall it has is that it doesn't catch all the pulp and some goes into the juice (but as long as you have a small sieve handy isn't a problem).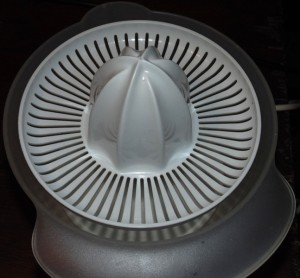 ---
Stick Blender: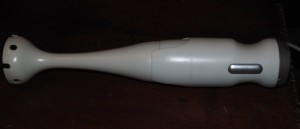 This is a stick blender, also referred to as a hand blender.  I have problems swallowing sometimes so when I'm making soups and sauces I like them to be a liquid.  I bought this blender because someone on television said this type made a better job of liquidising soups and sauces than a jug blender.  I don't think that's strictly true but I wouldn't be without it.  The blender dismantles into two parts which makes cleaning and storing easier,  you'll notice on the next picture that the nozzle (if that's the right word) is warped.  A celebrity chef said soups liquidise better if they are hot… me having a senior moment put a plastic blender into hot soup, recipe for disaster if ever there was one 😀
If you're very chefy this tool is good for making froths and foams – I've never tried it but that's what I've been lead to believe, are you a foam or a froth fan?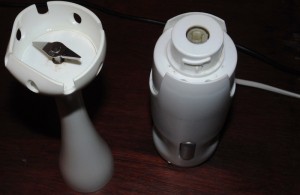 ---
"Goes Under" or Board Scraper: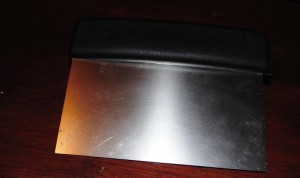 I pinched this idea from watching Ready Steady Cook years ago. Chef Nick Nairn used to use what he called "A Goes Under".  He used to use it to ppick up ingredients he'd chopped to transfer them to a pan.  It's a great idea because you literally just swipe all the ingredients you've been preparing on to it and away to go.  I think it's actually meant for scraping pasta or dough but who cares, it does the job, here's where I bought mine from.
---
Mini Chopper: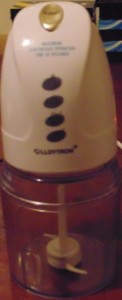 I love my mini chopper (yes ladies you heard it hear first lol)!  I use this for almost everything, again like all my other gadgets I bought it from Amazon.  It's called the Lloytron E820 260w Mini Multi Chopper and I use it to chop almost anything.  I especially use it for breadcrumbs when I'm making burgers.  I also use it for onions when I'm cooking Spaghetti Bolognese.  I also use it to great cheese as I have difficulty in using a traditional grater sometimes.  It comes in three different parts a drive motor which you press down to make it go quicker, a blade and and the bowl.  It can make sauces and does have a whisk attachment but I've never used it.  Again you've guessed it I bought

The only issue you can have when your chopping onions with it is that you take them to far and they become a paste.  Not too much of a problem in Indian cooking but when making Italian dishes you should be able to taste the onion.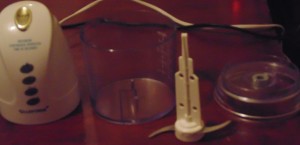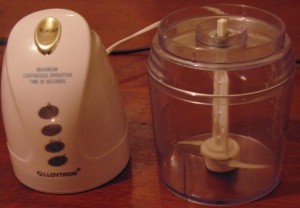 These photographs show the different parts of the Chopper, it's fairly versatile, I've even used it to make Steak Tartare using it to mince steak.
---
Potato Ricer: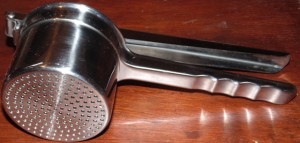 The perfect tool for making fluffy mashed potato, actually the perfect tool for making fluffy mashed versions of most vegetables.  It's fairly easy to use as long as the vegetables are boiled properly first.  It works a little like a garlic press – load the vegetables into the barrel and squeeze.  It can be difficult to use so I have needed some help in the past but on the whole I find it easier than using a masher, and less time consuming.  Here it is open fully, you can see where the potatoes go when you want to make mashed potatoes… guess where I bought mine from…. yep you guessed it Amazon

James Martin would say to make the best mashed potatoes you need 50% potato to 50% fat.  Personally that's not the healthiest option but it would taste fab – my top tip (though not really a mystery) is to melt the butter first, makes it easier to combine with the potato.
If you have any questions you'd like to ask about either myself or the Wheelie Good Meals concept please feel free to drop us a line on enquiries@wheeliegoodmeals.co.uk.  Remember to join us on Instagram, Twitter, Youtube, Google+ and Pintrest as we make Wheelie Good Meals!
See You Soon