Happy New Year friends!  We're three days into 2015 (only 356 days away from Christmas…. ssshhhh don't tell anyone, I'm not counting honest) >:D . This festive period was a strange one for me we had Christmas dinner in our own house this year (courtesy of my darling mother) for the first time in a few years. It was excellent, my mother, as you know, is a great cook so we get a top notch Sunday dinner every week… just ask Greg, Hayleigh, Alice, actually most of my friends love my mother's cooking. Greg is especially partial to a Sunday Dinner while we watch the greatest team in English Football (not to offend Greg's allegiance to Celtic) Manchester United. I'll try my hand at anything in the kitchen as long as it's physically possible but when my mother's cooking a roast dinner…. I bow down to the expert :star: !
I've cooked a fair bit over Christmas, Adam and I did a lot of the food for our Boxing Day celebrations.  Each year we have a big Boxing Day, my sister, brother-in-law, Alice, Adam and my brother-in-law's mother come to ours. We usually have a small buffet and then play games and um… well… get drunk >-I …. hence all these bottles of wine being lined up below!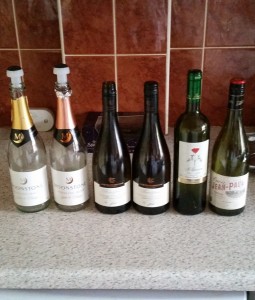 Sadly (because I was in the kitchen for what felt like an eternity) I didn't take any pictures of what I cooked but it was all fairly straight forward. I created two different dips (curried yoghurt & minted yoghurt), prawn cocktail volovants, made a mustard mayonnaise sauce to put some smoked ham in for another set of volovants. I also made stuffing balls…. now then this is where the fun begins!
We weren't on our own in the kitchen we were joined by my wonderful sister who spent the whole time washing up… I know she felt like she was doing it for at least a week!
For those of you who know me you'll know I don't like loathe getting my hands dirty, if I'm making burgers, fish cakes etc I get someone else to mix it all up, or use a spoon. Yes I know that's boring, lame and everything else your thinking but having sticky mucky hands and driving a wheelchair doesn't mix (that's my excuse and I'm sticking to it). My mother asked me to make these stuffing balls, I'd never made them before but thought what the heck – how hard can they be! Gordon Ramsay once said on Kitchen Nightmares "What Chef can't make a meat ball" and these were glorified meatballs.
I blitzed up some bread to make bread crumbs then the onion debate began, a discussion as to whether I should cook the onions before putting them in the mix… the result was yes, Graham chopped them up for me and we fried them for a few minutes just to soften them.  You could almost call this Oniongate 😉 I added them to the breadcrumbs, sprinkled in some dried sage then added a packet of sausage meat.
Oniongate
So began the horrific process of bringing all the mixture together… oh joy! I made them into balls and cooked them in the oven, right you're now bored to death, stay with me for just a few more minutes. After they had been cooked and cooled down we sat down to eat.  Everybody raved about them…. including my father and you'll never know how rare that is, it's las rare as rocking horse poo! My mother was very impressed, she asked me how I'd made them so I told her I…. don't panic I'm not going to go through it again. Once I told her she started laughing, she was going to use a packet stuffing mix…. and just add the sausage meat…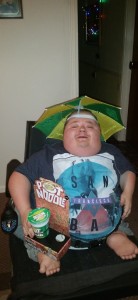 typical… well on the upside I've worked out how to a)make stuffing balls and b) impress my father 😀
I hope you all had a Wheelie Good New Year, stay tuned for a post about 2015 Wheelie Good Meals Style, we've got another update coming tomorrow and a recipe on Sunday.
There's a new feature launching Monday called MicroMonday, which incorporates last year's Ready Meal Monday feature and adds Microwave Cooking. Don't forget to get in touch, let me know your thoughts, share the love tell me what you think I should do… and by the way, no one told me about the extra P in the Happy at the start of my Christmas Video Message…. the Queen never has that problem 😀