I know you're probably thinking yuck… food in a tin but stop it! Get a grip, ok it's not haute cuisine but it's tasty and quick. My mother bought this for me a few weeks ago and I must admit I was a bit sceptical, I'm a big fan of Asda's Minced Beef and Onion so it was worth a shot!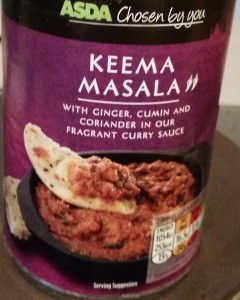 Keema is a traditional South Asian meat dish according to Wikipedia. It's made of minced meat traditionally mutton, goat or lamb. I'd never really heard of Keema until recently when my friend Rhian ordered Keema Rice from an Indian Takeaway when we were working on the weekend moving my office around. The ingredients were clear, I did notice there was B3 and B1 (Niacin and Thiamin). I've tried looking these ingredients up on google but I can't make head nor tail of what they are, I don't know if they are a good thing or a bad thing.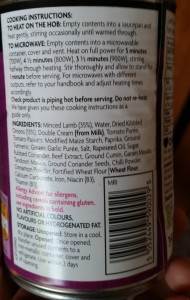 You'll notice the cooking instructions above, I simply placed it in a saucepan and heated it with a fairly low heat until it was hot enough.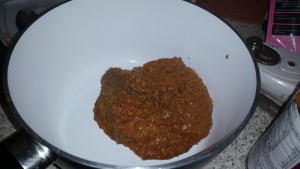 I know it doesn't look particularly appetising but then you can't judge a book by its cover. I added a small drop of water to loosen the sauce, you know me I love a good sauce. When my mother went in to hospital recently my friend Ruth cooked four curries for me and brought up four sachets of rice. I decided to serve one with this curry.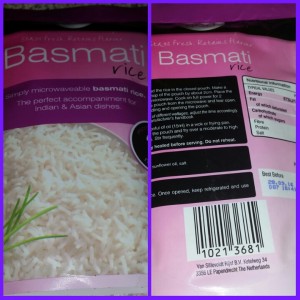 The cooking instructions for this was simple, fluff up the rice to separate the grains. Tear a 2cm slit on the top of the packet then cook on high for two minutes before pouring on to a plate. The tin describes the curry as
Keema Masala with Ginger, Cumin and Coriander in our fragrant curry sauce.
It describes it on the back as being a "hot curry sauce" and has a two chilli rating. I don't think it's particularly hot if I'm honest, but I did add more water to loosen the sauce.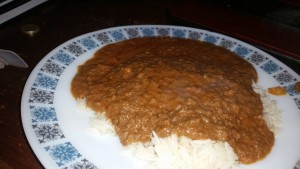 On reflection I may have put too much water in but it really didn't look that much. This was a lovely curry, it was slightly hot but not too kick you in the face hot, it had rounded flavours which all went well together. There were definite ginger notes and a strong presence of cumin and coriander, two of my favourite spices. I really recommend people go out and buy this one, I know it's in a tin, I know it may appear lame but it's not, as I said at the start of this post it's really tasty and quick and easy to make. I'd like to replicate this one eventually but until I do this curry will work well.

I'd give this a seven out of ten, it could even be an eight but I'm not feeling that generous lol. The tin served two people…. it didn't it served me and only me lol. Come back on Thursday for Melanie from Melanie's Food Adventures guest post which will be a Lemon, Poppy Seed and Raspberry Cake… not one to be missed!