Happy New Year folks, how was your festive break, hope it went well. Here's my first recipe of 2015 (are you still writing 2014 on stuff because I know I am).
Here's the first recipe of the year and it's a belter, it's really comforting, it's a cwtch in an oven proof dish (for those who are not welsh a cwtch is a hug with bells on, see a definition here). This idea came from a glut of leftover Broccoli and Cauliflower, I've added potatoes because I'm a potato freak and it bulked it out but that's optional. As with all my recipes all the weights and measurements in this recipe are to taste, feel free to add or take away J
I love this recipe, it was really straight forward to make and tasted fantastic, I've made it a few times (one of the few recipes I've spent lots of time testing… because it's so nice). I took this up to Stacey's house recently, Stacey is someone who I am proud to think of as my daughter. She also did me the honour recently of asking me to be God Father to her two wonderful children… how could I not cook something special! You all know there's no better way to please loved ones than to cook from the heart…. and that is what I did. We had a lovely cosy evening in with good wine, good food and great company what more could you ask for?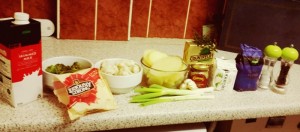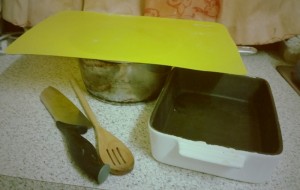 The first thing you need to do is prepare everything, Chop the broccoli and cauliflower into small florets then place in a large saucepan of salted water. Bring to the boil and cook for 3-5 minutes, until the almost tender, but still fairly firm.  Pour them into a colander, leave to drain then set aside for later. The important thing is to remember to not overcook them as you're going to cook them again in the oven. Next on to all the chopping that needs doing, I used a food processor for it all and did it in two different batches, see below: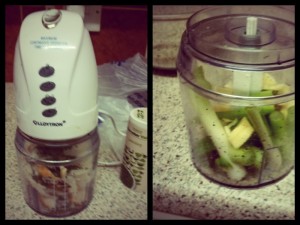 In the above photo you can see my little food processor doing all the work for me. I firstly blitzed up the breadcrumbs and the dried parsley (set aside for later) for the topping, then I whizzed up the cheese and the spring onions for the actual sauce. You can grate the cheese and the bread and chop the spring onions… but why bother when you're little friend will do it for you.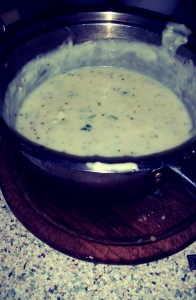 To make the sauce, melt the butter in a medium, heavy-based pan and stir in the flour, you'll need to cook over a gentle heat for one minute. Take the pan off the heat and gradually add the milk, a little at a time, stirring well between each addition. Return the pan to a medium heat and bring the mixture to the boil, stirring constantly. Simmer for two minutes, then remove from the heat. Stir in the mustard, thyme, soft cheese and the blitzed hard cheese and spring onions. It is important to ensure that the cheese melts. You'll see in the photograph above that the cheese hasn't quite melted. I used Bousin Cheese and Cheddar but you can use any cheese you like as long as it melts well – I'm not a fan of stringy cheese.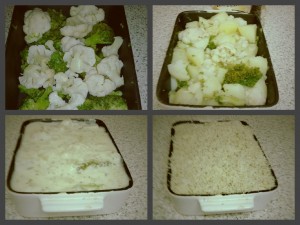 Arrange the Broccoli, Cauliflower and left over potatoes (if your using them) in and ovenproof baking dish. As I've said before I used the potatoes to bulk it out because I wasn't serving anything else with it, they are optional so if you're healthy eating perhaps you'd better leave them out. Carefully pour over the sauce, ensuring everything is completely covered.   Scatter the breadcrumbs and parsley you blitzed earlier over the top. Finally, bake for 25-30 minutes or until the top is golden-brown and bubbling. Serve as it is, with some bread or a side salad.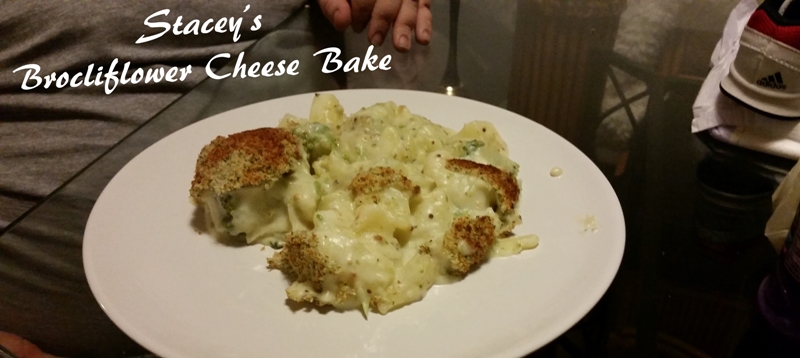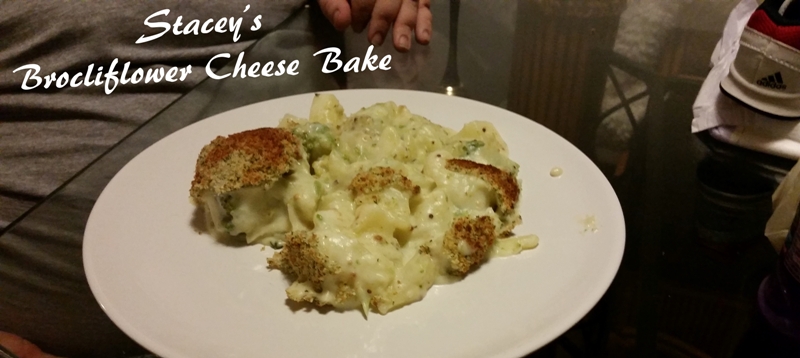 This is one of my personal favourites and a great way to open 2015, Stacey and I really enjoyed this one, it's easy to make and gives you a real satisfying feeling when eating it…. proper comfort food! Don't forget to download our step-by-step recipe from the link here.
I hope you had a great New Year and you're all looking forward to a wonderful 2015, don't forget to stop by on Monday for the first instalment in our #MicroMonday feature. This new item will incorporate our #ReadyMealMonday theme along with easy recipes for you to cook in the Microwave.
Remember you can always get in touch with ideas, questions etc, you can email enquiries@wheeliegoodmeals.co.uk or go to one of our Social Media pages.
Ta ta 😎