I know it's been a loooong time since I last posted anything on here; I could bleat on about my lack of inspiration, my fight with work/blogging balance or my absolute laziness but I won't!
This weekend, I cooked my mother and I (as a belated birthday meal) of Pheasant in a Mushroom and White Wine Sauce with Couscous.  My sister picked up the Pheasant breasts from a shopping trip recently, she also picked up Partridge… so you can guess what's coming up soon.  I've always wanted to try them both, I'm going to be compiling a new list of foods I want to try and places I want to eat soon… please get in touch with any suggestions.
Now I'm not going to lie, I actually intended to take the partridge out of the freezer… but grabbed the wrong one!  So, this recipe was created with partridge in mind but it worked brilliantly well.  There are only six ingredients in this dish, apart from salt pepper and rapeseed oil so there's nowhere to hide, it's simple but so tasty.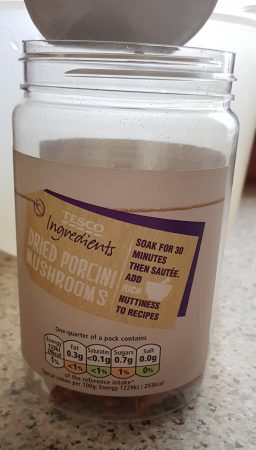 The ingredients were:
One onion
1/3 tub (above) Porcini Mushrooms
½ pint of Vegetable Stock
Boiling Water
Knorr Aromat Seasoning
Salt and Pepper
The first thing you need to do is put the mushrooms in a bowl and cover with boiling water.  I left them covered for half an hour, check on the packet of mushrooms you're using for the instructions.  You can use fresh mushrooms, I didn't have any in the house but some cremini or button mushrooms.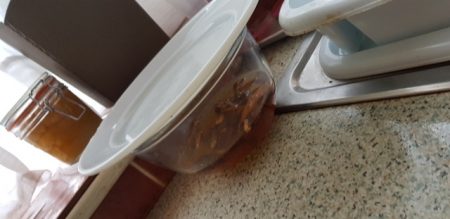 You'll notice on the windowsill behind my mushrooms a jar of preserved lemons… these are homemade, it took me a long time to come up with the right flavours and get a preserving process I was happy with…. oh ok!  That's a lie, well in part anyway; they are home made but by my lovely sister and brother-in-law.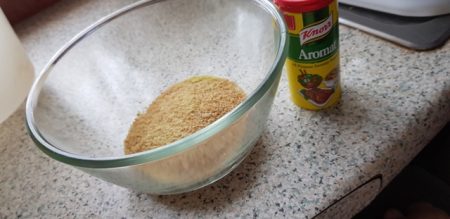 Once you've got the mushies rehydrating put your couscous in a bowl, season and add some Aromat, pour boiling water over and cover; follow the cooking instructions on the packet.  I'm not sure if I've mentioned Knorr's Aromat before, I may have.  Like lots of this recently it's something Gemma introduced me to, you really should try it!  As you know I don't get any renumeration for blogging, I'm not sponsored and don't get any commission lol so when I say it's flipping good… it's genuine!  It's versatile, I've used it on rice, sweet potato wedges, fish, pasta salads; you can cook with it or use it as a seasoning – give it a good and tell me what you think.  To find out more about it visit the Knorr Website.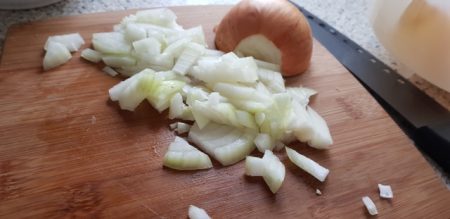 Finely chop your onion, I've only used one onion in this recipe because I was only cooking for my mother and I.  You've guessed it I've used the clockwise chopping method I find so much easier than any other way of cutting an onion.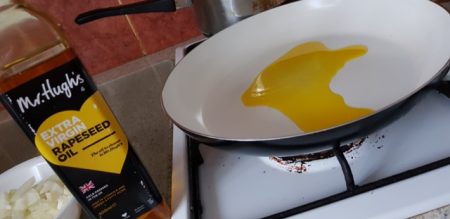 Heat some oil in a pan, you can use butter but I didn't, I've chose to use Rapeseed Oil, I couldn't get over how yellow it was!  I know, I know, that sounds like a stupid thing to say, duh Richard; what colour do you think the plants are?  I guess I wasn't expecting it to be such a vivid yellow, anyway I digress…
… in the pain with the oil cook the onions until they start to soften and turn all Spandau Ballet like (gold).  Scrape them into a bowl and set aside for later; next you'll need to take the mushrooms out of their water.  I lifted them out with a slotted spoon and set them aside, don't throw the liquid away it's got all the mushroomie goodness in; however, there are often bits of grit and stuff you'll want to get rid of.  To do this I placed a sieve over a jug, the lined that with two pieces of kitchen roll, you can use some muslin but I didn't have any and then poured the liquid, getting rid of all the nasty bits.  Chop the mushrooms up as small as you'd like them.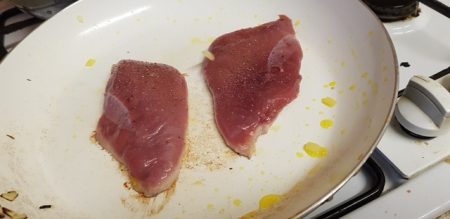 In the hot pan you've cooked the onions in place the Pheasant breasts, you're supposed to cook Pheasant breasts for 3-4 minutes on each side, I didn't do that!   I cooked them for a about 1.5 minutes on each side, then set them aside to rest (they were thin breasts and I was going to put them back in the pan later… before people panic).
Take the breasts out and add the onions back in and the shrooms, give them a mix and cook for a couple of minutes.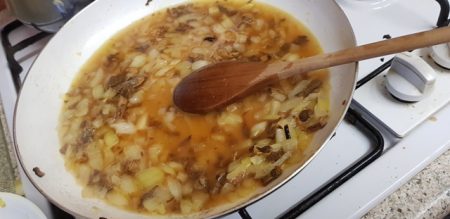 To the pan add the white wine, use that to scrape the bits stuck to the pan (deglaze).  Cook the wine for a few minutes on high then add the mushroom water and the stock.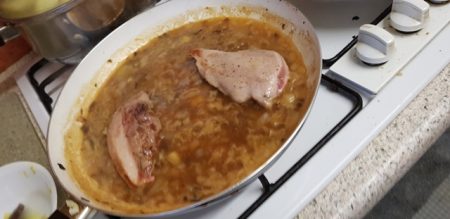 Cook until it starts to simmer, at this point I added the breasts back to warm for a couple of minutes… oh, unorthodox I know!  Before adding the breasts back, I did add a little of the stock left mixed with some flour to thicken the sauce (because it was a bit watery).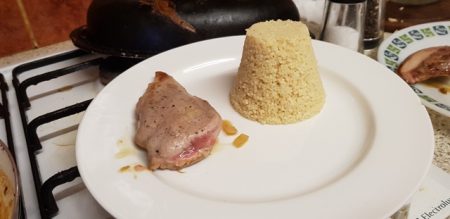 Now you're ready to eat, I served this with couscous as you know, but you could serve it with rice, celeriac potatoes or sweet potato.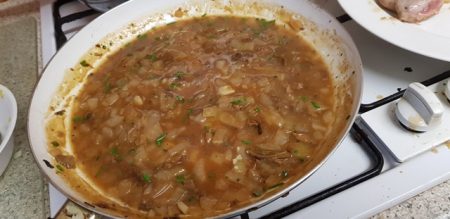 I finished the sauce off with home grown chives from the garden, I've got to say the sauce was proper lush!  I did something I hardly ever do, I didn't taste it while cooking, I'm a big culprit for (probably over) tasting my food while I'm cooking but I didn't try this until after I'd seasoned it and added the chives.  It was stunning though, I'm pleased to say, I could have drunk it on its own… or just it over some mashed potatoes… you know how I love my mash!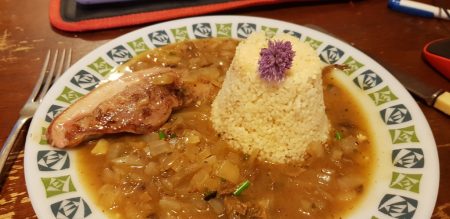 Here it is, I know it doesn't look a lot but it was awesome.  The earthy taste of the mushrooms, with the slight tang of the wine complimented nicely the soft, mild tasting flavour of the Pheasant.  I wasn't expecting the breasts to be stupidly gamy but I was expecting a stronger flavour than they had… I'm not disappointed though they were lovely, and one more thing off my foodie desire list.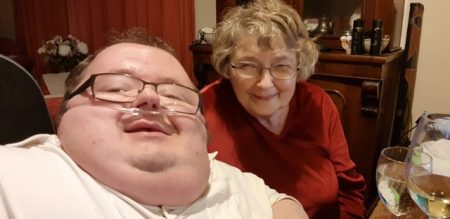 We had a great night we watched a film and had a couple of glasses of wine, very civilised indeed!  What did you all do on your bank holiday, I had a nice chilled out relaxed one in the house, bliss.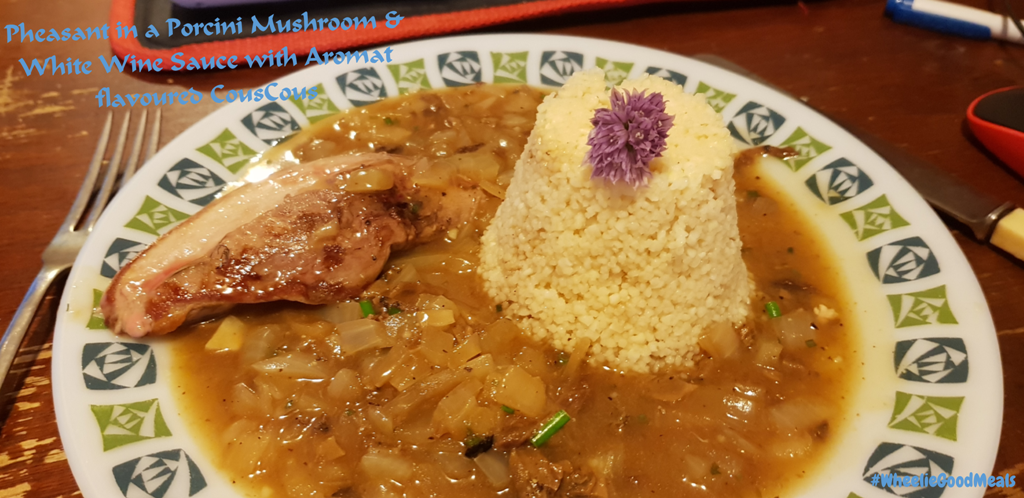 Next week we'll have a TimeSaving Tuesday post and another recipe, only this time it will be a Partridge recipe… any ideas let me know.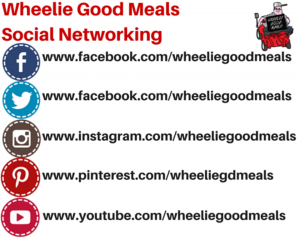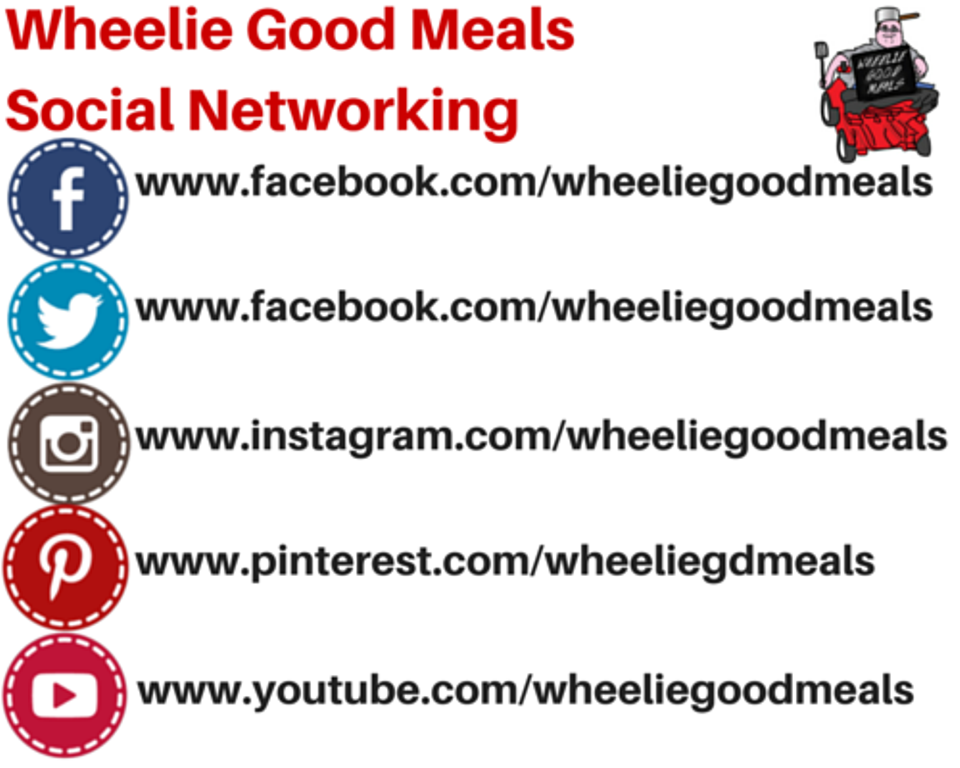 I know I've been away for a long time, and I've not kept up with my social media… and I'm too scared to look now because I'm afraid I may have offended people.  Do you ever get that, when you leave things so long that they become this massive weight around your neck… that's what this process has been like for me but we're getting there… anyway I digress again!  Don't forget you can get in touch with me via Social Media,
See you soon!